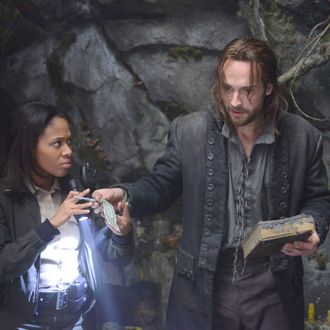 Nicole Beharie and Tom Mison in Sleepy Hollow.
Fox has confirmed nine series orders — five comedies, four dramas — for the 2013-14 season, lots of them interesting-sounding and/or coming with a solid pedigree. For the dramas, Rake will star Greg Kinnear as "Keegan Deane, one of life's great addicts, a brilliant and frustratingly charming criminal defense attorney, whose chaotic and self-destructive personal life often gets in the way of his professional one." It comes with a Sam Raimi-directed pilot and is based on an Australian series by Peter Duncan, who also serves as creator and writer on this version. Sleepy Hollow comes from Alex Kurtzman and Roberto Orci, co-creators of Fringe and screenwriters behind Star Trek and Transformers. It's a modern retelling of the classic tale in an action-adventure style. England's Tom Mison (The Amazing Mrs. Pritchard, One Day) is Ichabod Crane, "resurrected and pulled two and a half centuries through time to find that the world is on the brink of destruction and that he is humanity's last hope, forcing him to team up with a contemporary police officer (Nicole Beharie, of Shame and American Violet) to unravel a mystery that dates all the way back to the founding fathers." We wish Christopher Walken could reprise the Headless Horseman role, but he won't.
Chris Morgan, writer of Wanted and a plethora of Fast & Furious films, is the creator and writer for Gang Related, starring Ramon Rodriguez (Battle Los Angeles), Lost's Terry O'Quinn, and Wu-Tang's RZA. They fight gangs. J.J. Abrams and Fringe executive producer J.H. Wyman — the J-Dots, if you will — have a series currently titled Almost Human, a police drama that takes place three decades into the future, when cops team with androids and, wouldn't you know it, "an unlikely connection is forged when a cop with an aversion to robots and a robot with unexpected emotional responses investigate cases in a brave new world."
In the comedy department, Parks and Rec duo Mike Schur and Dan Goor have Brooklyn Nine-Nine starring Andy Samberg and Andre Braugher. It's a single-camera project about "what happens when a detective who doesn't take anything seriously gets a new 'by-the-book' boss who wants him to grow up and respect the badge." Dads, a multi-camera from Seth MacFarlane and his Ted and Family Guy co-conspirators Alec Sulkin and Wellesley Wild, will star Seth Green and Giovanni Ribisi as dudes whose dads move in with them.
Enlisted is a single-camera from Cougar Town co-creator Kevin Biegel detailing "three brothers getting to know each other again on a small Florida Army base and the group of misfits who surround them." Geoff Stults, recently seen on Ben and Kate, stars. The words irreverent and heartfelt are being used. Modern Military Family? Us & Them is an adaptation of England's Gavin and Stacey, this version starring Alexis Bledel and Jason Ritter. It's another single-camera jam about "a young couple, whose path to happily-ever-after is complicated by the screwed-up circus of people closest to them." Lastly there's a series working under the title of Surviving Jack, based on I Suck at Girls, a book by Shit My Dad Says author Justin Halpern (he's also the show's creator). Christopher Meloni stars as "a man becoming a dad, as his son is becoming a man, in a time before 'coming of age' was something you could Google." Because it's set in the nineties. Bill Lawrence is executive producing.