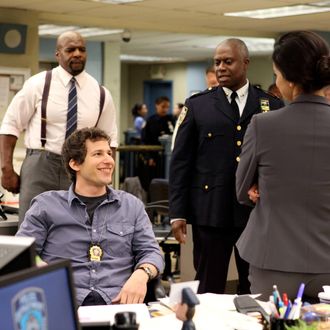 Brooklyn Nine-Nine, with Terry Crews, Andy Samberg, Andre Braugher, and Melissa Fumero.
Despite having been burned in the past by shows such as Dollhouse and Terra Nova, Fox has decided to take a big gamble on the fantasy/sci-fi genre next season. The network's just-announced fall lineup includes a completely remodeled Monday anchored by two shows from various producers of Fringe: a new take on Sleepy Hollow (from Alex Kurtzman and Roberto Orci) and the android cop thriller Almost Human (from J.J. Abrams and J.H. Wyman). Sleepy Hollow will air Mondays at 9 p.m. in the fall, while Almost Human will air the same night at 8 p.m. in late fall. (Bones will start the season in its current 8 p.m. Monday position before shifting to Fridays later in the fall.) And in another bet on out-there programming, Fox has also green-lit the M. Night Shyamalan–produced Wayward Pines, a Twin Peaks–like mystery in which Matt Dillon will play the Agent Cooper–esque role. (Fox isn't announcing a premiere date yet, saying only the "event" series will air sometime next year.
Elsewhere, Fox is also remaking half of its Tuesday comedy block. The Seth MacFarlane–produced Dads replaces Raising Hope as the 8 p.m. anchor, while the Andy Samberg–led ensemble Brooklyn Nine-Nine will air at 8:30 Tuesday. New Girl and The Mindy Project remain in their current slots, with New Girl getting a big push with an episode airing after Fox's February 2 broadcast of the Super Bowl. (A new Fox comedy will also air after the game). In a curious move, Fox is beefing up its scripted fare on Fridays: After Junior Masterchef has a short run on Fridays in the early fall, Bones will be paired with a relocated Raising Hope and the new army comedy Enlisted. (That's the plan as of now; recall that NBC said it would air Community and Whitney on Fridays, but never did.) Fox is holding off on one of its bigger drama bets, the Greg Kinnear legal drama Rake, until midseason. It will replace Glee for about three months early in 2014; Glee will return in late spring, with the last part of its season running into June. Drama Gang Related and comedies Murder Police, Surviving Jack, and Us & Them won't debut until after January.
The complete Fox schedule (new shows in caps; fall/midseason):
MONDAY
8:00-9:00 p.m.                        Bones/ALMOST HUMAN (Android cops)   
9:00-10:00 PM                        SLEEPY HOLLOW (Based on book)/ THE FOLLOWING
TUESDAY
8:00-8:30 PM                          DADS (Dudes' fathers return)
8:30-9:00 PM                          BROOKLYN NINE-NINE (Barney Miller 2013)
9:00-9:30 PM                          New Girl
9:30-10:00 PM                       The Mindy Project
WEDNESDAY
8:00-10:00 PM                       The X Factor/American Idol
THURSDAY
8:00-9:00 PM                          The X Factor Results/ American Idol Results
9:00-10:00 PM                        Glee/RAKE (Greg Kinnear is brilliant lawyer)
FRIDAY
8:00-9:00 PM                          JUNIOR MASTERCHEF (Kid cooks)/Bones
9:00-10:00 PM                        SH Encores/Rasing Hope/ENLISTED (Army comedy)
SATURDAY
7:00-10:30 PM                        Sports
SUNDAY
7:00-8:00 PM                          NFL/NFL overrun
8:00-8:30 PM                          The Simpsons
8:30-9:00 PM                          Bob's Burgers
9:00-9:30 PM                          Family Guy
9:30-10:00 PM                        American Dad