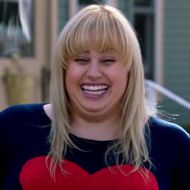 Well, here they are: The clips for ABC's new comedies, leading off with Super Fun Night, the comedy Rebel Wilson called "anti–Sex and the City because when these ladies eat at night, they aren't talking about dick." Also notable: Conan O'Brien exec-produced.
From Ryan Seacrest Productions, Mixology is a midseason premiere about the antics of ten couples taking place during just one night at a bar. Who will go home alone?
Hopefully Back in the Game will remind us of Bad News Bears (in a good way), because it's got a very similar theme. That is, a bunch of unruly kids on a baseball team coached by a persistant woman. Caan is her father.
The Goldbergs, featuring the How I Met Your Mother–ish vocal stylings of Patton Oswalt and the comedic stylings of Jeff Garlin, is chock-full of eighties references (and eighties music!).
Malin Akerman is the new wife of Bradley Whitford in Trophy Wife. He also has two ex-wives and one of them is Marcia Gay Harden. Uh-oh!