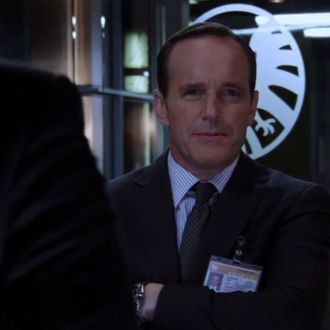 Do you like superheroes and fairy tales? ABC sure hopes so! Here are the clips of their new dramas (including the two "limited runs," which are basically thirteen-week miniseries.)
First up is Avengers spinoff Marvel's Agents of S.H.I.E.L.D., which will air Tuesday at 8 p.m. Not to spoil the clip, but SOMEONE SPECIAL IS ALIVE!
And here is the Christian Slater and Steve Zahn–starring Mind Games. They manipulate people for a living! (It airs midseason.)
Over in fairy tale land, we have Once Upon a Time in Wonderland, a spinoff of ABC's very popular Once Upon a Time. Free Alice!
If your interests include lottery winners and cute little kids in ballet tutus, Lucky 7 airs Tuesdays at ten.
And for your crying needs, here is Resurrection (another midseason show). That small child is older than he looks!
In the limited-series department, Betrayal is about an affair between a married photographer and a guy who looks suspiciously dreamy. It airs Sundays at ten.
And Killer Women (midseason) is a show called Killer Women, which is really all you need to know.