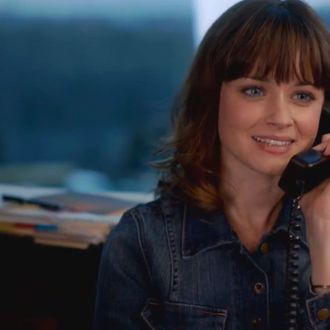 As promised, here are the clips for Fox's new comedies. First up is the Seth MacFarlane–produced, Seth Green–starring Dads, which will airs Tuesdays at eight. Look, it's Giovanni Ribisi in a tie.
Tuesday at 8:30, we'll have Brooklyn Nine-Nine, which is what happens when you put Andy Samberg in a cop suit.
Here's Enlisted, a family comedy about three brothers on an army base. It airs Friday at 9:30.
And finally, a clip from the Gavin & Stacey remake Us & Them, starring Rory Gilmore (Alexis Bledel) and the guy from Parenthood (Jason Ritter). He has now made out with two Gilmores. Us & Them will air mid-season.