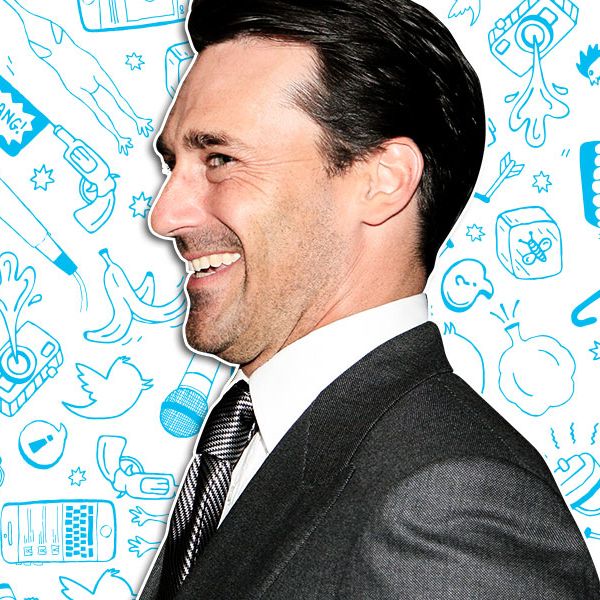 Photo: Sean Mader/PatrickMcMullan.com
In 2007, Jon Hamm broke out as a major star as Mad Men's deadly serious Don Draper. Those who discovered him on the AMC show were surprised when the man who epitomized dark confidence and effortless cool showed his goofball side in a 2009 guest arc on 30 Rock; it was like seeing Sean Penn doing prop comedy. But as it turns out, being serious is the anomaly for Hamm: He is a comedy nerd. A childhood SNL and Monty Python obsessive, he was a near groupie at L.A. comedy shows long before he landed Mad Men, and still spends his downtime gleefully popping in on podcasts and Adult Swim series. Herewith, the evolution of comedy's biggest all-star fanatic.
"Inside the face of a matinee idol lurks a full-on comedy nerd." — John Slattery on Jon Hamm. (Elle)
March 10, 1971 Jon Hamm is born.
"I watched SNL as a kid, and I watched Kids in the Hall and Fridays and SCTV." ("Nerdist")
Hamm on being an SNL fan and how he'd watch it every week at some "swinging party" his divorced dad would bring him to. ("Kevin Pollak's Chat Show"):
"When I was a little kid, I was a huge Monty Python fan. And I'm still a big fan of British comedy, mostly TV comedy: the Chris Morrises of the word and all of the Edgar Wright stuff." ("You Made It Weird")
1978 Taxi premieres.
Hamm was a fan of the sitcom, as evidenced by his later ability to freestyle rap about it:
1987/1988 Paul Rudd and Jon Hamm meet and become friends because Rudd went to Kansas University with Hamm's high-school girlfriend's older brother. The two bonded over their love of comedy, and Rudd later introduced him to many comedians, like the State crew (including David Wain and Ken Marino), which lead to roles in The Ten and Childrens Hospital.
They've been friends ever since. Read Rudd's Interview magazine interview  of Hamm to get a sense of their dynamic.
PR: But I want to know about Jon Hamm.
JH: Fine. I am an open book.
PR: You are. You're naked.
JH: I kind of thought that's how we were supposed to do these interviews.
PR: When I said, "Jon, I hope you're ready to get naked in this interview," I didn't anticipate that you would actually be physically naked.
JH: Well, it helps me to be emotionally naked if I'm physically naked.
PR: I see.
JH: Thank you, by the way, for also being naked.
PR: Well, look, it just didn't seem right-
JH: It's great to be naked. Just a couple naked dudes at the Grove.
PR: I'm really upset because of the looks that we keep getting from that couple over there at the Cheesecake Factory.
JH: Should have called it the Beefcake Factory with us around, right? Pound it! [raises fist]
PR: Oh, pounding!
JH: Boom.
1989 The Simpsons premieres.
Hamm: "I've been a fan since the very beginning … I have done the Bartman. I have all of the albums." (Entertainment Tonight)
1991 Albert Brooks's Defending Your Life premieres.
Hamm: "It's a fantastic movie. One of the best movies ever made"  ("Nerdist")
1992 For his junior-year spring break, Hamm crashes at Rudd's "shit-hole North Hollywood apartment." (Details)
1993 After graduating college, Hamm moves back home to teach acting at his former high school, John Burroughs School. His students include The Office's Ellie Kemper and her sister, Office writer Carrie Kemper.
Kemper: "Here's the thing I do remember: He was, like, are you kidding me? In a room full of freshmen girls — he was definitely just as handsome back then, and having this grown, tall man teach you theater, it was like having a hunk in the class. So basically what I remember is that he was really handsome. " (A.V. Club)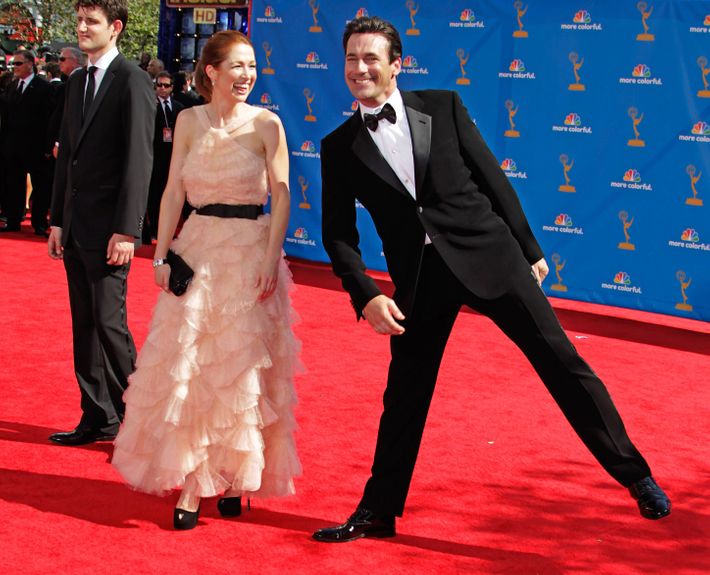 1995 Jon Hamm moves to L.A. permanently and becomes a comedy-club regular.
"When I first came to L.A., most of the people I hung out with were in the comedy world. And part of it was just being broke. It was a cheap way to go out and have fun. You could go to Largo or M Bar or Comedy Death-Ray or whatever, and see hilarious stuff and spend five bucks. One of my oldest friends in L.A. is Paul Rudd. We were comedy nerds together when he was living in a crappy apartment in North Hollywood. We would go see Patton Oswalt and Sarah Silverman and Paul Tompkins and Zach Galifianakis and these guys that were doing the alternative comedy circuit." (TVLine)
"Mondays at Largo were the hottest night in town for comedy, or at least for the particular brand of comedy that I really liked … It was cheaper than the nightclubs, which I hated anyway. The drinks at the LA nightclubs were too expensive and the music was too loud. At Largo, there was no drink minimum, and you got two and a half hours of great entertainment. I slowly ingratiated myself into that world just by hanging around all the time." (Playboy)
"I went there was because it was cheap and I knew a couple people. And eventually got to know enough people that I didn't have stand in a ridiculously long line. I'd go around the back or go right through."  ("Nerdist")
2000 Jon Hamm becomes pals with Sarah Silverman.
Hamm on how when he first met Silverman, she didn't realize he was an actor until she spotted him on the later Lifetime series The Division. ("You Made It Weird"):
July 9, 2004 Jon Hamm's name (along with his friend Adam Scott's) appears in Anchorman, in the fake credits at the end of an episode of Channel 4 Evening News. This was the result of his and Scott's friendship with one of the film's producers Shauna Robertson.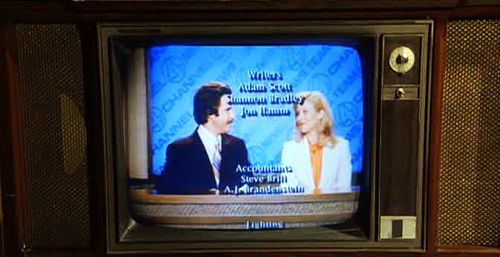 2005 The UCB opens an L.A. theater. Hamm becomes a fixture, often hanging out backstage.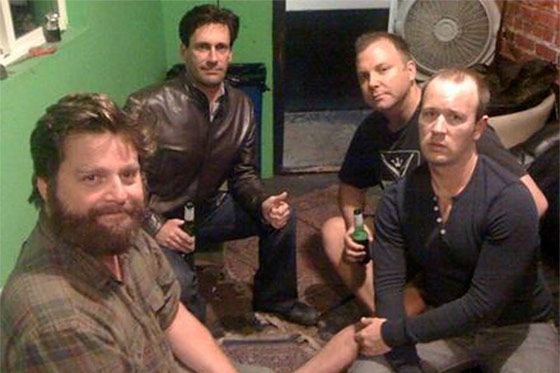 "UCB is a fairly comfortable, privatish place, especially backstage. And you're like, 'Oh, okay, you're having normal conversations with normal people.'"  ("You Made It Weird")
March 1, 2007 Hamm appears on The Sarah Silverman Program.
"Before Mad Men, he played a cable guy on my show on Comedy Central. He had one scene. On his jacket, just small enough that you can't read it on TV, it says: EATIN' ALL THE PUSSY SINCE '92." (Details)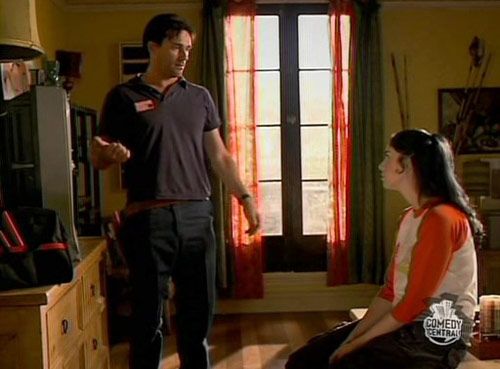 July 19, 2007 Mad Men premieres.
"When I tuned in to Mad Men, I couldn't believe he was this smoldering, brooding sexual man," Silverman says. "I was like, 'Oh my God — that's Hamm!' To me, he's just this super-silly idiot."  (Details)
Only a few weeks later, Hamm makes a short cameo in David Wain and Ken Marino's movie, The Ten:
2008
With his newfound fame, comedians began asking Hamm to come out from backstage and join them onstage and in their web videos.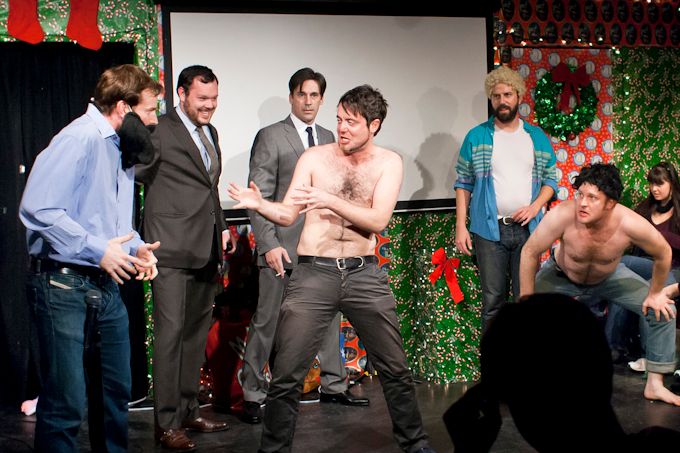 He is a frequent guest of Jimmy Pardo's monthly live game show at the UCB, Match Game.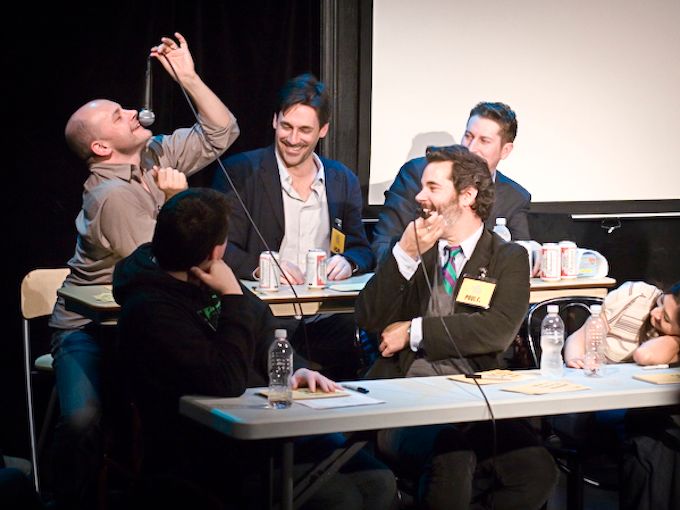 Here is Hamm as the monologist at the weekly UCB improv show ASSSCSAT, something he's been doing since the fall of 2009. You can listen to this particular ASSSSCAT monologue about the hippo dance scene from Fantasia here.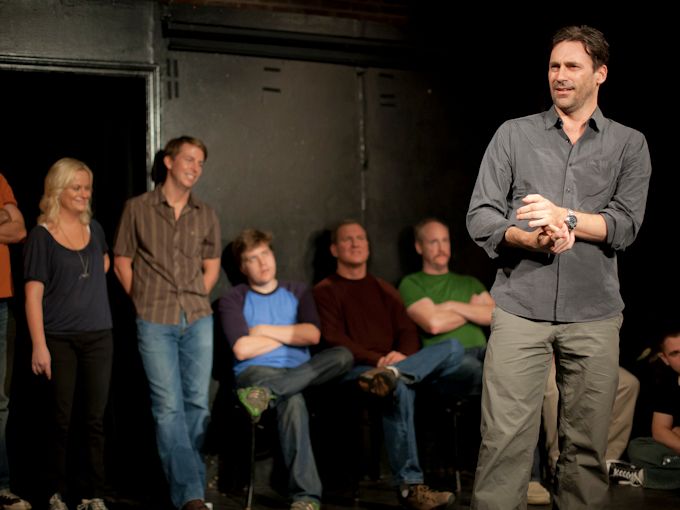 "I don't necessarily think I'm quote unquote 'good at comedy.' I think I'm wise enough to be near, in proximity of funny people."  ("You Made It Weird")
October 25, 2008 Hamm hosts Saturday Night Live for the first time (having turned down an offer earlier that year because of vacation plans with his girlfriend, Jennifer Westfeldt).
Hamm talking about his first time hosting and having to change a Dean Martin impression to James Mason minutes before show time. ("Kevin Pollak's Chat Show"):
Hamm talking with Marc Maron about how amazing Bill Hader, Will Forte, and Amy Poehler are at "[pulling] the characters out of their mind." ("WTF"):
Hamm loves the entire process. Here he laments about a sketch about a masturbating astronaut that got cut. ("Nerdist") :
February 5, 2009 Jon Hamm makes his first of seven appearances on 30 Rock, a show he auditioned for before getting Mad Men. (He wanted to play Jack.) He becomes one of the show's most popular guest stars, ultimately getting nominated for three Emmys.
Says Tina Fey, "Jon Hamm has the comedy skills of an SNL cast member, the exoskeleton of an Arrow shirt model and the gratitude and work ethic of a person who got famous after the age of thirty." (Playboy)
August 29, 2010 30 Rock is the start of a Fey-Hamm friendship best celebrated with the best dance party ever held after the 2010 Emmys: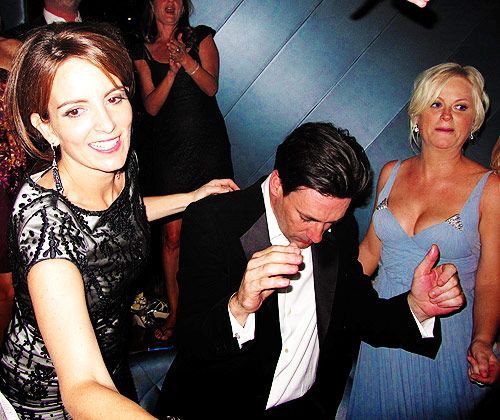 2010 Hamm hosts SNL twice in one year (January 30 and October 30).
Hamm on the "Hamm and Buble" sketch: "Seth Meyers and his reliance on puns. I was manna from heaven for him. You can work puns into my last name and do a lot of sketch ideas." ("You Made It Weird")
Hamm hasn't hosted since the October 30, 2010, show, but has made appearances in four other episodes. Most famously as Ace in the live-action version of "Ambiguously Gay Duo":
Hamm is considered one of the show's go-to backups, a status only reserved for the best hosts. As he explained, "If someone falls out, then maybe I'll do it." He continued: "I know a lot of those people, and I'm very comfortable over there and I like being there."  ("Comedy Bang! Bang!")
May 13, 2011 Bridesmaids premieres.
His sex scene with Kristen Wiig is one of the most talked about scenes.
He and Wiig first met through Rudd, but it wasn't until he hosted SNL that they became friends.
Hamm: "We just clicked together on the first time I hosted, and we did a bunch of sketches together and then as I came back and hosted the show a couple more times, I don't know, for whatever reason our energies just kind of flowed in the right way. She's so goddamn talented and it's always fun to be in a scene with her, so when she asked me to do Bridesmaids, I was like, 'I will do whatever you want.'" (IFC)
Wiig: "He's like my brother." (Access Hollywood)
2012 At this point, Hamm's comedy fandom is a well-known secret. A.V. Club interviews him about what's on his iPod, and the man nerds out hard:
A.V. Club: Jimmy Pardo, "Phone Lady"
Jon Hamm: I listen to a lot of comedy. I just like it. I find it funny; I find it fun. That's the great thing about iTunes: Not to turn this into a commercial for iTunes, but if you hear about a comic you like, you go—boom—you have it immediately. Like, I bought John Mulaney's CD—[mocking self] "CD"?—album, whatever, and guys like Jimmy and Paul F. Tompkins and Patton [Oswalt] and people like that. It's all so easy to get and to laugh at.
AVC: John Mulaney's record is super-funny.
JH: Oh my God, it's amazing.
AVC: He does a bit about the Salt & Pepper Diner— 
JH: "[The Best Meal Ever]," I believe, is the name of that bit, and it's very funny. And one of my favorites is the titular bit about "New In Town"—that one made me laugh a lot. 
January 31, 2013 The 30 Rock finale airs.
Jon Hamm, like the rest of the show's fans, completely lost it: "I'm totally crying at the end of that show. I was like, 'Oh my God, 30 Rock. You got me.' And it was so … and Tracy Morgan! 'I'm going out for cigarettes … ' and I was like, All right, I did not just cry because of something Tracy Morgan said, non-ironically. It was amazing, and it really was because that little fucked-up family had invested all that time in that show and it really showed." (Vulture)
Over the years, he's seemingly agreed to any comedy opportunity he could fit into his schedule. He's appeared on (or lent his voice to) Archer, Bob's Burgers, Childrens Hospital, Comedy Bang! Bang!, Metalocalypse, The Increasingly Poor Decisions of Todd Margaret, and The Simpsons. He also guested on the following podcasts (often multiple times): "Comedy Bang! Bang!," "WTF with Marc Maron," "Doug Loves Movies," "Never Not Funny," "You Made It Weird," "The Nerdist," "Kevin Pollak's Chat Show," and "Sklarbro Country."
And he's found time to …
Appear in a Steve Agee Vine:
Dress as an apple to celebrate Kristen Schaal's farewell New York performance before moving to Los Angeles at Eugene Mirman's "Pretty Good Friends" show in Williamsburg, Brooklyn:
Perform in a sketch at the ninth anniversary of Paul F. Tompkins's live show at L.A.'s Largo:
And get on Steve Agee's shoulders for the last "Comedy Bang! Bang!" live show ever: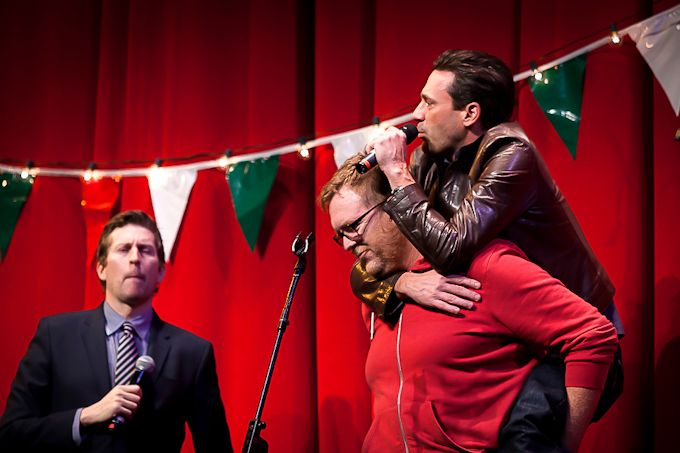 March 10, 2013 Jon Hamm celebrates his 42nd birthday. Here he tells the story about spending it, like any comedy nerd would wish he or she could, at dinner with his girlfriend, John Slattery, and Amy Poehler, just laughing. ("You Made It Weird"):