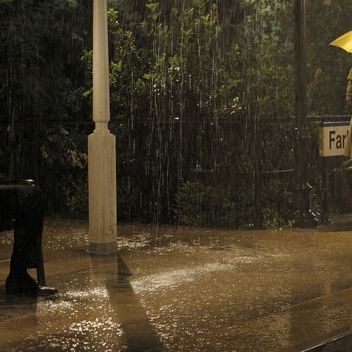 Bottoms up, everyone. We've come a long way, perhaps longer than we would've liked, but it was (in part) for this moment. We finally met the mother. I'm not sure how I feel about having done so before Ted. I'm not sure I even know how to react to her. To put it in perspective: I perked up more while watching The Mindy Project (another show I've been feeling slightly ambivalent about but in favor of) when I discovered that Chloë Sevigny was Danny Castellano's ex-wife than I did when Cristin Milioti (a.k.a. the Mother) bought her ticket to Farhampton.
I didn't recognize the actress from 30 Rock or Sleepwalk with Me or the Broadway musical Once, but I understand and respect Thomas and Bays's decision to avoid stunt casting. It was impossible to keep Rachel Bilson and Jennifer Morrison's roles a secret, and a lot of the suspense would have been sucked out of the series if the audience knew the mother's identity before the episode even aired. At the same time, it was a little anticlimactic to have the titular character finally arrive — and then to see her for all of four seconds before hitting Google.
Fittingly, the band that changes lives amplified the whole experience (the Shins' "Simple Song" scored the finale's last few minutes). It's all coming together, and hey, who hasn't imagined their own momentous occasions from the most mundane perspectives? The name of this series says it all: This is the story of how Ted meets his wife. It's been years, and now it might come down to days, hours, and minutes — a close-up look at everything that came Before, and we still don't know about After. There's been speculation, corroborated last night, that the final season of HIMYM will take place over the 56 hours before the wedding. I don't think it's possible — too much would be left unresolved if the series concluded on the train platform at Farhampton — but what's the purpose of last night's time stamp? You have to hand it to the writers, because though few among us haven't threatened to stop watching at some point, it's probably safe to say that we're all curious to see where the story picks up next season, and a blow-by-blow lead-up to Barney and Robin's wedding could be way more satisfying than another season of stretching.
The more I think about it, the more enthusiastic I am — the mother really exists now. She is no longer just bare feet and a yellow umbrella. From here on out, the series will have to deal with her, and whether or not she becomes part of the gang (which would be difficult to pull off no matter who played her), it's a seismic shift in the story. Season nine will begin on a fraught note: Barney got defensive with Ted a few episodes ago and marked his territory with Robin, and Robin is obviously conflicted about marrying Barney and reconsidering her feelings for Ted. Last week, I wasn't too keen on that. This week, I'm open to the idea that sometimes a good person in your life is impossible to surrender until you absolutely have to: Ted and Robin won't stop looking to each other as the next-best-thing until they find the very best thing, which is about to happen — at least for one of them.
For the moment, Ted is on the precipice of another grand gesture (the only kind of gesture he knows), and one unintentionally abetted by Lily. Theirs is a special relationship — Ted was by her side when Lily applied to art school on the sly, and here she is nearly a decade later, unwittingly giving Ted the key to Robin's heart: the location of her locket. A lot of silliness needs to be excused here, the main thing being: Has Ted the architect not looked in his pencil box in four years? Also: Why would it be funny that Robin's grandmother stored the locket in her butt, Pulp Fiction–style, during World War II in Winnipeg?
Elsewhere, the happy couple is busy breaking up another couple: Krirsten-pronounced-Kreesten (Casey Wilson) and her boyfriend of seven years (Keegan Michael Key, star of this hilarious sketch). It was oddly satisfactory to watch, because in the scheme of tiniest-violin problems, sometimes there is nothing more irksome than seeing obnoxious people seated ahead of you at the plumb table. And there could probably be no meaner prank than tricking someone into a wedding proposal, although Robin was clearly drawing on her own experience from the other side of that Champagne glass. (Quick aside: Was Casey Wilson allowed to guest-star here because Happy Endings is so tragically endangered? She's part of the ensemble of a series with basically the same premise, except set in Chicago and minus all sentimentality.)
Now, I've pretty much skipped all of the bigger plot points, because really, they don't matter. Last week, I speculated that Marshall would be offered a judgeship that would interfere with Italy plans, and I'm sure I wasn't the only one, so that it happened is more indicative of lackluster plotting on the part of the HIMYM writers than my own gift of foresight (although I loved Marshall's "I'm not good at big decisions," to which the judgeship-handing-out-guy responded, "Are you sure you want to be a judge?"). True foresight would have clued me in to Ted's sudden plans to move to Chicago, because who saw that coming? No groundwork was laid, and a person can't just sell a house on a whim in this market, though everything about his house (and its convenient neglect/renovations) has to be pardoned as sitcom schematics. So now he's conveniently moving to "a Cleveland-y New York" the day after the wedding (dramatic much, Ted?) to escape the shadow of a married Robin and Barney.
And that's where we leave off — in a state of anticipation on behalf of the characters, as they proceed with what they think are their plans, while we know otherwise. If last week's "Something Borrowed" referred to the return to overdone plots of yore, then at least "Something New" delivered what it promised. For the record, I don't believe that Marshall wouldn't call his wife before accepting a job, or that Robin would have gotten her wedding ring back after that prank, or that Lily hasn't seen The Notebook, but I'll be watching next season, and I assume you will, too, because we made it this far.