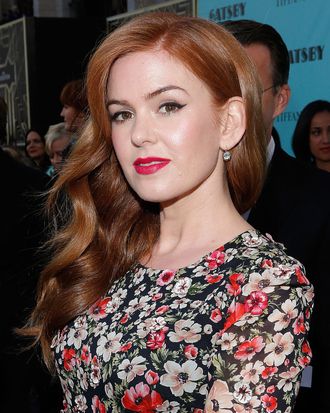 Isla Fisher.
Photo: Jemal Countess/Getty Images
When Vulture first heard that there might be a Bored to Death movie, we got super excited and started spreading the good word — in some cases, breaking the news to folks who might actually be in the movie, should creator Jonathan Ames decide to include their characters. Yesterday afternoon, we had the distinct pleasure of informing Isla Fisher that a movie was in the works and got to witness her delight. "Oh my God!" she squealed, when we grabbed a quiet moment with her at a Great Gatsby event hosted by Tiffany & Co. and MAC Cosmetics (Fisher plays Myrtle Wilson). "My agents don't tell me anything! I didn't know!" And then she realized, "I'm in the season finale … that means I get to be in it! Did [Ames] say I'll get to be in it? Do you know?"
Assuming Ames sticks to his original plan of putting her character, Rose, in a sanitarium to recover from accidental incest with Schwartzman's character, we thought so, yes. "Oh, wow. Wow. I would love to play that. Fabulous. That's something you can really sink your teeth into," she said. "I loved working on that show. I remember, I came home and I said to my manager or agent, 'That would be the perfect job for me, to have a regular gig, working with the nicest people. I love Jonathan Ames. I loved working with Jason Schwartzman. I loved it. Loved it." Ames should be pleased at her enthusiasm, because one of his concerns was whether or not Fisher would be available to resume her role. "I'll make myself available!" she giggled. "That is the best news. You've actually really made my day." Glad to be of service. Ames, your move.