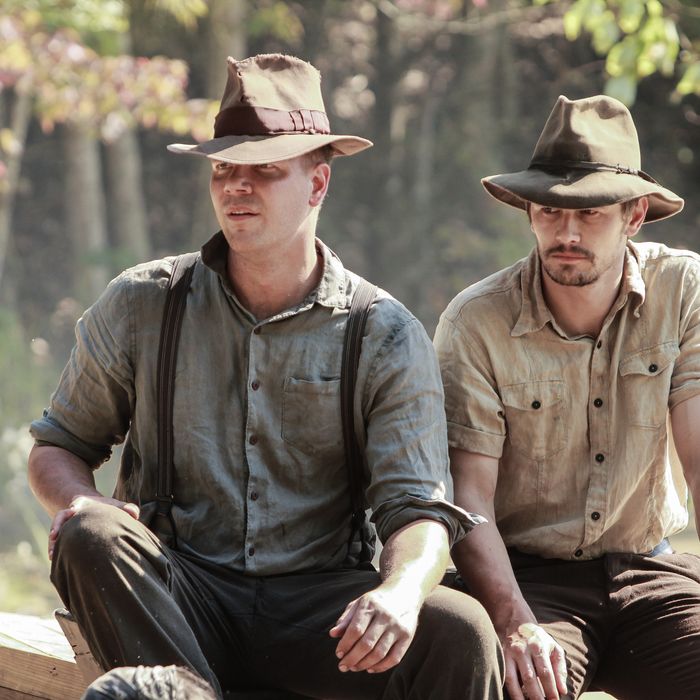 Photo: Alissa Whelan/RabbitBandini Productions
William Faulkner's 1930 novel As I Lay Dying is one of those books that's routinely called unfilmable, and with good reason: The relentlessly bleak story of a family beset by constant injury and misfortune on a quest to bury their dead matriarch, this less-than-mainstream tale is also narrated by fifteen different characters. Any straightforward adaptation, then, would lose one of the things that's most distinctive about the book. That hasn't stopped James Franco, who has directed and stars in a version that debuted yesterday at Cannes.
Don't be fooled by the somewhat conventional-looking trailer that recently bowed online: Franco has made a movie that unspools with almost constant split screen (Brian De Palma and Mike Figgis, you're here in spirit), suggesting simultaneous points of view from different characters. Franco explained the technique at a student Q&A today thusly: "For instance, they're digging the grave for the mother, and at the same time, the daughter who is secretly pregnant is going to the pharmacist for an abortion, two different scenes that are emotionally connected." In that way, Franco could hew closely to the source material while still updating the story formally "in a similar spirit that Baz Luhrmann used for The Great Gatsby," he said.
Franco's biggest recent role was in the huge tentpole movie Oz the Great and Powerful, but he has a more modest future in mind for As I Lay Dying. He looked to the model of his 127 Hours director Danny Boyle, who refuses big-budget projects because they compromise his artistic integrity, or Nicolas Winding Refn, whose new movie Only God Forgives debuts at Cannes tomorrow "and cost, like, $4 million. I'm sure he could get a $100 million movie made, but he can't make that the way he wants to."
Franco also said he paid attention to interviews with Ben Affleck and Warren Beatty, in which they said the biggest mistakes they'd made as actor-directors was that "you don't give your performance as much time and care as the other performances." He'd often slip into a mode of just wanting to bang out his scenes so he could get back behind the camera, "but you need to think about the overall movie, which you're hopefully making because you care about it. Give your performance the same kind of attention as everything else." Another lesson: Don't be vain just because you have final cut. "If I look bad or ugly but it's helping to tell the story in a better way, that's what I'll use."
That said, Franco is outshone by his well-picked supporting cast; even though the film has been polarizing, the actors are getting uniformly good notices. His siblings are played well by Jim Parrack, Logan Marshall-Green, and Franco's ex-girlfriend Ahna O'Reilly, and the film's most memorable performance has got to come from Tim Blake Nelson, who takes his slack-jawed hick character from O Brother, Where Art Thou? and doubles down. As family patriarch Anse, Nelson is a monstrous mouth-breather with a set of rotted teeth and a voice like a strangled gargle.
Franco hasn't always been as good with his co-stars, he confessed to the students. Asked to recall his time on Freaks and Geeks, he replied, "I was a little too serious when I was in it. I had this idea that I was gonna be like James Dean or Marlon Brando. I've become a more generous actor since, but [back then] when I was off-camera [in a dialogue scene], I wouldn't say my scripted lines. I would make something up and whoever I was in the scene with would be like, 'Come on! Just say the lines so I can say my lines!'"
In any case, this isn't the last literary film Franco will direct: He's already got a Charles Bukowski biopic in the can, and he is about to helm The Garden of Last Days, based on the novel by Andre Dubus III (and set to star Emilia Clarke from Game of Thrones). "One thing you should at least try once is to adapt something," he told the room. Don't listen to the naysayers: "If you're young, it's fine that you don't have life experience; at least you have passion and energy."