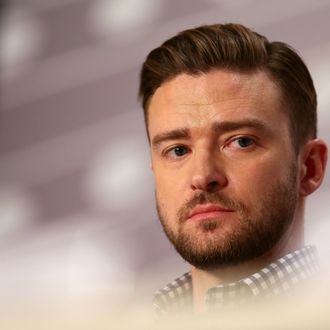 Justin Timberlake.
Photo: Vittorio Zunino Celotto/Getty Images
Up until last year, journalists, and Vulture in particular, hounded Justin Timberlake for seemingly forsaking music for acting. He finally answered fans' call this year with The 20/20 Experience, a two-part album whose second half drops on September 30. And now, before heading out on a summer tour, he stopped by Cannes to promote the Coen brothers' highly enjoyable folk-music movie Inside Llewyn Davis, in which he plays a painfully earnest sixties folk singer whose success is inversely proportional to that of the more talented titular wunderkind (played by Oscar Isaac). And there we have it: Proof that he can do both acting and music! And yet, at a press round table, one French reporter who had apparently dozed off in 2012 and not heard of The 20/20 Experience woke up determined to beg J.T. to get back to the music career that he had already resumed. This sycophantic scolding confused and bemused Timberlake, and soon the entire table of press was enjoying his biting/winking responses.
It began with the reporter from Nice asking, "You have nothing to prove anymore in music, Justin. But I have a feeling that you are making some sacrifice in music just because you are so focused right now on your acting."
"I just put a record out, man!" said Timberlake, incredulously.
"He put out two!" said co-star Carey Mulligan, who was paired with Timberlake for the round-table interviews.
"I put out a record that has a second part. That comes out this fall! Where have you been?" Timberlake kept going. "You gotta get out of Cannes, man. You gotta get out of Nice. You gotta get off your little island, man. As a matter of fact, I'm insulted. It's very pretentious." He then, of course, smiled, and squeezed the reporter's arm.
Bad move, as the French reporter kept going, to raised eyebrows around the table. "No, you have to admit, Justin, you have never been so focused, I have the feeling, about your acting career." He cited how gracious Timberlake had been at a conference for the Hollywood Foreign Press Association, how he'd worked so hard to be treated with respect by the movie world for the past three years. "For some reason, I have the feeling that you're super-super-focused. Right now your top priority is acting, maybe. Am I wrong?"
Timberlake gave a "can you believe this guy?" grin to the table, and replied, "Would you like to know my schedule? I start a tour in the summer. I start another tour in October."
The reporter laughed, "Oh, okay, are you coming to Nice?"
"For the right price, I'll come to Nice," said Timberlake. "No, I'm kidding. No, to be honest with you, the only conscious decision that I made as it pertains to film is that I've felt like if I didn't start making a little more of a concerted effort … I really, genuinely, just am in love with the art form as well. And I started off as a television actor when I was 10. And so for me, I would argue that there's things that I want to do in music that I haven't done yet. And I think that the mission is to continually be inspired by whatever it is that you're doing." He looked over at the Llewyn Davis poster. "But, uh, just to bring it back to the movie, [it's about a musician] who measures his life by success and failure and whether he's winning or losing, and I think you get to a certain point in your career where it doesn't become about winning or losing. It's about, you know, the experience of doing it, and if you're going to be doing it, I think you should do it the right way. So I take it seriously. I take my time with Carey on set seriously. But I don't take myself seriously in a way where I feel like I need to be vindicated in any way. Honestly, I could stop right now and be on the top of the world for me because I was in a Coen brothers movie. You know? I got to work with Fincher as well, who I adore. So for me it's just about things that are still interesting and continue to be inspiring. That's all I could really say without feeling weird about this … analysis."
The publicists were standing behind Timberlake, indicating to us that it was time for him to go. The French reporter, who'd been nodding along happily, squeezed Timberlake's arm. "You didn't make too many bad choices, either."
"Uh, thank you," J.T. stammered. "I'm lucky …" Then he grinned, considering the "bad choices" compliment and muttered, "There was a couple of … girls."