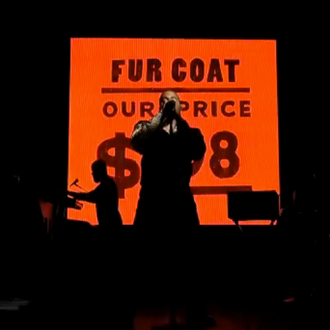 The weekend of Kanye continues: After debuting "New Slaves" on various walls across the world Friday night, 'Ye hit Saturday Night Live to perform the first half of that song and another called "Black Skinhead." It was an … aggressive appearance. Kanye's mood did not suddenly improve after taping those promos — check his scowl during the show's good-bye — and he paid absolutely no attention to the TV censors. Angry dogs and slogans were projected behind him at a seizure-inducing speed. Then there was the actual music, screamy and complicated ("I'd rather be a prick than a swallower" seems like a line that we'll all be debating in the weeks to come). On the flipside, he name-checked Bobby Boucher, who is Adam Sandler's character from The Waterboy.
Anyway, here's "Black Skinhead":
And here is "New Slaves":
While we're at it, the new album is reportedly called Yeezus. The "I Am a God" rumors were not so far off.