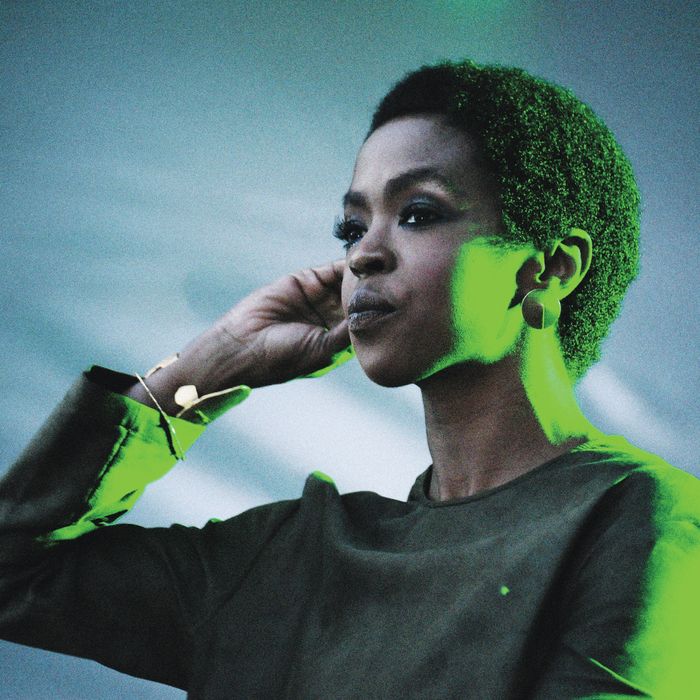 American singer Lauryn Hill performing in Moscow
Photo: PhotoXpress/Corbis
On May 14, the singer played a hastily planned show at the Music Hall of Williamsburg — presumably one of her last before she reports to prison on July 8 to serve three months for failure to pay federal income taxes. These were the instant reviews.
"She's one of the most charismatic singers in the past 30 years. She's our Aretha, basically. I don't really give a shit about her taxes, to be honest. I just want to see her play."
Robert McGlynn, 30, audio engineer

"I like how she's against the system, whether or not that gets her into trouble. She has balls. The government is corrupt, and they just want to take our money, and they're not for us, so I like that she's willing to go to jail for that."
Jasmine Mungin, 26, health-insurance agent

"I'm glad I saw her, but she's definitely rocky and struggling. She's looking to get herself out of a hole, and I respect that, but her supporting band was atrocious and ear garbage, and I needed to go."
Mary-Kate O'Connell, 36, director at internet-technology company

"When I saw her at Rock the Bells two years ago, that wasn't the Lauryn I wanted to see. But tonight was better — she was amazing."
Chané Scala, 29, writer

"I spent two weeks of my pay as an artist — with tax, $96 — to see her, and she went on two hours late. It broke my heart. But she was so fucking good! She won me back. I want to hug her and be like, 'I know you have a lot of children, but can I be your child?'"
Killy Dwyer, 40, musician

"Taxes are bullshit, and we get charged so much. And if you're a 1099, it totally sucks."
Danielle Larkin, 29, dance teacher

"I've been a fan since I was 10. Tax problems happen with a lot of people nowadays. Obviously you see people like Wesley Snipes go through similar things. But I was more worried for her when the Fugees broke up. I didn't know where she was going to go after that. But they all took their own individual paths and created something greater for it."
Cornelius Morgan, 25, works in retail

"I've loved Lauryn Hill since I was young. She's my favorite performing artist ever, and when I found out she was performing today, there was nothing that could stop me from coming. I don't care what goes on in her personal life. Like, I'm not going to not support her because of something that happens outside of music. And this isn't the first thing that's gone a little awry with her!"
Sofia Briley, 24, market-research associate

"When she gets out of jail, Jay-Z, Kanye, everyone's going to be like, 'I can't wait to do a song with her.' She'll be stronger. Her music will be even better. It'll be more contemporary, more relevant."
Maurice Blackwell, 36, agent-producer-manager

"She's really deviating from the style that she usually has. It's like she's doing mixed-up covers of her own songs. Q-Tip was on before her, with such high-energy nineties hip-hop. This is the first time I've seen Lauryn live, and it threw me for a loop."
Megan Kane, 23

"It's sad to see one of my favorite artists lose their minds. They primed the whole concert as this hip-hop kind of vibe, and she comes in with a Red Hot Chili Peppers cover band wearing, like, a bedsheet and no shoes, pretending to be, like, a Goth version of Erykah Badu. She just seems angry and depressed. How do you ruin 'Lost Ones' or 'Everything is Everything'? She turned them into angry songs, because she wants everyone to be, like, miserable with her."
Matt Newberg, 25, entrepreneur
*This article originally appeared in the May 27, 2013 issue of New York Magazine.