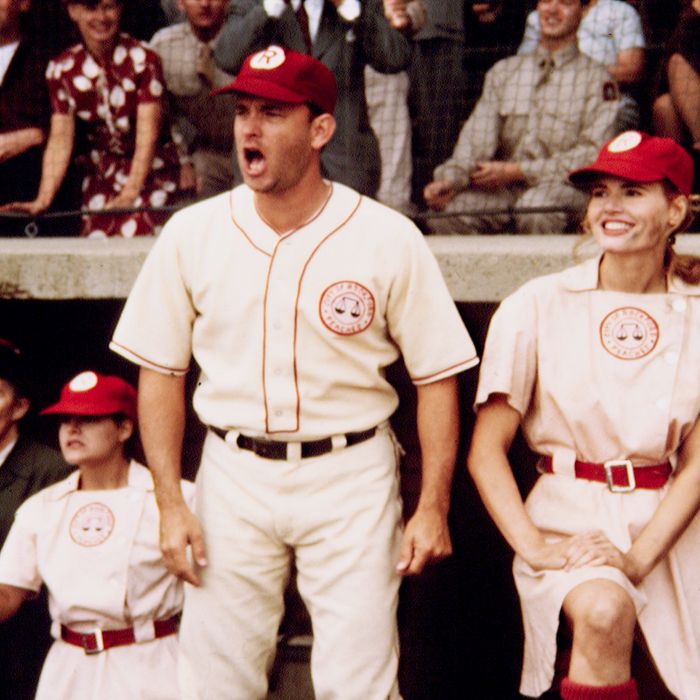 With Bring It On a freshly minted Tony nominee for Best Musical and Rocky heading to Broadway early next year, it's clear that sports movies are a hot new mini-trend for the Great White Way. In 2016, we'll no doubt be hate-watching Hayden Panettiere in Air Bud: Songsational!, and the ghost of Richard Rodgers will shed another dusty tear. But even this trend could spawn a masterpiece. As at least one Internet scholar has noted, A League of Their Own is just sitting there, waiting to be turned into a song-and-dance classic. In fact, we got so excited by the idea that we decided to help Broadway along. Here's a rough treatment for A League of Their Own: The Musical, including song titles and key notes on the plot. If you're excited to see those Singin' Rockford Peaches, then please expand on our ideas in the comments. And prepare to contribute to the Kickstarter for the $4 trillion we'll need to buy the story rights from screenwriters Lowell Ganz and Babaloo Mandel.
ACT ONE
* "Lay Off the High Ones" — Rousing opening number. Establishes the hopes and dreams of Dottie and Kit in a very "Baseball! Yeah!" kind of way.
* "When You're Dottie's Kid Sister" — Suggested lyric: "When you're Dottie's kid sister/ You're always on deck"
* "Is That General Omar Bradley? (Marla's Song)" — Comedic pas de deux between cloddish baseball scout Ernie and mooselike prodigy Marla.
* "You're a Peach!" — Shirley's inability to read the roster becomes a book number to introduce all of the Peaches.
* "Gracefully and Grandly" — Charm-school time! Fun group number with lots of comedy beats.
* "(I Don't Got Players) I Got Girls" — Jimmy Dugan's big number as the slovenly (yet surprisingly light on his feet) manager runs down his entire team. Think every Rex Harrison song in My Fair Lady.
* "We're All All Right" — Inspirational "I guess I'm not a freak anymore" ballad from Doris (eventually joined by all of the Peaches).
* "I Singin' to Nelson (Ain't I Baby?)" — Torch ballad for drunken Marla to howl at Nelson during the team's night out at the roadhouse. Comes on the heels of a dance-only extravaganza featuring "All the Way" Mae.
* "When the Boys Come Home" — Mr. Lowenstein and Dottie, singing in counterpoint, fret over the fate of the league. With the war nearly over, what will happen to these women … "When the Boys Come Home"?
* "He Ain't Closin' Me Down (Hey, Mr. Chocolate Man)" — Mae tears the house down. Very "Rose's Turn."
* "There's No Crying in Baseball" — The league may be closing, Mae's just collapsed into tears, and Jimmy has just yelled at Evelyn about missing the cutoff man. But they're a team! Teams come together and support each other and engage in robust choreography to send the audience into intermission on a high!
ACT TWO
* "Dirt in the Skirt" — Razzle-dazzle dance sequence where the Peaches become superstars. This is for the ladies who can cartwheel.
* "We're All-American" — As heard in the film, Beverly's sweet ditty about the members of the All-American League. This time, there are multipart harmonies.
* "All the Way" — After All the Way Mae scores a winning run, the ladies carry her off in celebration. Doris stays behind to sing this torch ballad about her unrequited love for her best friend.
* "Why Do You Gotta Be So Good?" — Kit gets traded, then cry-sings through her rage about her sister.
* "George (The Ballad of Betty Spaghetti)" — Betty gets the news that her beloved husband has been killed in the war. Cue spotlight.
* "The Hard Is What Makes It Great" — Dottie's husband shows up, and she needs a ballad to tell Jimmy why marriage is tough but wonderful. He sings the same thing about baseball.
* "Dirt in the Skirt (reprise)" — Without Dottie or Kit, the Peaches still want to make the playoffs. A movie montage on the stage, complete with newsreel-style projections.
* "You're Gonna Lose (A Stillwell Angel Tap Dance)" — Stillwell Angel goes too far and must use fleet footwork to dodge the stuff Jimmy throws at him. (Workshops will determine whether Stillwell looks at the field and yells, "This used to be my playground!")
* "A Play at the Plate" — After Dottie returns, the big championship game comes down to a showdown between sisters. A true ensemble number. Everyone's hopes are on the line.
* "Lay Off the High Ones (reprise)" — Get those tissues ready. Dottie and Kit come to terms with each other and say good-bye.
*  "We're All-American (reprise)"/"Finale (A League of Our Own)" — As in the movie, we move ahead to 1992, where Old Dottie, Old Kit, and the others are inducted into the Baseball Hall of Fame. They reprise "All-American" as old women but then magically become young again. Up-tempo finale! Crowds sent home happy!