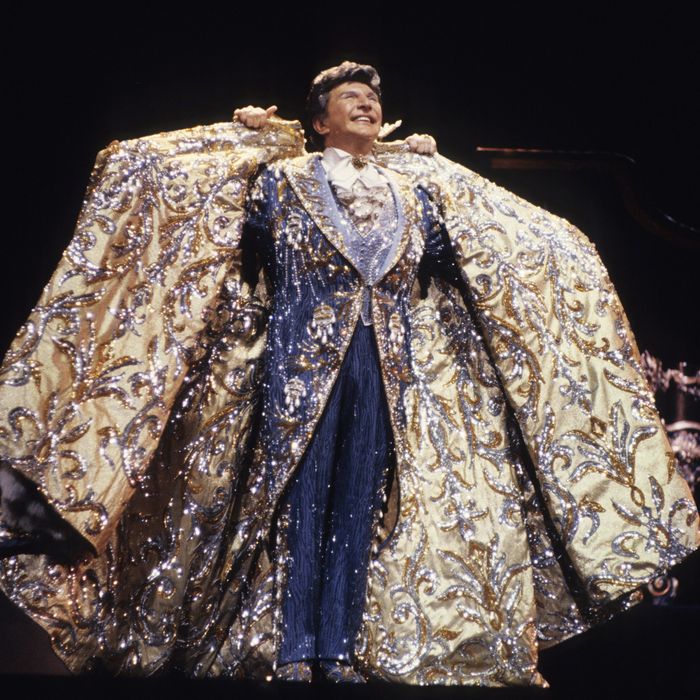 NEW YORK - JANUARY 01: Liberace performs at Radio City Music Hall in 1985 in New York City. (Photo by Larry Busacca/WireImage)
Photo: Larry Busacca/2008 Larry Busacca
This weekend, in HBO's latest biopic, the Steven Soderbergh–directed Behind the Candelabra, we are introduced to Liberace during his 1976 Vegas residence. The 57-year-old performer meets 18-year-old Scott Thorson and they begin a five-year relationship. By focusing on so narrow a piece of Liberace's career, the film leaves out large chunks of his life. So we've got a quick cheat sheet for you — from his start playing saloons to that moment when he tied Batman to a conveyor belt.
Early Life
Born Wladzio Valentine Liberace on May 16, 1919, Liberace was a twin, but his sibling died in childbirth. Thanks to his mother, he began playing piano at age 4. (In Behind the Candelabra, Liberace's mother is played by actress Debbie Reynolds, who was one of his dear friends in real life.) Liberace began touring the Midwest in his twenties as a classical pianist, but didn't love the music's constraints. The turning point in his career (and one of the stories he loved to tell during Vegas performances!) was that, in 1939, at the end of a traditional classical concert in Wisconsin, he played his first requested encore, "Three Little Fishes" in the style of several different classic composers. This was a brilliant trick, which he would continue to weave into performances throughout his life.
The Boys
Aside from Thorson, the most well-known lover in Liberace's history, Candelabra alludes to other of the pianist's dalliances, most notably one with "Billy Leatherwood," who in the film is played by a perfectly sneering Cheyenne Jackson. The character is based on pianist Vince Cardell, who was Liberace's protégé during a time that overlapped with the Thorson relationship. There were also multiple accounts of men who claimed to have sexual encounters with Liberace (despite his continual denial), including Rock Hudson. After the Thorson relationship soured, the younger man was succeeded by Cary James, an 18-year-old blond chorus boy.
Vegas
Liberace started his Vegas career in 1944, after years spent honing his act on the nightclub circuit. Although he started out catering to classical audiences, he eschewed that in the forties for a pop sensibility, focusing more on showmanship and flash than the standards. He returned again in the mid-sixties under the mantel of "Mr. Showmanship," upping his stage presence and making the costumes and sets more and more elaborate. By 1955, he was making $50,000 per week at the Riviera Hotel and Casino and boasted a quarter of a million fan-club members across the country. Mostly women. "I have yet to meet the woman who can resist a man when he sings to her," he said in 1955.
Liberace was famous for his medleys: Here is one of "As Time Goes By," "Chopsticks," and "Send in the Clowns."
The Homes
Candelabra is primarily set in the Las Vegas home shared by Thorson and Liberace. The décor included a piano-shaped pool, countless candelabras, and a bedroom ceiling painted to mimic the Sistine Chapel.
On TV
Liberace had a storied television career as one of the first matinee idols. He performed on Johnny Carson, Hollywood Palace, and The Ed Sullivan Show. His own program, The Liberace Show, became a syndicated hit in 1952. (As noted in Candelabra, he was the first to look directly at the camera.) He appeared on The Muppet Show and served as the time keeper for the first-ever WrestleMania in 1985. He even played villains on TV's Batman, as concert pianist Chandell and his gangsterlike twin Harry.
During the 54th Academy Awards, he performed songs from all the nominated films and announced the winner for Best Score.