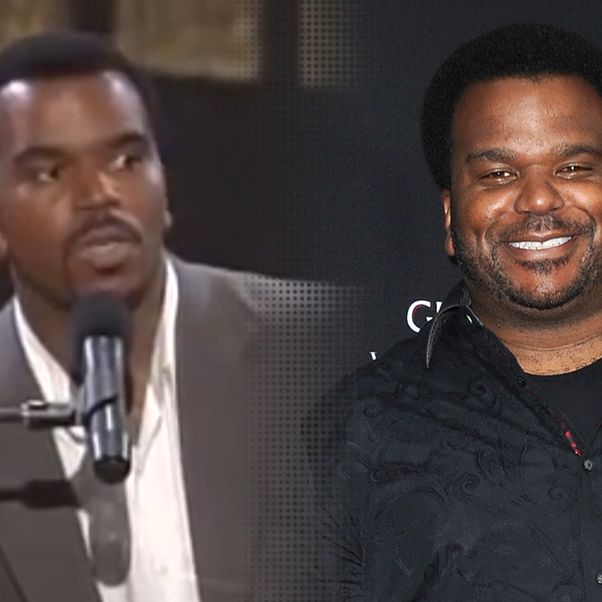 Photo: Def Comedy Jam; Patrick McMullan
Eleven years ago, Craig Robinson performed on Def Comedy Jam. This was a few years before he first appeared on The Office, and became an Apatow utility player and generally known funny person. In 2010, Robinson told The Guardian about the performance that would become his big break:
"It was extremely intimidating. Especially considering my style – just, you know, laying a joke out. I was relatively clean at that time, and Def Jam was mostly high-energy acts. So I was coming in with the whole reverse of that, sitting still at a keyboard, and I had no idea how they'd react."
He's not lying. It's incredible to see how the deadpan delivery he's now famous for worked in that traditionally raucous setting. (If you want to get a sense of the contrast, watch Bernic Mac's legendary "I ain't scared of you motherfuckers" set first.) He starts by slowly sitting down and saying, "Before I begin." You can hear a handful of uncomfortable snickers and a lady screaming, "Take it off!" It's instantly clear that the audience doesn't know what to do with him. They clap when he asks, "How many people out there have seen Chris Rock's HBO special?" When he finally gets to the punch line, "Well, there goes that material," there's a noticeable pause before laughs slowly build to a couple of hollers. As he continues, the audience falls into that rhythm, dying down completely as he leisurely walks through each setup, only to (after a slight pause) laugh heartily after the impending punch line. And when he hits the end of his Hokey Pokey bit (around three minutes in), the crowd explodes, and they're palpably his.
The rest, as they say, is history. Robinson went on to have many very funny guest spots in some very funny projects for more than a decade, until this year, when Robinson is starting to move into lead roles like The Peeples (which opens this weekend), This Is the End (which opens later this summer), and the pilot for Mr. Robinson (the NBC sitcom, whose fate will be decided by Sunday night). But it all started with one completely unique, super-funny seven-minute set. Robinson told The Guardian, "The producer told me to bring my best seven minutes; I only had seven minutes." He only needed seven minutes.