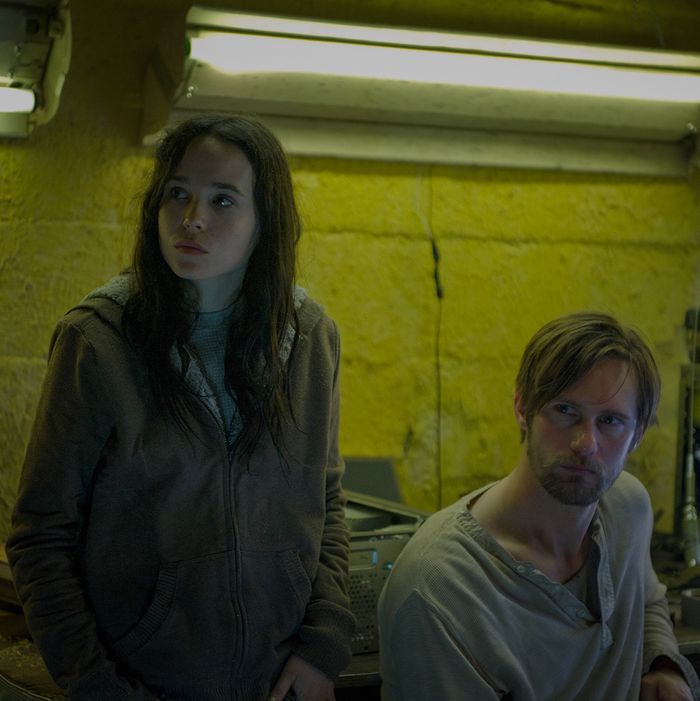 Photo: Fox Searchlight Pictures
I know nothing about actress and writer Brit Marling's personal life but can guess from her films that she has a romantic attraction to cults. Not to dogma — which is not irrelevant but not the clincher either. It's the prospect of connection that moves her. In the three films she has starred in and co-written, characters are thrown out of their solipsistic orbits by a sudden sense of oneness with something larger than their paltry, stolid selves. It's an old theme but a good'un, and in Marling's hands an often great'un. The East, her second film with director Zal Batmanglij (the first was Sound of My Voice), is in most respects a conventional genre picture. But it's passionate (and weird) enough to evolve into something mysterious and moving.
Marling plays Sarah, an agent dispatched to infiltrate an ecoterrorist collective called the East. She doesn't work for the feds. Her employer is a private security and intelligence firm run by the sleek, profit-oriented Sharon (Patricia Clarkson), whose clients are the East's typical targets: Big Pharma, Big Oil, Big Rich Any Corporation that, according to the group, poisons the world and everyone in it. Sarah peroxides her hair, hops a freight train carrying assorted friendly hobos, lets herself get beaten up by railroad guards (and slices up her own flesh for added verisimilitude), and presto: A member of the East scoops her up and brings her back to the ruined house in the deep woods that's the group's base of operations — and its commune.
Granted that Sarah's getting into the East seems a tad easy. In outline, The East is standard stuff — one of those conversion melodramas in which someone on the morally wrong side has a spasm of conscience and maybe crosses over. Maybe. I don't want to say where Sarah ends up. It's knotty. But there's no question that The East is an outlaw fantasy with a cast that would probably get me to commit radical acts, too.
They're crazy, lovely, passionate people. The magnetic Alexander Skarsgard is the leader, Benji, a soft-spoken dreamboat, ever-direct but with a haunted quality, with something in reserve. Ellen Page gives a Lili Taylor–worthy performance (high praise) as a suspicious, abrasive young woman — the first to challenge Sarah's credibility — who's finally heartbreaking in her commitment. Shiloh Fernandez (gay) and Hillary Baack (deaf) add distinct and original notes. Toby Kebbell is superb as a doctor whose experience with a poorly tested drug in Africa has led him to have seizures. The pharmaceutical company that did that is the object of the East's next operation — or, as they call it, jam. The weapon will be the company's own product.
Through all this, we hold on Marling's hard but open face as she gathers intel and at the same time begins to surrender (ever so tentatively) to the touchy-feely vibe. No, it's further down the road than touchy-feely. The East members feed one another. (Their meals, in which they wear straitjackets, are a wonder.) They bathe one another in a lake. They play trust games, among them spin the bottle. They hug a lot. Then they tackle their foes with the steely super-competence of a Mission: Impossible team.
Do we root for them wholeheartedly? Well, their tactics are dangerous and we should be mindful of the real-world implications — just as we should read Edward Abbey's The Monkeywrench Gang with the sober understanding that assaults on property are no solution, even in the face of all-powerful corporations and their congressional lackeys. I kid. The East is rigged so the group is never wrong in their righteous vengeance. What, they ask, is worse: ejecting chemical waste into water that ends up giving children tumors or chucking lying CEOs into the same toxic soup and watching them sputter and flail? In an age in which whistle-blowers — most recently the man who exposed CIA torture, John Kiriakou — get routinely thrown in prison, is there a judicious middle ground? The movie builds to an improbable conclusion that errs at least on the side of hope.
The East is a release of Fox Searchlight, the fine specialty division of Twentieth Century Fox that's owned, of course, by Rupert Murdoch's News Corp. I know it's juvenile, but I always get a kick from seeing films with a progressive slant in the formidable News Corp fortress, after first passing through the Roger Ailes–approved security gauntlet and under posters of corporatist Republican party apparachiks like Sean Hannity — who just loved slinging mud at the Occupy Wall Street movement. I know it's all capitalism, comrade. But I can pretend that Zal Batmanglij and Brit Marling have made a the East-like incursion into the building and were attempting to subvert the corporation from within.