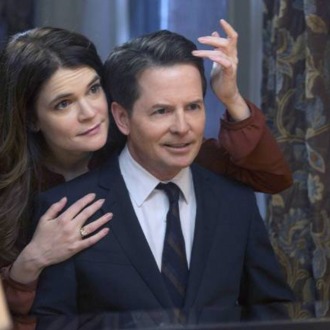 Breaking Bad's Betsy Brandt co-stars in The Michael J. Fox Show.
From the time he took over NBC two years ago, Robert Greenblatt has been telling anyone who'll listen that he had no plans to bring the edginess that made him such a success at Showtime to the Peacock network. "Broadcast shows tend to be more mainstream or middle-of-the-road," he told USA Today in 2011, not meaning it as a critique but as a goal. It took awhile, with series such as Smash and Awake and Hannibal and even the depressed loners of Go On very clearly filled with the DNA of the man who green-lit Dexter and Weeds. But with the schedule NBC unveiled Sunday, Greenblatt seems to have finally steered NBC right where he has said all along he wants it to be: Smack dab into the middle lane of American television.
The transformation is most obvious on Thursday nights. Gone are the romantically challenged career women and quirky singles and obnoxious bosses. Must-See TV will now have "a family theme," according to a press release issued by NBC. (For the first time in recent memory, the network did not make its executives available to reporters to discuss its new lineup.) Sure, the amazing and critically beloved Parks and Recreation is still around, newly relocated to the 8 p.m. death slot opposite The Big Bang Theory. But The Michael J. Fox Show and the two other new comedies which follow all look they'd be right at home on ABC's family values Wednesday schedule. Indeed, the non-Fox shows seem to be stolen directly from Modern Family: In Welcome to the Family, a white and Latina family are suddenly blended after an unplanned pregnancy, while Sean Saves the World has Sean Hayes as a gay dad with a daughter (though unlike Cam and Mitchell, he's divorced.) Whether these three new shows are hopelessly generic or sparkle with the fresh energy of early Modern Family doesn't matter: NBC is clearly moving in a new direction on Thursday, and it's one designed to appeal to broad swaths of viewers rather than the the small subsection of viewers who attend Comic-Con and hang out in the comments sections of comedy geek websites.
NBC's new middle-of-the-road philosophy can also be seen in the new dramas it has scheduled. Its big fall hope is The Blacklist, a James Spader-led hour in which a wanted fugitive teams up with a fresh-faced FBI partner and suddenly starts helping the feds track down a long list of criminals, persons of interest, if you will. Watching the four-minute trailer already released, you keep waiting for the words "coming to CBS." Similarly, just as the Eye network reached into its past for Hawaii Five-0, NBC is hoping a revival of a cop show from a bygone era, Blair Underwood as wheelchair cop Ironside, will draw viewers. Even NBC's genre shows this season are a bit more centrist: Old-school vampire king Dracula and the pirate adventure Crossbones, instead of Bryan Fuller's super-dark Hannibal. And later in the year, the Peacock plans to build on this season's modestly successful Chicago Fire with an instant spinoff, Chicago PD; both shows are from that master of meat-and-potatoes TV, Dick Wolf. If you like CBS-style dramas, there's a good chance you'll enjoy what NBC is serving up this fall.
That might sound like a slam against the Peacock, but it really isn't. At all. CBS might not get a lot of love from the critics (except for The Good Wife), but the Eye is a monstrously successful network which does will with viewers of all ages (it's No. 1 this season with viewers under 50.) Trying to replicate CBS's formula, along with some of ABC's family focus, could absolutely help NBC improve its lot next season. After all, NBC's biggest show, and one of the top series on all of TV, is the very family-friendly reality show The Voice. When American Idol was at its peak during the middle of the last decade, Fox used that massive audience to turn House into a smash hit. Now that The Voice is the new Idol, it makes sense that NBC would try to think broader. The serialized nature of Revolution, plus the sci-fi angle, always limited its potential behind The Voice, and could be behind that show's ratings dive during the second half of the season. By contrast, The Blacklist, airing Mondays at 10, is a good old-fashioned stand-alone procedural headlined by a big TV star (that would be the outrageous and droll-witted James Spader of Boston Legal, not the creepy James Spader of The Office.) NBC is also wisely shifting The Voice's Tuesday hour to 9 p.m. in the fall in order to give a huge boost to Chicago Fire, a show that did OK on its own but stands to catch fire (sorry!) with a better lead-in.
Besides its broader focus, a few other elements of NBC's new lineup are also of note. After last year's disastrous expansion to eight comedies spread out over three nights, new Peacock scheduling boss Jeff Bader (imported from the very middle-of-the-road ABC) has wisely contracted NBC's comedy roster back to four shows on just one night (Thursday). All of the Peacock's comedy marketing energies can now be focused on this one mostly all-new night, with plenty of shows on the bench if needed (including Community.) Assuming Thursday works out okay, NBC will then use the Winter Olympics to once again try comedies on Tuesday behind The Voice. There's no guarantee this more focused approach will work, but it's a lot more logical than last fall's comedy explosion, which ended up killing shows on both NBC and ABC (R.I.P. Happy Endings and Don't Trust the B—- in Apartment 23.) It's also heartening to see NBC exercise some discipline with its unscripted shows. The Biggest Loser, having grown to a bloated two hours in recent years, is now back to a lean one-hour format on Tuesdays, perfectly paired with The Voice at 9.
As smart as NBC's schedule, as well as its big tent programming philosophy, appear to be on paper, it's hardly a given that the new lineup with dramatically boost its fortunes next season. For one thing, while The Voice has done spectacularly well for NBC this season, the downside of airing a reality show twice per year is that it risks viewer fatigue. (As it is, the show's ratings are down overall vs. its spring 2012 cycle by more than ten percent.) Likewise, though NBC's comedy lineup seems solid on paper, the network is losing what had become, by far, its biggest Thursday half-hour with the departure of The Office. Sean Hayes and Michael J. Fox are stars, but as Matthew Perry will tell you, these days star power is no guarantee of anything. Revolution stands a very good chance of boosting NBC in the 8 p.m. Wednesday slot compared to the pathetic performance of Animal Practice and Guys with Kids, but it will also very likely fall dramatically vs. its freshman ratings average. The other big danger for NBC is that, by swinging right down the middle, it could be harder for the Peacock's newcomers to build buzz, something that's essential these days to cut through the clutter of so much good scripted programming. NBC has built itself a very sensible, savvy schedule filled with broadly appealing shows. Now it just has to hope the viewers show up.