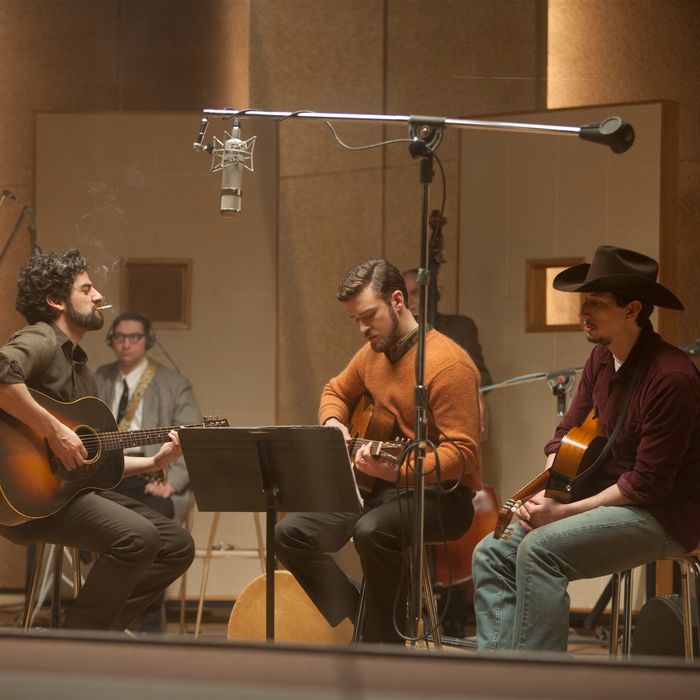 Oscar Issac, Justin Timberlake and Adam Driver in Inside Llewyn Davis
Photo: CBS
While there are still plenty of heavy hitters on the way, the film that's proved the buzziest of the first few days of the Cannes Film Festival has got to be Inside Llewyn Davis, the music-filled dramedy directed by Joel and Ethan Coen. Certainly, the movie has enjoyed a better reception than the one afforded to its title character, Llewyn (Oscar Isaac), a 1961 folk musician who toils in obscurity while his contemporaries — including singers played by Carey Mulligan and Justin Timberlake — find success more easily. Poor Llewyn has some heart-stopping songs to sing, but he's destined to live in the shadow of greater artists like Bob Dylan; what does Davis lack that Dylan had going for him? "All sorts of things, starting with luck," laughed Joel Coen today at a Carlton Hotel reception for the film. "But the one thing he did have, that we wanted to make clear, is talent. It wouldn't have been interesting to us to make a movie about a someone who's a failure in some ways, but also talentless."
Luckily, the Coens have a considerable talent in Isaac. Mostly known for supporting roles in films like Drive, Sucker Punch, and Robin Hood, the 33-year-old is a revelation in Llewyn — and as beautiful a singer as he is a skilled actor. "We saw Jim James for the role, we saw Zac Brown, we saw a lot of [musicians] who were all wonderful, but to carry the lead in a movie like this … whatever Oscar did, it was an extraordinary feat of art, I'd say," enthused T-Bone Burnett, who produced the film's soundtrack alongside Mumford & Sons front man Marcus Mumford. "It's a conjuring trick he did."
Where did those musical bona fides come from? "I've played music since I was twelve," explained Isaac, who regularly gigs at clubs in New York and has sung a little bit in other films, including a ballad he penned for the 2012 Channing Tatum indie 10 Years. "It's something I need to do. If I go a week without it, and I feel a little depressed and I don't know why, it's because I haven't touched my guitar in a few days."
Most of the music in Llewyn Davis is spare and haunting, but the number that has had everyone talking is just the opposite: "Please Mr. Kennedy," a bouncy, dorky folk song that Timberlake sings with Girls star Adam Driver. "I think we just wanted to camp it up as much as possible without jumping off of the figurative cliff," laughed Timberlake, who helped craft the song — adapted from a preexisting folk tune — with Burnett and the Coens.
"When we cast Adam, we actually didn't know whether he could play or sing — we just liked him in the part," said Joel Coen. And it's not like Driver actually does sing, exactly. Instead, he adds hilarious, out-of-nowhere exclamations like "AWOOOT!" to the end of Timberlake's lines. "There are so many things happening in that scene that are, to me, laugh-out-loud funny," said Timberlake, "but then Adam, like, vomits some sound that literally makes us stop and look at him like, 'What the fuck are you doing?'" And yet, Timberlake managed to keep a straight face. "There's probably some outtakes where we didn't."
This isn't the first time that Burnett and the Coen brothers have tackled folk music together: They mined an earlier period of thirties folk for the mega-selling O Brother, Where Art Thou? soundtrack, and Burnett says he can feel that album's influence on contemporary musicians like the Lumineers and Alabama Shakes. "If you think about it, all these kids are 25 now, and they were 12 or 13 when O Brother, Where Art Thou? came out, and it was a major depth charge," said Burnett. "Ten million records. It exploded! And now all these bubbles are floating to the top."
The O Brother soundtrack was so popular that it spawned several tours for the musicians involved in making it, and Burnett anticipates some similar live outings for Llewyn Davis. "We're gonna do a series of concerts — not necessarily a tour, although it could turn into a tour at some point, and it probably will," he told Vulture. "Marcus Mumford is going to curate the concerts with me and the Coen brothers. We're gonna use this opportunity to introduce a lot of people who are reinventing this kind of music." Would Timberlake — already busy planning his own world tour — be willing to drop in on some live shows? "They haven't spoken to me about it, but that'd be a really cool thing," he said with a smile. "I'd want to see that." Let's hope that Adam Driver is around to provide all the necessary AWOOOTs.
With additional reporting by Jada Yuan.