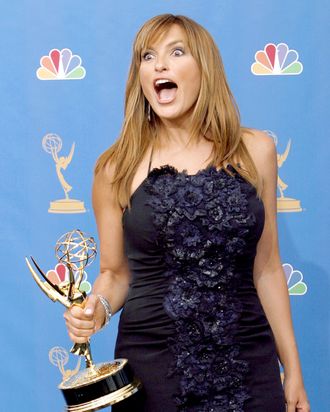 Law & Order: SVU #07015 "Manipulated" 12-16-2005Director: Matt Earl Beesley DP: Geoffrey ErbScene 41 (Int) Interrogation Room (behind the scene)"Stabler & Benson interrogate Tessa"Chris Meloni (Stabler)Mariska Hargitay (Benson)Rebecca De Mornay (Tessa)Betty Buckley (Attorney Walsh)photo credit: Will Hart / NBC Universal
Photo: Mario Anzuoni/© Corbis. All Rights Reserved.
Thanks to a new deal with Universal Television, our favorite lady detective will be back when Law & Order: SVU returns in the fall. "Happy weekend. It's official. Season 15–I'LL BE BACK!" Mariska Hargitay tweeted yesterday. The Hollywood Reporter reminds us that SVU is not "the juggernaut it once was," though it remains a "consistent performer" in its Wednesday night time slot. After all, there will always be a few million people who want to just stay in and hope for one of those ripped-from-the-headlines episodes.