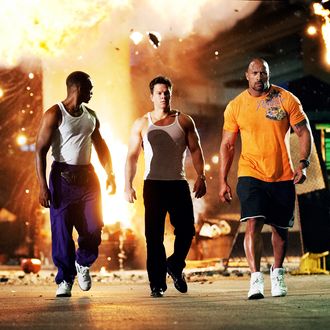 Photo: Jaimie Trueblood/Paramount Pictures.
In an interview with the Daily Beast, Michael Bay shared one of the "craziest things" to happen on the set of Pain & Gain, and turns out it wasn't the film's tank-top budget:
"We bought $75,000 worth of sex toys to stock the sex-toy warehouse. I could have filmed the crew coming in that day because they'd stop and see these things — anatomically correct vajayjays and this butt (everyone would touch the butt because it felt real) — and it was hysterical. We were going to return all the sex toys to get three-quarters of our money back, but they started disappearing. We were like, 'Who is taking the sex toys?'"
Hmmm, who do YOU think stole all the sex toys from the set of Pain & Gain? We're betting on Shalhoub.