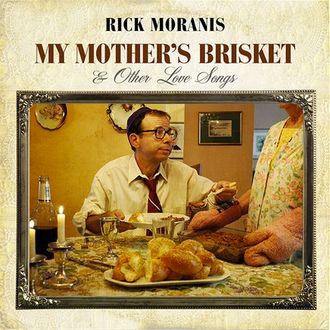 This is the cover for Rick Moranis's new album you are very excited about.
Rick Moranis. Rick … Moranis. He starred in your childhood, then disappeared from your life. You looked him up a few years ago to verify that the absence you felt was real; Google suggested results for "Rick Moranis dead," "Rick Moranis death," and "Rick Moranis retired." Only the latter was true, as you discovered in posts like "Where'd Rick Moranis Go?" and "What the Hell Happened to Rick Moranis?" You learned that Moranis's wife died of liver cancer in 1991 and he retired from the screen in 1997. Sometime later, he said, "I'm a single parent and I just found that it was too difficult to manage raising my kids and doing the traveling involved in making movies. So I took a little bit of a break. And the little bit of a break turned into a longer break, and then I found that I really didn't miss it." You mourned, as if Google's rumormongering had been right all along.
Now you can put all that in the past, because Rick Moranis has an album coming out. It's called My Mother's Brisket & Other Love Songs. This is the cover art. This is the beginning of Rick Moranis's reentry into the culture, the birth of a one-day sentiment that goes something like, "My Mother's Brisket was to Moranis what Hatfields & McCoys was to Costner." You hope.
Moranis also released a record eight years ago, The Agoraphobic Cowboy (here's a Spotify link). It fell closer to Jeff Bridges's country album than a Weird Al LP, but the silliness was there. It was nominated for a Best Comedy Album Grammy, but it was also something you could just put on for twangy background tunes. (There was a lot of banjo.) Moranis did an interview with CMT about the album and said, "Up until this, I've always sung in character. This is the first time I'm sort of singing as myself, oddly." The project was a one-off; it did not signal a comeback. Honey, I Shrunk Your Hopes.
And yet: My Mother's Brisket will arrive in 2013, a time when roughly 19 million media outlets both niche and huge will request an interview with any former Ghostbuster without missing a tweet. They'll all ask if Moranis plans to ever act again. He'll get to thinking about it, thinking about how his kids are older now and how he really did have some good times with Harold Ramis and Mel Brooks and even doing that Flintstones movie. Judd Apatow will write a part for him, or your favorite indie auteur will. Wayne Szalinski shall return.
That's all in the future, though. For now, there's no actual information except a promise that you can pre-order the album on May 21 and join a mailing list. You opt in, dying for details, but receive a boilerplate, "Thank you for signing up! You have been subscribed to the newsletter and will be receiving a confirmation email shortly." And now you wait. You can only wait.