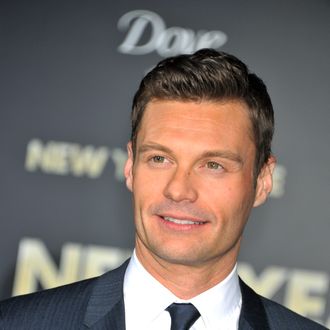 How do you say "Seacrest out" in Spanish?
Photo: Frank Trapper/Corbis
Ryan Seacrest Productions has sold 13 two-hour episodes of variety competition show Duelo Musical: Super Estrella (translated: SuperStar Showdown) to Telemundo, the Spanish-language network. From The Hollywood Reporter: "The shiny-floor format revolves around two music artists competing head to head, with the loser having to fulfill a gentlemen's bet. Each episode will feature challenges, mystery acts and big musical performances — plus two new stars. As on Seacrest's other music competition series, viewers will decide who wins." NBC is already looking into casting an English edition of the show as a special, which would bring Seacrest that much closer to the Peacock family.