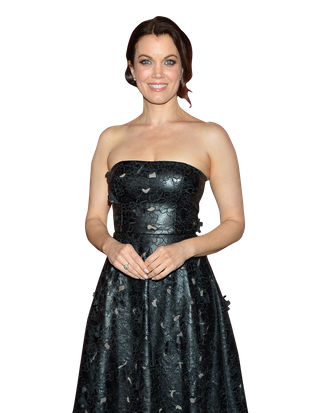 Bellamy Young.
Photo: Slaven Vlasic/Getty
As Scandal's First Lady Mellie Grant, actress Bellamy Young is a nightmare — manipulative, deceitful, selfish. In real life, though, she's a delight. Phew! Vulture grabbed a few minutes with her last night, at a dinner hosted by Elle magazine for its June cover girl, Kerry Washington (a.k.a. Olivia Pope). Here's what Young told us about her prank-loving co-star Joshua Malina, possibly tweeting at the real First Lady, and tonight's finale.
I don't know if you've heard, but Josh Malina was telling us how he's such a prankster. I guess I don't need to tell you that part.
No. I share a trailer with that man. I live in fear. I tiptoe around and sometimes I just don't even want him to know that I'm there. I'm too vulnerable. Instead of Mellie on my door, now it says, Smelly. It's the little things, but they're ratcheting up quite quickly so I try to stay off his radar.

Or better yet, one up him.
I tried to get everyone together to do one giant retaliation for April Fools', but they were too afraid to escalate. We live in fear.

You're letting him win!
I know. Well, did he tell you what Shonda [Rhimes] did?

No, what?
The last table read of the season — well, Josh always sits down immediately and reads the last page to see if he's alive because he's such a pessimist. Then he doesn't read anything else and enjoys the table read. So for the last table read, Shonda got the writers to write a beautiful — fake — last-two-page scene where [Josh's character] David dies and Abby is distraught and Huck's like, "It had to happen." So Josh sits down and turns to it and his face went ashen and he turns to Scott Foley and says, "Man, it looks like I die." Of course we're all in on the joke because Shonda asked us beforehand, "Do you think this is terrible? I would never do this to any other actor in the world." We're all like, Totally do it. So Scott was like, "That's really hard luck." And stupid Josh, he's brilliant and has the presence of mind to read the end of someone else's script. He's always a step ahead of us!

Well, for a minute there you had him.
For a second. A second of glory. It was so elaborate. It was a beautiful scene.

Do you know what he told us about your e-mails?
Oh lord, no. That they have rainbows and unicorns all over them?

Well he didn't specifically say that, but yes, that's what he was getting at. He did say that you are very effusive and that you don't refrain from using exclamation points and that he is planning on doing a one-man play based entirely on your e-mails.
[Laughs] To spend 90 minutes seeing Josh that happy, even if it's forced or fake, would be worth the mocking. I welcome it, Josh Malina. I welcome it!

You'd get writing credits of course?
I would get writing credits and therefore royalties. He hasn't thought of that, I'm sure.

Perfect.
The subtext of my e-mails is sort of cotton candy and rivers of chocolates and puppies and kittens tumbling through grass.

Even after he calls you "Smelly" on your trailer door?
I'm happy. He can't bring me down!

I guess that's the ultimate revenge.
Right? I have to say, it's such a loving group and he has mellowed tremendously. When we had our great ratings week, at about 10:30 in the morning we got an e-mail from Josh to all of us — we have these elaborate e-mail threads and everyone's on it all day. So it was an e-mail from Josh saying, "Is no one going to send me a stupid effusive e-mail about the ratings?" We were like, "Got you, Josh! Your heart has melted!"

So you've sucked the joy out of pranking.
Sucked the misery out of him and inflicted him with our joy.

I love it. Huck and Quinn, are they going to make out or what?
You're hilarious. We've gotten asked that a lot this week and it's still never occurred to us because we're in the middle of it. I don't know, because we never know what's coming, but I can tell you I've listened to them banter a couple times and Katie [Lowell, who plays Quinn] always says, "We are up for whatever! We love this job so whatever Shonda sees fit to do, we're down."

Could you see it happening? Do you watch the show like a viewer?
I watch the show. Oh my god, yes.

I often hear people say they don't like to watch themselves.
Fuck that shit. We watch the show. Are you crazy? We watch it together; we watch it with fervor. We're like summer camp when we watch it. We also watch it so we can take notes to tweet.
So you're live tweeting during it?
I can't watch and tweet. We had to tweet last week without actually seeing it and it was impossible for me. I'm not that savvy. We always pre-screen.

Do you ever tweet at the real First Lady?
I don't know why that didn't even occur to me.

Do Michelle and President Obama watch?
They do watch. Kerry is on the White House Council for the Arts and she's very close with them. I was like, "Kerry, I wish Scandal could have a screening at the White House." Actually, I'm waiting for the Obamas and the Clintons to be guests on our show. That's my dream!

So send out the tweets and get Michelle excited about it.
You're emboldening me.

What can you tell us about the finale?
I can tell you that your mind will be blown and that there are, like, five stroke-inducing events in the episode. Shonda is Shondalicious. The last second, you will not believe it until we come back in September.

Well, I'll keep a resuscitator nearby just in case.
Yes. And an EpiPen, a respirator, a little Bourbon, some coconut water, you should maybe be horizontal — in a hammock, so you can see. Prepare.

Can't wait!
I like this, by the way [gesturing to my to iPhone recorder app].

I can e-mail my audio files straight from my phone.
We're living in the future. They're actually going to make an app because they might launch a clothing line to go with season three.

Wait, what do you mean?
I don't know for sure, but I know that they want to develop an app and people will be able to click and buy what you see. I know there's already a website that shows you options similar to things you see, so if you see something you like, you can buy the real-life version of something Kerry's wearing. But this will be more synergistic.
And will there be a separate clothing line specific to the show?
That's the idea. Lyn [Paolo, our costume designer] would know. She's trying to up everything and make it more specific. She kept me in Micheal Kors for the last few episodes. She's trying to define us very clearly.
That's cool, it makes sense, Mad Men did it with Banana Republic and Gatsby with Brooks Brothers.
Exactly. Reach out to her.