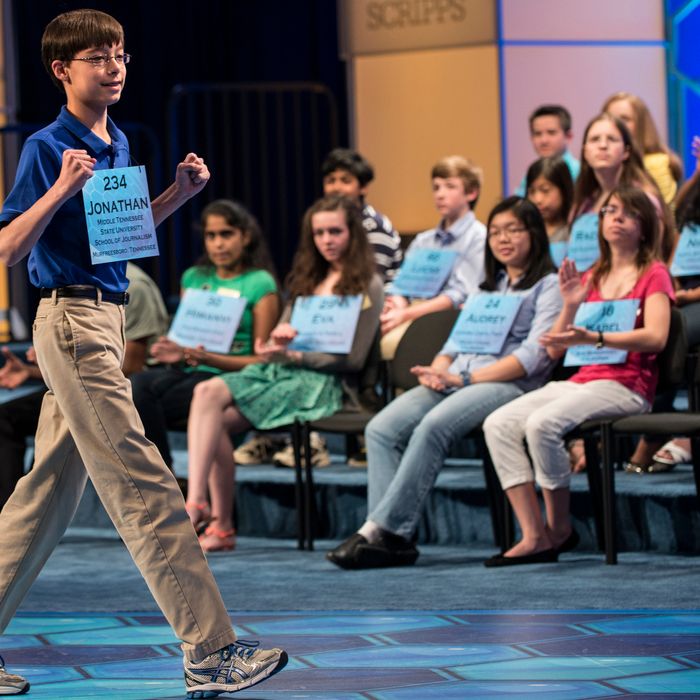 Tonight at 8 p.m., twelve young spellers will take the stage at the 2013 Scripps National Spelling Bee. If you're interested in seeing eleven groups of parents break down as their eleven young geniuses get eliminated one by one, you can watch the competition live on ESPN. Alternately, you could just tune in tomorrow to hear the winning word and see the young winner celebrate. If you're planning to watch — and perhaps want a favorite going in — I have picked a few finalists that I've had my eyes on from the very start.
Grace Remmer - Speller No. 39
Age: 14
Coolest Word Already Spelled: teneramente ("a directive to a musician to perform a selected passage of a composition with tenderness")
About Her: Poised and home-schooled, Grace Remmer had no problem spelling teneramente because she happens to teach violin. Yes, teach. She also has been at the Bee for the past three years — she came in ninth place in 2010.

Arvind Mahankali - Speller No. 163
Age: 13
Coolest Word Already Spelled: belemnoid ("shaped like a dart")
About Him: Arvind is a big favorite, having placed third in both 2012 and 2011. His favorite song is "I Believe I Can Fly," so that also works well in his favor.

Vanya Shivashankar - Speller No. 91
Age: 11
Coolest Word Already Spelled: horologium ("a faint southern constellation, between Hydrus and Eridanus")
About Her: Vanya is a personal favorite, having won my love with a behind-the-scenes video about her older sister, Kavya, who was a four-time participant in the Bee.

Amber Born - Speller No. 115
Age: 14
Coolest Word Already Spelled: recalcitrant ("having an obstinately uncooperative attitude toward authority")
About Her: Called "the comedian" by the Bee announcer quite a few times this competition, Amber cracks nervous (but successful!) jokes every time she's at the microphone. She's also in a Beatles tribute band.
Nikitha Chandran - Speller No. 44
Age: 13
Coolest Word Already Spelled: peristalith ("a stone circle")
About Her: Nikitha's Bee bio says she loves The Hunger Games and Taylor Swift, which means she'd fit in very nicely at Vulture.