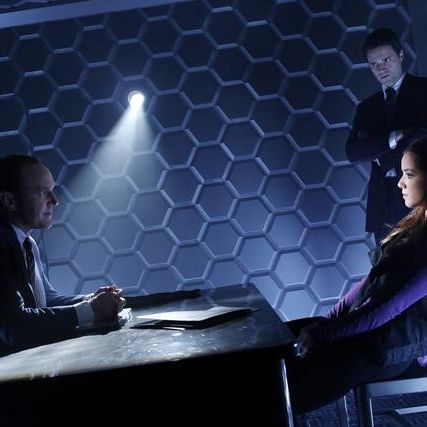 Vulture's TV critic, Matt Zoller Seitz, will be watching and evaluating the early clips and concepts of each of the new shows unveiled at this year's upfronts. Here are his thoughts on ABC's shows — you can watch trailers for the dramas here and the comedies here.
Back in the Game
The gist: Maggie Lawson plays Terry Gannon Jr., a former pro-softball player and mom who divorces her husband and moves back in with her dad, Terry "The Cannon" Gannon (James Caan), a retired baseball player turned coach. When her son gets cut from his Little League team, she volunteers to build a new, competing team from all the castoff kids, and suddenly we're looking at The Bad News Bears, the series.
Gut reaction: Lawson is utterly convincing as a Rosalind Russell/Karen Allen-style tomboy babe who's twice as tough as most guys but still a woman through-and-through. And who doesn't love James Caan? The older he gets, the more hilarious his hangdog reaction shots become. Chick flick plus sports flick plus family drama? Bring the heat, show.
Betrayal
The gist: Political thriller/high-end soap about an adulterous affair between photographer Sara Hadley (Hannah Ware) and attorney Jack McAllister (Stuart Townsend). Sara is married to a politically ambitious prosecutor; Jack's married to the daughter (Wendy Moniz) of his boss (James Cromwell, who should get a MacArthur Genius grant just for his astounding array of menacing frowns). When Jack's brother-in-law is accused of murder, he defends him against Sara's husband. Whoa, boy.
Gut reaction: If you can get past the incredible conflict-of-interest issues in this trial, the show could be a lot of fun. It seems to be going for that Damages "Screw plausibility, let's chew some scenery" thing, which is all right by me.
The Goldbergs
The gist: The Wonder Years, only set in the eighties. Patton Oswalt narrates this laugh-track-free comedy about a Reagan-era suburban Jewish family; their misadventures are seen partly through the lens of the youngest son's VHS camcorder. Jeff Garlin is the patriarch; Wendi McClendon-Covey is the matriarch; George Segal plays grandpa, an aging Casanova who throws a wrench into the family's power dynamics when he buys a new sports car and gives his old Caddy to the Goldbergs' restless teenage son.
Gut reaction: Straight-up, dear readers: You're going to have to de-nostalgia-fy anything I write about this sitcom by 50 percent to get an accurate read on its quality. I came of age when MTV was young, hair was big, and cars had cassette decks. The Goldbergs promo reel plays my heartstrings like Prince shredding guitar at the end of "Let's Go Crazy." Remember how, back in the eighties, Boomer critics acted as if every friggin' frame of the sixties time machine The Wonder Years was À la recherche du temps perdu in bell-bottoms because it reminded them of their childhood? That'll be me in three months. Don't say you weren't warned.
Lucky 7
The gist: Long talked-about and now finally scheduled, this series follows a group of seven gas station employees who win the New York Lotto jackpot and hope the money will solve, or at least alleviate, all their problems.
Gut reaction: I'm always happy when networks green-light dramas about plausible human beings living real-seeming lives that don't involve killing or arresting people. But these same shows often fail because they lack those generic hooks. Fingers crossed. I wonder how many people will play the show's premiere date as their Lotto numbers.
Marvel's Agents of S.H.I.E.L.D.
The gist: The extended Marvel universe as laid out in numerous recent features expands to network TV, with Clark Gregg's Agent Phil Coulson returning from the dead in The Avengers (hey, it's comics!) to lead a team of super-agents investigating cases of superheroism and supervillainy that "the agency hasn't classified yet."
Gut reaction: The big-budget superhero drama hasn't really caught fire on network TV since, well, ever — although more modest, even cheapo efforts like the CW's Arrow and the seventies The Incredible Hulk did all right. This one will likely run into the same problem that felled Heroes and The Cape: Network TV can't match the production values of theatrical blockbusters, the character nuances of niche cable genre series, or the near-total artistic freedom of comics printed on paper, so what's the point?
Once Upon a Time in Wonderland
The gist: Alice (Sophie Lowe) is in a Victorian asylum being treated for her "hallucinations" of a world that she glimpsed on the other end of a rabbit hole. Alternating fantasy world/real world intrigue in the manner of its network predecessor, Once Upon a Time, the show sends Alice back to Wonderland in the company of the Knave of Hearts (Michael Socha) and the White Rabbit (John Lithgow, in one of many roles he was seemingly born to play).
Gut reaction: It's hard to imagine that this show won't at least be a modest success that runs a year or two. It's offering fans of the beloved Once Upon a Time something similar but different.
Super Fun Night
The gist: Best friends Kimmie (Rebel Wilson of Bridesmaids), Helen-Alice (Liza Lapira), and Marika (Lauren Ash) have hung out together every Friday for thirteen years, but always in private. When Kimmie gets invited to a trendy club by her dashing British boss, the trio has to step into the wider world. Social awkwardness and SNL-styled slapstick result.
Gut reaction: Props to all involved for bringing the pratfalls, goofy faces, and Fletch-style, wouldn't-fool-a-toddler lies, but after the kickoff, where does the show go? Like a lot of promo reels, the one for this show seems to advertise a one-and-done feature film.
Trophy Wife
The gist: Malin Akerman plays the third wife of Bradley Whitford. She's a longtime party girl who suddenly finds herself inheriting a family and having to be "responsible," i.e, domesticated, and learn to like it. "You're not even a real grown-up," one of her new kids chastises her. "Your car is full of garbage and shoes."
Gut reaction: Should've been a movie.