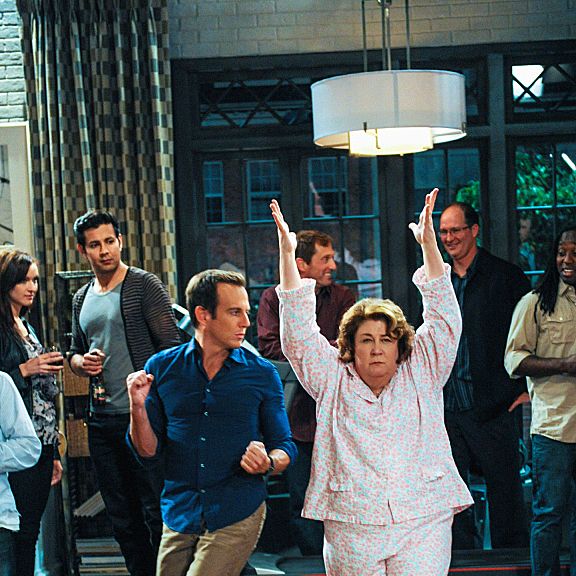 Will Arnett and Margo Martindale in The Millers.
Photo: Richard Foreman/CBS
Vulture's TV critic, Matt Zoller Seitz, will be watching and evaluating the early clips and concepts of each of the new shows unveiled at this year's upfronts. Here are his thoughts on CBS's shows.
The Crazy Ones
The gist: Comedy-drama from David E. Kelley set at Roberts & Roberts, a Chicago ad agency run by a father (Robin Williams) and his daughter (Sarah Michelle Gellar). The father, Simon Roberts, is a wild, wacky, impulsive Robin Williams type of character, an impish id-creature; his daughter Sydney is the level-headed one who advises caution and tries to rein her dad in.

Gut reaction: Looks like Patch Adams set at an ad agency, with Williams riffing while squares gape at him in awe and confusion. Kelley has always demonstrated a knack for showcasing oddball lead actors (Robert Downey Jr. on Ally McBeal, James Spader and William Shatner on Boston Legal), so he's the right guy to bring Williams back to prime time; but this thing had better have a strong and consistently compelling spine, otherwise it's going to make millions of people want to poke their own eyes out.
The Millers
The gist: Will Arnett (Arrested Development) plays Nathan Miller, a local news guy who gets a divorce from his wife but doesn't tell his parents, Carol and Tom (Margo Martindale and Beau Bridges); when he does tell them, Tom is inspired to split up from Carol, too.
Gut reaction: The promos make this look aggressively terrible, a couple of steps up, maybe, from that sitcom with Rodney Dangerfield in Natural Born Killers. Nathan to Carol: "Did you fart?" Carol: "Yes." Nathan: "Gross! Go outside or something!" Carol: "Relax, it's a fart. Some people think they're funny!" For this, Martindale left The Americans?
Hostages
The gist: Toni Collette plays Ellen Sanders, a surgeon entrusted with performing a life-saving operation on the president of the United States. Dermot Mulroney is Duncan Carlisle, the troubled FBI agent who takes Ellen's family hostage and tells her that he'll kill them all if she doesn't kill the president. Duncan seems utterly evil at first, but he has his own reasons for going to such extreme lengths. Limited-run series from action impresario and CBS warhorse Jerry Bruckheimer (Cold Case, CSI, et al.).  
Gut reaction: 24 by way of the classic hostage drama The Desperate Hours, with a touch of The Fugitive (in that the supposed bad guy is desperate and misunderstood rather than evil). Nothing in the promos makes it seem terribly special, aside from the cast, which includes Tate Donovan as Carol's husband and James Naughton as the president. But these things are all in the execution; the fact that Hostages is designed as a stand-alone miniseries is a good sign; people can commit for the short-haul without worrying that the plot will wear out its welcome and become unforgivably dumb over the course of months or years.
Intelligence
The gist: Josh Holloway (Lost) is Gabriel, a former Special Forces soldier who's implanted with a chip that allows him full access to, and control of, almost every variety of computer technology — which of course makes him a superman. Marg Helgenberger (CSI) is Lillian Sand, the government scientist who invented the chip and serves as the hero's overseer and guru.
Gut reaction: Gabriel had better hope that anyplace he goes on a mission, they have decent wireless. Kidding, sort of: This looks like The Six Million Dollar Man 2.0, and an extension of some well-established CBS visual crime show tics (Gabriel describes the three-dimensional environment the chip creates in his imagination as "a virtual evidence wall"). The clips play like a high-tech throwback to seventies-style man-on-a-mission adventures, but with some kind of ongoing mythology. I'm guardedly optimistic, while assuming – as is the case with so many shows with this sort of format – that this is another one of those CBS dramas that you can kind of half-watch while folding laundry.
Mom   
The gist: Anna Faris plays Christy, a recovering alcoholic and single mom raising a teenage daughter, Violet (Sadie Calvano). Allison Janney is Christy's mom, Bonnie, long estranged, who reenters her life. Bonnie taught Christy everything she knew, unfortunately, and she's in recovery, too. Both women struggle to be responsible while coming to terms with their pasts. Christy: "I've watched you lick cocaine crumbs out of a shag carpet." Bonnie: "It's not a shame to be thrifty."
Gut reaction: The executive producers are Chuck Lorre and Gemma Baker (Two and a Half Men), so there's no reason to expect subtlety. But Faris and Janney are brilliant performers, and this is a concept we haven't seen on network television before.
We Are Men
The gist: Jerry O'Connell, Tony Shahloub, Kal Penn, and Chris Smith play four men who live in the same apartment complex and have either gone through divorces or are going through them now. Smith's character is the audience surrogate, tutored in the ways of divorced manhood by the others after having been left at the altar on his wedding day.
Gut reaction: The promos have a Men of a Certain Age vibe. If you ever saw the show, you know what a good sign that is.