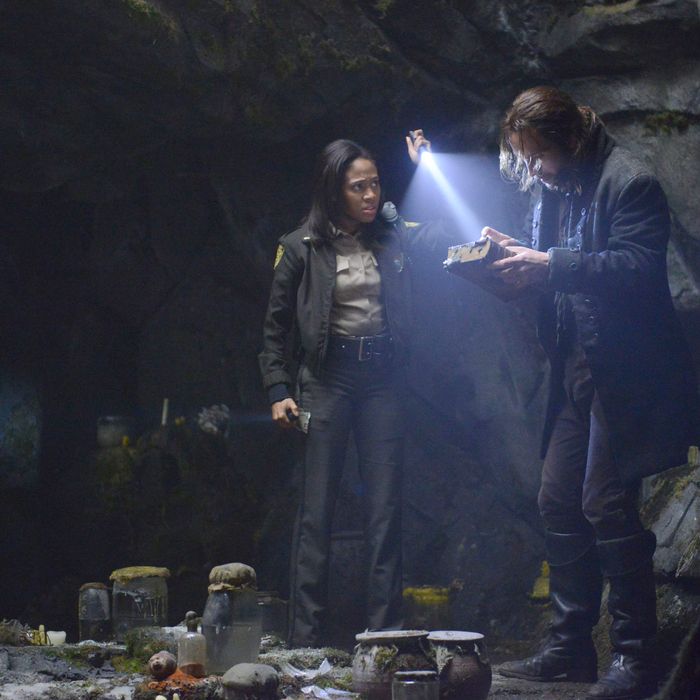 Vulture's TV critic, Matt Zoller Seitz, will be watching and evaluating the early clips and concepts of each of the new shows unveiled at this year's upfronts. Here are his thoughts on Fox's shows — you can watch trailers for the dramas here and the comedies here.
Almost Human
The gist: In a dystopian future, a burned-out hotshot cop named Kennex (Karl Urban, looking and sounding kinda like Brad Pitt in Se7en) is paired with a "synthetic" partner named Dorian (Michael Ealy). Although the buddy cop premise screams Alien Nation, promo materials evoke a combination of dark sci-fi pictures: Robocop and Minority Report especially. And the fact that the robot is super-chill and the human impetuous suggests a Kirk-Spock dynamic. "I can't say that I was born," Dorian tells Kennex, "but I was made to feel, as much as you."
Gut reaction: Sci-fi geeks will be all over this in the opening weeks, but Fox has never had a great track record with science fiction that purports to be about ideas — not since The X Files, anyway. The trailer promises eye-popping production values, but those are hard to sustain long-term on network TV. Might as well start that "Save Almost Human" campaign right away.
Brooklyn Nine-Nine
The gist: Andy Samberg as a gifted but hopelessly immature police detective; Andre Braugher as his by-the-book boss. Barney Miller by way of The Office, with splashes of Will Ferrell stooopid man-child humor.
Gut reaction: Inspector Clouseau failed upward, and so, apparently, has our hero, a clown who holds "fire extinguisher roller chair derbies" in the squad room and works pantless-with-Speedo one day, just because. Can a show set, however tentatively, in a real world of convenience-store robberies and home invasions bring the laughs without turning people off? It'll be a tricky balance. The trailer kills, though; the writers clearly appreciate Braugher's skill at slow-burn comedy, and the supporting cast (including Terry Crews and Melissa Fumero) is top-notch. Guardedly optimistic.
Dads
The gist: Seth Green and Giovanni Ribisi play harried video-game entrepreneurs dealing with their pain-in-the-ass elderly dads. A three-camera sitcom, very shticky from the looks of things. Seth MacFarlane (Family Guy, et al) executive-produces.
Gut reaction: The actors are all skilled and funny, but every joke in the trailer has a Gandalf beard, and the ethnic stereotype humor, which tries to wallow in ethnic clichés while claiming a self-awareness exemption, is MacFarlane in the worst possible way.
Enlisted
The gist: Set in an Army unit filled with "rejects and mental patients," according to a supporting character, this comedy from writer/executive producer Kevin Biegel and executive producer Mike Royce seems to be channeling Stripes and its TV forerunners, Sgt. Bilko and Gomer Pyle U.S.M.C. The main characters are three down-on-their luck brothers (Geoff Stults, Chris Lowell, and Parker Young) who somehow ended up in the same unit. Keith David is the glowering C.O. who lost a foot to a land mine.
Gut reaction: Can't remember the last time a show like this worked. That doesn't mean it can't work, but still: highly skeptical.
Rake
The gist: Oscar-winner Greg Kinnear plays Keegan Deane, a charismatic smartass attorney with a gambling problem. He ends up defending the mayor's top economic adviser after he's arrested for murdering and eating his girlfriend. Complications, as they say, ensue.
Gut reaction: Californication plus The Verdict with a splash of David E. Kelley's wacky lawyering. It's all on Kinnear, who's likable even when playing slime bags. But shows built around the adventures of a charming reprobate have a tough time of it on commercial TV, unless Charlie Sheen is the star. Seven episodes.
Sleepy Hollow
The gist: Lavish modern update of The Legend of Sleepy Hollow, starring Tom Mison (Parade's End, Salmon Fishing in the Yemen) as a paid assassin for George Washington who awakens in the year 2013 and chases a headless horseman that murdered people in Dobbs Ferry, explaining his unorthodox methods as he goes. "First I shot him," Crane tells a contemporary cop. "Beheading him seemed the next logical step."
Gut reaction: Shows with this sort of premise nearly always strike me as feature-film ideas that would have been better off confining the story to two-hour chunks spread out over several years. But network TV has done surprisingly well with modern fantasy lately (Grimm and Once Upon a Time, for instance), so if the mythology is intricately constructed and gripping, this could find an audience. Orlando Jones, Nicole Beharie, and Clancy Brown in supporting roles is a heartening sign.
Us and Them
The gist: A man from the country and a woman from the big city decide to meet for the first time after getting to know each other on the phone; she brings her sister, he brings his brother; romantic-comedy shenanigans ensue, and drag their respectively families into the mess. This is an Americanized version of BBC's Gavin and Stacy, which gained a cult following here thanks to its relaxed, character-based comedy; most of the same producers are involved with the new version.
Gut reaction: American versions of British series are iffy propositions, but the promo reel for this one generates a pleasantly laid-back warmth, with splashes of kookiness. Sight largely unseen, this feels like a best-kept-secret kind of series; for some reason, the trailer's tone reminded me of TNT's Men of a Certain Age.