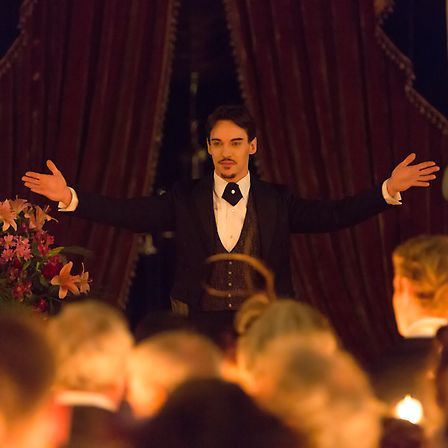 Vulture's TV critic, Matt Zoller Seitz, will be watching and evaluating the early clips and concepts of each of the new shows unveiled at this year's upfronts. Here are his thoughts on NBC's shows — you can watch trailers for the dramas here and the comedies here.
The Blacklist
The gist: James Spader plays Raymond "Red" Reddington, a.k.a. "The Concierge of Crime," a former government agent turned wanted fugitive who comes out of exile to begin helping rookie profiler Elizabeth "Liz" Keen (Megan Boone) catch bad guys, starting with a terrorist who wants to kidnap a general's daughter.
Gut reaction: I'm so very, very, very tired of Thomas Harris–inspired Hannibal Lecter–plus-law-enforcement-dopplegänger story lines; howzabout you? (He turned himself in, and he still acts like he's in control — oooo, scary.) But Spader is TV's greatest A-list weirdo — so charismatic, imaginative, and flat-out fun to watch that I could see this lasting at least one season based on his star power alone. Maybe they can bring in his old Boston Legal co-star William Shatner for a cameo now and again?
Ironside
The gist: Blair Underwood plays the title character, William Ironside, an arrogant but brilliant detective in a wheelchair who doesn't let his physical limitations hem in his brainpower or thirst for justice. Based (loosely) on the seventies police show starring Raymond Burr.
Gut reaction: Underwood is a terrific and inexplicably still-underrated actor, and here he finally has a starring part that'll let him ham things up and be tough, sexy, volatile and eccentric. If the show itself doesn't prove to be the usual thin NBC cop-show gruel, it could catch on, but there's nothing here to get prematurely jazzed about, besides the way Underwood sounds young–Jack Nicholson/current–Idris Elba notes when he's righteously pissed.
Dracula
The gist: Jonathan Rhys Meyers (The Tudors) plays Drac in this series that seems to take its cues from 1992's Bram Stoker's Dracula, a.k.a. Francis Coppola's Bram Stoker's Dracula. This time, Drac is a newly arrived New Yorker promising to bring the latest scientific inventions to Victorian London, and maybe a bit of the old fangs-for-the-mammaries while he's at it.
Gut reaction: It's always a mistake to judge a show by its pilot, let alone its trailer, but at least NBC seems to have thrown a bit of money at a series in which production values are at least half the battle. Given pop culture's unquenchable bloodlust for all things vampiric, this could catch on, provided the cast and story lines are as intriguing as the premise; but I wouldn't bet on it, and if the ratings aren't fantastic from the get-go, the restless suits at the Peacock network will drive a stake through the show's heart faster than you can say Van Helsing (played by Thomas Kretschmann, yay).
Welcome to the Family
The gist: Caucasian-Hispanic culture clash ensues when a couple of high-school kids (Joseph Haro and Ella Rae Peck) come up pregnant during graduation week, throwing their college plans into turmoil and cheesing off their parents (Ricardo Chavira and Justina Machado and Mike O'Malley and Mary McCormack, respectively).
Gut reaction: This is a great cast, and the executive producers (Mike Sikowitz of Rules of Engagement and Friends) and Jamie Tarses (of Happy Endings) have done good work in the past. But CBS tried a version of this back in spring 2012 with Rob!, and it didn't last a half-season. This show had better be really funny, and move beyond its premise right quick, otherwise it's adios.
Sean Saves the World
The gist: Sean Hayes stars as a divorced dad and harried small-businessman who has to take care of his 14-year old daughter Ellie (Sam Isler). Hugging and learning ensue. And jokes. Jokes, people!
Gut reaction: Sean Hayes brings the fun; he always has. If the audience is happy to see him in a leading role each week — sorta like the character he played on Will and Grace, but older and with more responsibilities — this could work. Executive producer Victor Fresco isn't known as a slam-dunk hit-maker (Better Off Ted, Andy Richter Controls the Universe), but his work has personality, and the cast (including Thomas Lennon) is sterling. I can't see this one reinventing any sitcom wheels, but I'm still guardedly optimistic.
The Michael J. Fox Show
The gist: Michael J. Fox, one of the most technically adept and universally beloved stars that ever walked the earth, in a new sitcom that acknowledges his real-life Parkinson's and places it at the center of the action.
Gut reaction: Like you need to know more? Hit. Hit. Gigantic hit. More details here, like you really need them. Welcome back, dear friend, and Godspeed.