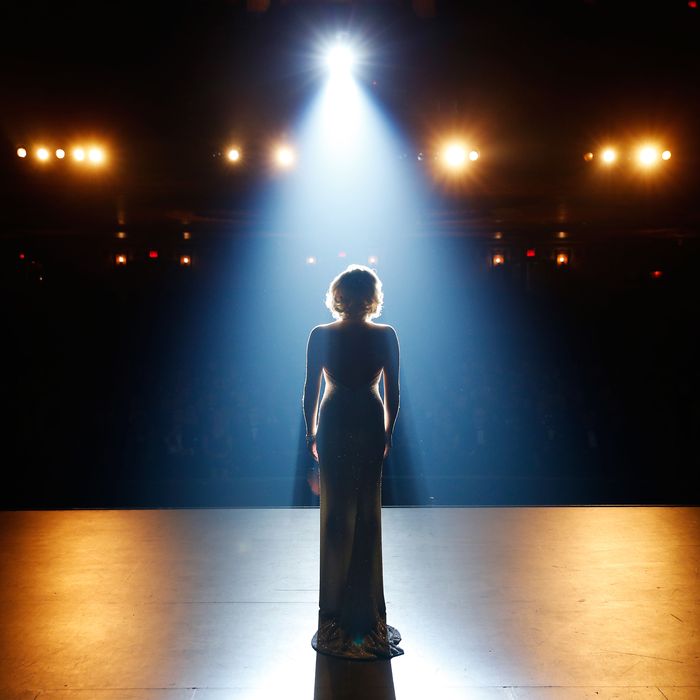 NUP_154092_1932.JPG
Photo: NBC
Sunday night marked the ignoble finale of Smash, and truth be told I am a little sad. I can't remember the last show I wanted to love as much as I wanted to love Smash. Perhaps sensing my desperation, the show was 80 percent terrible, and I have had to learn to live with disappointment in this and other areas. But despite the show's weaknesses, I remain a true believer: A show about Broadway could work. And boy, what wouldn't I give to watch it.
For scripted one-hour shows right now, you can pretty much break everything into Cops/Lawyers/Murderers, Supernatural/Paranormal, and Other. I like a cop show, I like a vampire show — but I am so much more curious about the Other category. Give me more Other shows. Parenthood. Bunheads. Mad Men. Hell, I'll take The Newsroom, which is not even very good. But at least it's not about a sheriff! Every time I lose an eyelash I wish for a wider variety of dramas. Why are all other jobs relegated to sitcoms and reality shows? Give me a show about a math teacher. Or a minister. A project manager. A chef. A nanny. An MTA employee. A florist. An interpreter.
Or a stage performer. Obviously Slings & Arrows is the gold standard for shows about shows (in its case, a Shakespearean theater company in Canada, not a well-heeled Broadway production), but even the gaudy, often horrendous Glee is able to wring compelling human emotions from the idea of performance. Smash never quite figured out how to make its characters believable, but that's a failure of execution, not premise: Theater-oriented stories have tremendous built-in stakes. Think of A Chorus Line. Or even think of the documentary Every Little Step, about the revival of A Chorus Line. Every audition, every callback, every rejection is a referendum on the worthiness of your dream; also, you have a very tough dream in the first place. Auditioning for anything is hard. On the other side of the table, being the arbiter of dream-granting is a weird kind of pressure, particularly for someone who spent a lot of his or her career as a performer. There's a strange nexus of vulnerability there. Certainly enough for a few episodes, one would think.
So let us bid adieu to Smash. Its pilot remains fantastic, and its songs will always have a place on my show tunes playlists. I hope the show's legacy isn't one of bombastic underachievement, though; I hope it's one of competitive inspiration. That some industrious television genius watched it and, like Mike in Chorus Line, thought, I can do that.