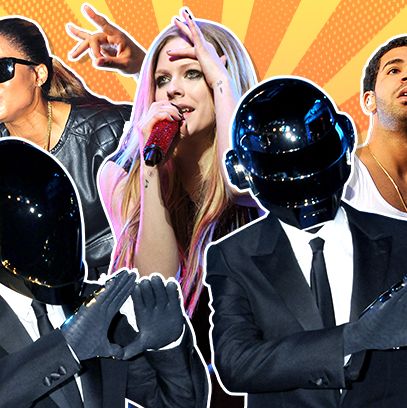 Photo: Gregg DeGuire/FilmMagic, Theo Wargo/Getty Images, Stephen Lovekin/WireImage and Larry Marano/Getty Images
What's that you say? Summer does not begin until June 20? That may be true, but as a very scientific Vulture study once proved, the race for Song of Summer begins in May. So congratulations! You've finally made it to the time of the year when it is allowable to run over to the speakers and put on a cheesy song mid-party. But what song will it be? Vulture will be monitoring the situation all summer, but here are our early predictions, broken down by category (Indie Pop, Top 40, Rap, and R&B). And as always, you are encouraged to share your choices and feelings in the comments.
Indie Pop
This one's a forgone conclusion, and if Vulture had to pick an all-category winner today, then we would obviously go with Daft Punk's "Get Lucky." But that Tegan and Sara album was so great! And Chvrches covered the Game of Thrones theme once! So they get honorable mentions.
"Get Lucky" – Daft Punk
"Closer" – Tegan and Sara
"Recover" — Chvrches
Note: "Get Lucky" is technically already in the Billboard Top 40, but that category is more about radio play, and the music snobs might get angry if we put Daft Punk next to Pitbull. Also, these are made-up categories.
Top 40
We are still waiting for this year's "Call Me Maybe" (blame "Harlem Shake" — it distracted the Internet), but in the meantime, Avril's new jam has a solid "Party in the USA" feel. And then you have two tag-team options: Pink–Nate Ruess from fun. or Pitbull–Christina Aguilera. Look for a lot of movement in this category.
"Here's to Never Growing Up" — Avril Lavigne
"Just Give Me a Reason" — Pink featuring Nate Ruess
"Feel This Moment" — Pitbull featuring Christina Aguilera
Rap
A one-person study of rap radio last weekend found that "Bugatti" gets slightly more airtime than "Started From the Bottom." (Whether it is more shoutable in everyday life depends on your driving situation, we guess.) Meanwhile, Macklemore has two songs in the Billboard Top 10. That is just a fact.
"Can't Hold Us" — Macklemore & Ray Lewis
"Started From the Bottom" — Drake
"Bugatti" — Ace Hood featuring Future, Rick Ross
R&B
How can you not love "Body Party"? Ghost Town DJ's? A True Lies video? Let Ciara live! (Or just listen to the other songs.)
"Body Party" — Ciara
"How Many Drinks" — Miguel featuring Kendrick Lamar
"Ashtrays and Heartbreaks" — Snoop Dogg featuring Miley Cyrus