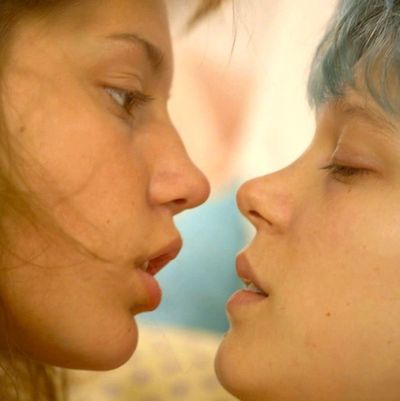 Photo: Wild Bunch Distribution
It's only natural that a good portion of the by-now-exhausted Cannes press corps skipped last night's debut screening of the two-part, three-hour French lesbian coming-of-age story La Vie D'Adele Chapitres 1 et 2 (English title: Blue Is the Warmest Color). But by morning, word of mouth had made the film, by director Abdellatif Kechiche — and the performance of newcomer Adèle Exarchopoulos — the must-see of the festival. "A star is born," tweeted Variety's Scott Foundas, calling the film "absolutely astonishing." Finally, it seemed, there was a front-runner for the Palme d'Or.
What has everyone talking, though, are the intensely erotic, incredibly realistic, quite lengthy, and almost certainly unsimulated sex scenes between the beautiful, sensual Exarchopoulos and Léa Seydoux. When we first meet Adèle (also the name of Exarchoploulos's character), she is a vivacious high-school junior with modest ambitions to be a teacher. A voracious, messy consumer of food and books, and incredibly comfortable with her body — as evidenced even by the way she dances in student protests with her friends — she has the natural ingredients of a spirited, uninhibited lover. A senior boy asks her out, and she quickly gives him her virginity, but she keeps fantasizing about a blue-haired female college art student, Emma (Seydoux), with whom she'd shared a prolonged glance on the way to her first date with the boy. She grows miserable, and experiments, disappointingly, with kissing another girl at school, and gets hit on by pretty much every patron in a lesbian bar — but it's clear that her chemistry with Emma is unique. So when they finally do connect sexually, it culminates not just in the release of Adèle's long-suppressed desires, but with the union of two people who share an undefinable physical connection. I clocked the first sex scene between Adèle and Emma — replete with fingering, licking, and, as a friend called it, "impressive scissoring" — at an approximate ten minutes. Audience walkouts began around minute nine. That turned into spontaneous applause (and relieved laughter), when the women climaxed and finished a minute later. Was that scene, and the many other graphic, erotic moments to follow, "necessary to tell the story?" Film.com's Jordan Hoffman asked in his review. "Please believe the part of my brain that doesn't house a lecherous voyeur when I say yes, absolutely."

Though many entered Blue Is the Warmest Color out of perverse curiosity (I certainly did), what's surprising about the film beyond its frank eroticism is just how much weight it gives to the messy reality of relationships and sexual identity. Adèle never definitively chooses women over men; she chooses Léa over all others. Their relationship falls apart because of subtle differences in social class and ambition, but their intense chemistry, as in so many failed relationships, lingers awkwardly in the air every time they interact; they can no more deny the forces that pulled them together than they can deny that they're destined not to work out. The film's subtitle, Chapitres 1 et 2, suggests that this is only the beginning of Adèle's journey. It seemed clear by the end that nearly everyone in that audience hoped there would be more chapters to come.