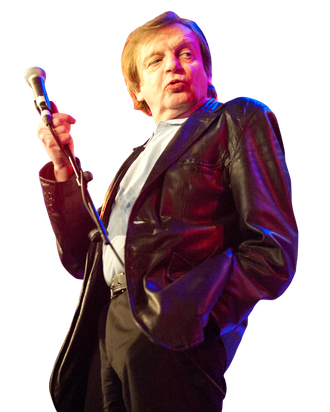 Mark E. Smith of the Fall.
Photo: Gaelle Beri/Rederns via Getty Images
Post-punk warhorse the Fall releases its 30th record, Re-Mit, today. As per most great Fall albums, Re-Mit is equal parts brilliant and confounding. Up-tempo garage-rock stompers, like lead single "Sir William Wray," are balanced by inchoate noodling (one of said tracks is aptly titled "Noise"). The group is led by Mark E. Smith, the outspoken and cantankerous visionary and sole constant member since the group's formation in 1976. Smith still churns out scalpel-sharp lyrics, this time focusing his wit and zeal on such topics as a Hittite corpse rising from the grave and wreaking havoc and Italian laziness on Sundays. We spoke to him by phone from his home in Manchester about the new album, playing for 6,000 German lawyers, and H.P. Lovecraft.
On the Fall's first live record, 1980's Totale's Turns, the cover gave a funny shout-out to your tour itinerary [listing "Doncaster! Bradford! Preston! Prestwich!"]. Tonight you're playing in Hebden Bridge [in West Yorkshire, England]. Why do you still play such tiny towns instead of only hitting major cities like a lot of bands?
It keeps the group on their toes, mainly. It works. Last year, before Christmas, we did this birthday party for a lawyer in Hamburg. He's a big fan, and I thought it would be about 500 people, but there were 6,000 German lawyers there who'd never heard of the Fall in their life. I wouldn't want to make a habit of it or go on the cocktail lounge circuit.
You've been quoted as saying you don't like the last record Ersatz GB. I love it.
I'm just saying that, really. I was more bothered about the sound; I thought it was a bit flat. I was a bit disappointed, but I always am, ya see? What can you say? Do you have the new one? Do you like it?
Yes! In the song "Irish," you say "James Murphy is their chief, they show their bollocks when they eat." Is this the Murphy from LCD Soundsystem or an Irish everyman James Murphy?
Ha-ha. What do you think? Are you a big fan of his? I had to make up some lyrics quick for that one.
My favorite song is "Hittite Man." I heard the other version where your wife sings backup on Facebook on it, and it's incredible. Was it hard to pick out which one to use?
Everybody wanted me to use that one, but I stuck with the first one. You like the wife one? It was a hard choice.
So, when writing it, were you really thinking of a Hittite corpse coming to life, or is it a grand metaphor?
I read daft history books. Sometimes the books I read are a bit crackers or strange. So it sounded interesting. The Hittites didn't believe in debt or insurance. When I first started thinking about it was when I went to Greece, because the Hittites were with the ancient Greeks. And they didn't believe in debt or overdrafts, which sounds crazy, and I thought they didn't believe in wrongful communication, which I believe is the cause of a lot of trouble in the world.
I like that you use the word gibbous in the song; it's such a chic way of saying hunchbacked.
Lovecraft made up a lot of words, didn't he? I might well have gotten that from him.
I love H.P. Lovecraft. Last time I was on a plane I was reading a compendium of his, and I found a lot of lines that you snuck into Fall songs, like the chanting in "Spector Vs Rector."
Betrayal! Well, you've got to pay homage, don't you? Somebody's got to do it. He's not very bloody recognized where you live, is he? It's disgusting. They come over here and worship bloody Jane Austen and shit like that. Funnily enough, I just reread At the Mountains of Madness. It's great, isn't it? I would love to visit Lovecraft's grave.
Right? In Providence you can take a Lovecraft tour.
Have you been?
No, I can't get anyone to go with me.
I'll go with you!
You haven't played in the U.S. since 2006.
It's true. I can't explain it. It's hard work, to be honest. You have to get visas and agents. I'm not complaining. I like America. I could go from my house on Thursday and go to New York and go shopping and come back on Tuesday. But to take the group is hard work.
Well, come for the shopping.
You don't really think I'm that type, do you?
This lineup of the Fall is the longest you've ever held one together.
It's been about five years. They're fantastic. I think it's because they're truly not fans or aware, apart from Elena [Smith's wife and keyboardist Elena Poulou]; she's very knowledgeable. But the group, like [guitarist Peter] Greenway, he's got immaculate taste but not particularly [for] the old Fall stuff. And the other two are too young. When Grotesque came out [in 1980], they were about 6, which helps, I think.
You've had to assemble so many bands. Was there ever a time where you were worried, Can I do this again? Like in 2006, when the entire band left mid-tour.
Yeah, of course, but it wasn't the first time, was it? I've always recruited off the street; I don't hold auditions.
You're like a pimp recruiting runaways.
Fuck off. I'm like a sergeant major from the thirties. I'm the sort who just goes, "You're in. I've heard your cassette." In Britain, I've got this reputation [as if] I just sack everybody like I'm a tyrant. But they go from me. What do I do?
You seem to revel in the deterioration of your voice; you growl and gargle and sound like an old man.
I was hoping to on the new LP. I did go out a bit to create some kind of anti-music.
That is a good description for new songs like "Post MDMA Years" and "Kinder of Spine."
It was deliberate. One of the producers — I won't name him — but he said, "What we need is verse-chorus-verse-chorus." I said, "That's it, go home."
Your sister did the artwork on the cover.
She's a single mother. She did a student course. The first cover she did was Grotesque.
So she does one every 33 years.
Yes! I think she did great.
Have you been reading up on the Met's "Punk" exhibit?
No. Does it have that London designer woman?
Yeah, Vivienne Westwood.
We always got attacked in '79. We got spat at all the time because we didn't look like them. The Police, you know, the Sting Police, that stupid group; there is one of them somewhere in Britain, "Costumes of the Police." Go and see that!
So, in concerts for a while you performed in a wheelchair because you broke your hip. But now sometimes you will sit down in a chair or disappear backstage and sing from backstage. What's going on in your head when you do that?
I can concentrate. It's better for my voice. When I was in the wheelchair I had no fucking choice. But you get a better, more realistic tone. Sometimes it's because the group aren't functioning properly. So when I go off, they have to get in sync more. They're used to it half joined when I was in a wheelchair.