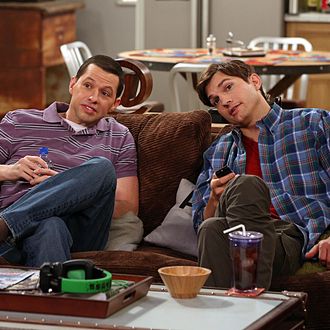 "Throgwarten Middle School Mysteries" – When Walden runs into his ex-wife at a high-end singles mixer and they talk about getting back together, Alan worries that she's not good for Walden, on TWO AND A HALF MEN, Thursday, Feb. 21 (8:31 – 9:01 PM, ET/PT) on the CBS Television Network. Judy Greer returns as Bridget, Walden's ex-wife. Left: Alan Harper (Jon Cryer), Right: Walden Schmidt (Ashton Kutcher) Photo: Michael Yarish/CBS ©2013 CBS Broadcasting Inc. All Rights Reserved.
Photo: MICHAEL YARISH/CBS
Can a show become its own spinoff? Two and a Half Men is just about there. First Charlie Sheen had his inglorious exit and was replaced by Ashton Kutcher; then Angus T. Jones left, and now comes news that he's basically being replaced as well. According to Deadline, 2.5 Men, now down to one original man, will introduce a new regular character next season: Charlie's long-lost daughter, who's about 20 years old. She'll reportedly show up looking for her deceased lunatic father and then just move in with her uncle and his billionaire roommate. Here be shenanigans!