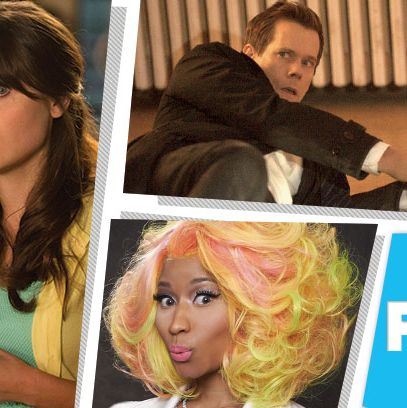 We're just days away from the start of Upfront Week, with news about the new season already starting to trickle out: On Tuesday, Deadline reported that CBS is picking up Chuck Lorre's new comedy Mom. Before the TV world kicks off its annual May Madness on Monday, Vulture is concentrating on where the major networks stand right now in a shaky period for the industry. We've already given the once-over to NBC and ABC, and today it's time to see how Fox has been doing. The network found a healthy following for The Following, but otherwise, this was a season Fox executives are in a hurry to forget.
Where It Stands
Numbers don't lie, but Fox's second-place standing with adults under 50 among all networks doesn't tell the whole story about what's been a pretty bad season for the broadcaster. It's not just that Fox has surrendered the demo ratings crown (to CBS) after an unprecedented eight-year run as Nielsen champ. It was bound to slip out of first eventually, and in any case, the weekly ratings race is something of a beauty contest. What's shocking is how far Fox has fallen, and how fast: It's down nearly 25 percent from last season, the biggest one-season reversal of fortune for a network since ABC lost 20 percent of its audience during the 2000-01 season. Much of this is because Fox's longtime cure-all, American Idol, finally became mortal this year. It's lost a full quarter of its audience versus 2012, and it's no longer the top show in TV (or even the top singing competition; that's now NBC's The Voice). But other unscripted Fox shows have also taken a tumble: The X Factor dropped nearly 20 percent from a disappointing freshman season; Gordon Ramsay's food-focused competitions were down double digits; and even old reliable Cops dived in the ratings (and was then canceled after 25 years on the network, but just picked up by Spike). Fox's scripted shows also took a hit, with every single returning series (except for Bob's Burgers) declining this year (including distressing 23 percent hits for sophomore New Girl and veteran Raising Hope). The fall was also a waste for Fox's new shows, with The Mob Doctor and the sweet comedy Ben and Kate both pretty much dead on arrival. And while some Vulture writers' love of The Mindy Project is no secret (something a few commenters never miss the chance to point out), it's struggled in the ratings. (On the plus side, Mindy has taken advantage of its New Girl lead-in to become the top new comedy with viewers under 35, and Fox has renewed it for a second season.)
Not everything's a bummer for Fox, however. The Following is a bona fide hit, with DVR playback lifting it to the No. 2 new show overall this season (and possibly No. 1 if Revolution continues to fade over on NBC). The serial-killer thriller's accomplishment is particularly impressive because its lead-in was the modestly rated Bones and it went head-to-head with the Peacock's en fuego talent competition The Voice. Whether The Following can keep its momentum going into next season is an open question, but Fox deserves credit for potentially launching a new drama franchise with bigger numbers than the buzzier Scandal or Once Upon a Time. What's more, as painful as the Idol and X declines have been, both shows (particularly Idol) remain significant assets for Fox: At a time when all of the networks, including Fox, are debuting new show after new show with less than 2.0 demo ratings, both reality competitions supply Fox with three to four weekly hours of ratings above a 3.0 among viewers under 50. That leaves Fox a lot more breathing room to hunt for new scripted hits (or give shows such as Mindy more time to build an audience). Fox insiders believe the network will be back in first next season because of its broadcasts of the Super Bowl and the NFC championship. CBS executives would likely disagree, but assuming Fox has a few hits among its crop of newcomers, it's a very achievable goal.
Buzziest Prospects
The pilot for Rake would have to be very bad not to get a slot: It stars Greg Kinnear as a House-like lawyer, and it seems genetically engineered for Fox's Monday night lineup. We've also been hearing great things for months about Brooklyn Nine-Nine, the Barney Miller–like police comedy starring Andy Samberg (and produced by Parks and Rec's Mike Schur), while the network has already given a series order to Dads, the Seth MacFarlane–produced comedy about two guys (Seth Green, Giovanni Ribisi) whose fathers move back in with them. There's also been buzz that Fox is fond of the Stripes-like military comedy Enlisted.
Biggest Headache
While the Idol decline contributed most to Fox's overall Nielsen dive, there's only so much the network can do to reverse gravity on that show after twelve seasons. (We'd start with finding a new set of executive producers, but that's just us.) So look for Fox to focus on boosting its Tuesday comedy lineup. We assume New Girl and Mindy will remain paired (or at least air on the same night), but Fox needs to find a way to boost both shows and also inject some new blood into the night. Raising Hope seems a logical anchor in the fall, but eventually Fox may want to experiment with a new 8 p.m. anchor. The Samberg show could be noisy enough to kick off the night. Fox might also want to flood Tuesdays with original product year-round, perhaps scheduling its comedies in such a way that minimizes repeats and allows the network to experiment by launching more half-hours throughout the season.
Bottom Line
Since 2008, Fox has given multiple seasons to a number of shows (Raising Hope, Fringe, Lie to Me), but it's only had three undeniable live-action scripted hits (Glee, New Girl, The Following). Three home runs in five years is not a very good development track record, but nobody really noticed: The remarkable success of Idol over the past decade hid the failures. Now that Idol has come back down to Earth, Fox needs to start taking more shots, including in the summer, and hope that its two music competitions stabilize in the ratings. It's still in far better shape than either ABC or NBC, and CBS is not without its own problems. But Fox really, really needs some new hits.