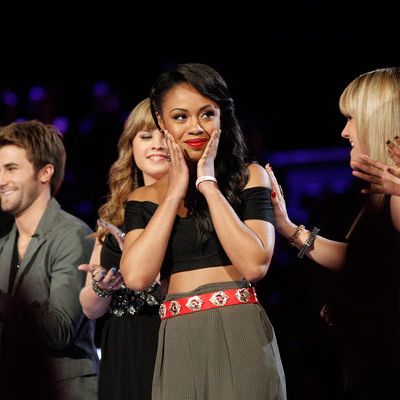 What a horrible night of television. I agree with that clairvoyant modelizer Adam Levine. I hate this country. Judith Hill gets kicked off at this juncture and the Swon Brothers continue to prosper? Identical blonde country singers of every stripe and variety are preserved ad infinitum? I wish America would jump off a bridge.
Sheryl Crow, "Easy"
I might be in the minority here, but I am not a fan of Sheryl Crow's new country incarnation. I miss "If It Makes You Happy" Sheryl Crow. I wish she would start writing songs about Eric Clapton again because he sounds awful. I would also like it if she wrote four songs about Lance Armstrong. Does Sheryl Crow feel weird to be harmonizing with the Swon Brothers? I doubt it! She is probably starstruck.
Side note: They talked about Blake's special latte on the air. It is drugs! I would make more of this but I am too depressed.
Judith Hill and Michelle Chamuel, "Sweet Nothing"
In my notes for this segment, I said, "They both sounded great, is this the top two???" Now I laugh at this note, an ironic mirthless laugh. How wrong I was. How terribly naïve and wrong. In slightly more uplifting news, Michelle was saved and Usher started wearing the same glasses as her. He is kind of cute, I guess. He looks good in the right sort of glasses, like most men.
Sasha Allen and the Swon Brothers, "Don't You Want to Stay"
This number seemed to be staged in an anonymous airport waiting area. I think the plot of the whole thing was that the tiny Swon was wooing Sasha Allen, while the Big Swon (the Paul McCartney) narrated the proceedings. It was fine, but this was mostly because Sasha elevates everything she is in.
Later, Danielle Bradbery was saved, because maybe "Grandpa" is a great song. (Wrong, it's not a great song.)
So, someone really special is hanging out in the Sprint Skybox. Guess who? You can't guess? Really? But who else is ever even there? It's Christina Milian, silly. She was giving an interview to Michelle's awesome mom, who looks like a younger version of the awesome Ruth Bader Ginsburg. God, what an interview. No one is tougher than Chrissy.
Danielle Bradbery and Sarah Simmons, "A Thousand Years"
This song is so tough because it's so boring. Both of these singers sounded really generic on it. I had trouble telling their voices apart after a while, and they normally sound quite different from each other.
That veritable institution — the confessional is back. Why doesn't Jimmy Neutron ever confess? He was the one actually studying to be a priest here. Instead we are subjected to confessions such as "I eat lettuce" and "I love beautiful feet." That would not cut it in a real confessional. That wouldn't even require a Hail Mary.
Later, Sasha Allen was saved! Shakira, probably the most endearing person on reality TV, was so cute about it. Before they called Sasha's name she was doubled over in fear. Then, when Sasha's name was called she took off her shoes and ran up onstage to give her a hug. I really wish Shakira was my friend.
Holly Tucker and Amber Carrington, "Does He Love You"
I thought this came out rather well, but I wish these two had battled together earlier because they are kind of the same? Really, only one of them should stay, and yet they are both staying.
Ugh. The Swon Brothers were saved. My mom texted me and said, "even they seemed shocked" and I think she was right. Ugh, ugh, ugh.
Finally, we were down to Amber Carrington, Holly, Sarah Simmons, and Judith Hill. AND GUESS WHO AMERICA CHOSE? The two performer twins I just mentioned — Holly and Amber. The far superior Judith and the original Sarah were both eliminated. I actually screamed when this happened. America, I find you deeply and chronically unfair. Do you hate originality or clear, superlative talent? Apparently, you hate it. And I don't really know why. Even the original Quiet American, Carson Daly, seemed shocked by your actions. He was studying to be a priest, America! Don't you care about that?
So, what do you think of tonight's eliminations? Did you want to scratch your eye out with some kind of stick? Or do you think Holly and Amber both deserve the chance to ply their wares in the graveyard of past Voice superstars? Talk some sense into me! I am desolate.