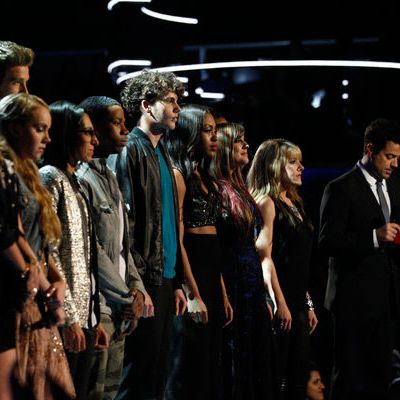 THE VOICE
Photo: Trae Patton/NBC
Friends, I ask this sincerely. Was last night's episode a variation on a CIA mental endurance test? The first hour was just a repeat of Monday night's drudgery. The next hour involved Adam Levine singing the Cure while sitting on a rug! Even Carson Daly was wearing a blue tie, like some kind of normal man who works as a solicitor and not a funeral director. How much of this can a person really take?
I rushed home at eight last night, only to find that this week's live performances were spliced into an hour-long episode (just in case we missed them), and that the second hour of This Is the Voice also started with a montage of this week's performances! Why?? This reminds of a nightmare I had once where the CIA was chasing me because only I knew all of their secrets. Right as the CIA finally caught me (I was near the Hoover Dam) and took the manila folder containing their secrets out of my hand, the dream rebooted and I was back where I started, discovering this manila folder for the very first time, under a tree in a park. You can understand the frustration.
Pharrell, Robin Thicke, T.I., "Blurred Lines"
This was kind of a jaunty little song, wasn't it? Pharrell is a great dancer and Robin Thicke sweated profusely as if he were in the middle of a diphtheria attack. Then T.I. came out and I realized I missed T.I. a lot and think he is a great actor. After this scintillating dose of original content, we were introduced to another new segment — confessions. This involved the singers we know and love confessing things about themselves. It was very revealing. The tiny Swon is a germaphobe! Danielle takes a lot of "selfies." Garrett was an archery instructor in the Renaissance Faire. I was shocked by all of it, but an effective interlocutor keeps a stone face.
Next we learned who America had saved from an ignominious end. They saved Kris Thomas, which I agreed with completely, and they also saved the Swon Brothers, because their game with me has only just begun.
Blake's Team, "Play Something Country"
I liked this song a lot because there seemed to be a lot of yelling and hooting in it. Sometimes I forget that Blake is great at playing the guitar, what with the special latte and all. But it is a true fact. It was also fun to see the little Swon go rogue and wander into the crowd. He never really gets to be free.
Later there were more public reprieves from execution. This time, Sarah Simmons and Josiah were saved. I don't know about this, everyone. Josiah is handsome, surely, but is that all there is? (Yes!) And Sarah spent much of her last performance screaming. Still, I suppose this wasn't the worst decision in the world.
Lady Antebellum, "Goodbye Time"
This Lady Antebellum song, like most Lady Antebellum songs, was a comforting and lush mélange of harmonies. I didn't hate it. I also thought Amber Carrington really sounded kind of good singing backup. Should she join Lady Antebellum? They do have seven Grammys.
Guess who it is? It's Christina Milian leaning wildly out of the Sprint skybox and sporting the muttonchops of a young William Gladstone. Hi!
In nonsurprising elimination news, Judith Hill and Danielle Bradbery were not eliminated. I am not surprised.
Adam Levine, "Love Song"
This was just the weirdest thing. Adam Levine sat on an oriental rug covering a wooden stool and sang the Cure's "Love Song" by himself. Then, sometimes, he would let the girls chime in and sing one hyperembellished line. No one even sang harmonies. It reminded me of some kind of coffee-house scenario at a fictional American college, not that I ever went to those.
After that, Michelle Chamuel and Amber Carrington were saved from destruction. Adam has all four of his teammates moving on into the next round. God, it's kind of horrible. I feel like there will be more coffee houses like this in the future. If he sings "The General" by Dispatch I am retiring.
Finally, it was down to the last four people in the competition! Holly Tucker, Sasha Allen, Garrett, and VEDO. Sasha Allen in the bottom four? Is America nuts? Luckily, she and Holly were saved, but still. America, you gave me heart palpitations.
And that's our show! Are you as traumatized as I am? But do you also feel hardened in some ineffable way? Like you could do an obstacle course? Let me know.