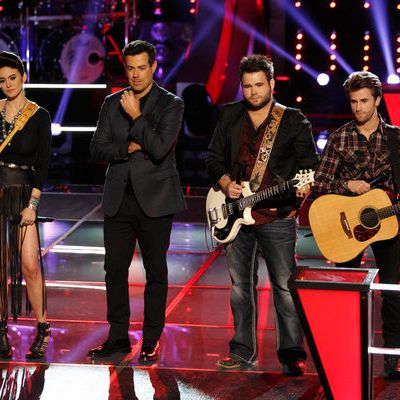 Much happened in this week's second two-hour episode. Usher did push-ups on the stage. Blake flirted with several actual teenagers. A montage person triumphed! Even both Merchant and Ivory/Carson Daly seemed to acknowledge the thrilling solemnity of the situation.
Justin Rivers vs. Savannah Berry
Just when we thought it would never happen, it happened! A double montage person, Justin Rivers, made it past the knockout round. I literally whooped for joy in my apartment when this happened. Justin, you mysterious phantasm, congratulations! This was actually a tough battle, though. Savannah has a nice voice, but "As Long As You Love Me" is a hard song (Justin Bieber, you talented bastard), and it's quite low for a woman. Justin Rivers was much better served by Miley's "The Climb" even though Blake thought he was "taking a big risk by singing a woman's song." He just got far more opportunities to show his instrument. Even Savannah seemed surprised by the upset.
Josiah Hawley vs. Jess Kellner
Usher looked particularly pained during this battle (although he looks incredibly serious during every battle), which makes sense, because it was rather lackluster. Both Josiah and Jess were decent enough, although Jess had a lot of pitch problems. Usher picked Josiah, and I thought that made sense, although I wasn't too jazzed about either one.
Luke Edgemon vs. Holly Tucker
Holly Tucker has such a pretty quality in her voice. She did a great job on "Live Like You Were Dying," which is a very weird song. It is literally about getting a terminal illness and then going sky-diving. I also liked Luke's version of "Teenage Dream," which exposed the song's very poignant tune. Trust me, if you just listened to the melody of "Teenage Dream" without listening to the lyrics you would also think it was about getting a terminal illness and then going sky-diving. So, as one can imagine, this was a tough battle. It was so tough that Carson Daly, swathed in the black robes of the grim reaper, actually had his eyes closed in nervousness. Ultimately, Blake picked Holly because she did "swing for the knock out" more. Adam Levine tried to convince him otherwise, but to no avail.
Michelle Chamuel vs. Audrey Karrasch
Oh my God. I am really liking Usher's alternative coaching approach. He is like an Alexander Technique instructor in 1910. I loved it when he did push-ups with Michelle and when he got really close to Audrey's face and kept staring at her while she was trying to sing — I almost hid under my couch! Usher is the best. His revolutionary methods that challenge the medical establishment didn't help Audrey, however. That song was really out of range for her. "Raise Your Glass" was way more in Michelle's comfort zone, and she nailed it.
Danielle Bradbery vs. Taylor Beckham
This battle was sort of a no-brainer, even though I actually have always thought Taylor Beckham was talented. But Danielle sang "Jesus Take the Wheel," and Taylor Beckham sang a slightly obscure Rihanna song, AND BLAKE SHELTON IS THEIR COACH! Taylor would have had to have essentially reinvented Rihanna, which she did not do. The song was too low for her.
C. Perkins vs. VEDO
Sometimes Usher sings while he is coaching other people, and it is literally the most dispiriting thing in the world. You might think that the contestants on The Voice are pretty good, but Usher is so much better than them it's kind of crazy: His pitch is absolutely perfect. After hearing Usher perfectly hit the note C. Perkins was trying to hit without any ostensible effort, I knew poor C. was not long for this world. It didn't help that VEDO sounded beautiful on "(Everything I Do) I Do It for You." He gave an amazing, moving performance. It was so superlative that it prompted Adam Levine to say to poor C., who has already had enough troubles, "C., no disrespect, but this is a moment VEDO took from you." Way to rub it in, though.
Grace Askew vs. Swon Brother(s)
Wow. Can you believe that a duo got this far? I can't, but I also find the Swon brothers vaguely endearing now in a way I can't explain. Maybe this is because only one of them actually sings the lead? I never noticed this until last night, but I think the smaller brother just sings backup for the other brother. Are they even a duo, then? Even Usher was like, "I wish you could have sung more," to the small brother who doesn't sing, and he just kind of smiled, like the pixie-ish sprite he is. Grace gave a very Grace-like performance, but she had some trouble hitting some notes and sounded slightly hoarse. Blake picked the Swon brothers.
Cathia vs. Ryan Innes
What an upset! Ryan Innes, a man who many people thought was going to win this whole thing, eliminated because of Gavin DeGraw. Gavin DeGraw! Can you believe the indignity? Cathia did a fantastic job on "You Dont Know a Thing About Me," but still. Gavin DeGraw!
And that's our show. I have to give credit to the judges tonight: Both Blake and Usher actually made their decisions based on the merits of the performances in front of them and not on weird preconceived notions. It made for exciting television, especially when Sir Carson Daly saluted at the television as a sign-off!