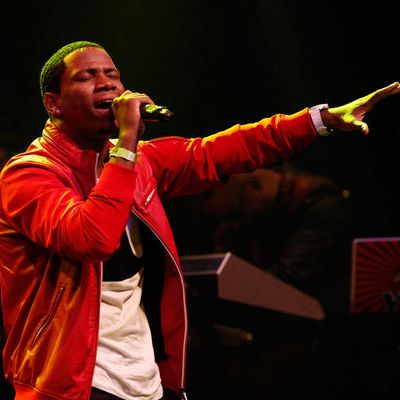 Friends! Let me just tell you, I was extremely proud of America today. America made all the right decisions. America picked the pilgrim value of virtue over the more superficial charms of the glittering stage. Even when Benedict Arnold/Carson Daly wore a tie-dye tie, America did not waver. I could recite the Pledge of Allegiance right now.
The show started off beautifully with a Telescope voting scandal. I could not understand what happened in the scandal, but I loved Telescope. He was wearing the most beautiful gray suit and reminded me of Joe Kennedy. Welcome, Telescope! I hope this voting scandal unfurls and you become a regular part of these proceedings.
Team Blake and Shakira: "Hall of Fame"
The best part of this performance is that I am convinced Hi Hat choreographed it! Hi Hat left her calling card, which is people in a group putting their arms around each other and other people just walking around the stage. In all other ways, however, this performance was pretty boring. The Swon Brothers were pitchy on the harmonies and for some reason it was very hard to hear Justin Rivers (a sign of things to come perhaps?).
Blake's Results
I don't really understand Blake's abiding love of the Swon Brothers. I literally do not get it. America doesn't get it either. America saved Holly and Danielle Bradbery, the only two people on Blake's team who are halfway decent. Then, when it came down to Blake, he decided that he must deliver Swon Brothers from infamy. But hey, considering Justin's montage background, he really did so well for himself. He got side-hugged by Jerry Garcia/Carson Daly. And he made it past two rounds. He'll be okay.
Oh hey, Christina Milian! How is the Sprint Skybox? Are you subsistence-farming up there? Is that hard without soil? Oh, there is actually soil.
Rod Stewart
This was just the best thing ever. Rod Stewart got up there and sang his "newest hit," which is, I think, about the best woman he ever knew, who doesn't drink or smoke and is six-foot-five. Have you ever read Rod Stewart's memoirs? Apparently everyone was always in love with Rod Stewart, but he didn't even care about it. And I get it because he was/is a good mover.
Next, Garrett, Josiah, and Karina got on the stage and joined Rod Stewart for "Forever Young." They tried to out-rasp each other, which kind of sucked. Why "Forever Young" and not "Maggie May" or the best Rod Stewart song of all, "Do Ya Think I'm Sexy?" That song is amazing. One time, two months ago, I listened to "Do Ya Think I'm Sexy" more than 100 times.
Cee Lo
What a powerfully weird character is Cee Lo. I missed him a little bit last night. Why was he sitting on a huge chair that could be found in an English library? Why was he wearing a leather shirt? Why did he make that other girl wear that insane cape? There are no answers.
Shakira's Results
I felt so bad for Shakira. She seemed like she was really torn up about having to eliminate anyone. She even told a story about how she put all of her artists' names in a paper bag and then took one out and eliminated it. (That does seem like a bad way to do it, but whatever.) After America saved Kris Thomas and Sasha Allen (Yay America!).
Shakira looked like she was going to cry. She eventually picked Garrett, but in the nicest, most face-saving way possible for Karina. Shakira is kind of the best.
Team Adam and Usher: "Don't Worry Child"
This was a crazy performance because no one could sing this song on key. Not a single person. Not even people that don't usually go off-key, like Judith Hill. No one could sing it. The only one who sang vaguely normally was Michelle. Swedish House Mafia is harder than Whitney Houston, apparently?
Usher's Results
I felt like Usher took his elimination responsibilities really seriously, and I so enjoy a serious man. He looked like he was going to vomit the entire time. America, in a rash of uncharacteristically wise choices, saved Michelle and VEDO from oblivion. Usher, without much folderol, saved Josiah. I think he is not Cathia's biggest fan. When she was giving her valedictory speech about being 19 and following dreams, he cut her off with a preemptory "Okay." But if you cannot say a valedictory speech, then when can you say it?
Is Don Draper/Carson Daly wearing a light argyle tie? Was it even tie-dye? I'm confused.
Adam's Results
I found Adam's results a little surprising. I was sure America was going to save Judith (who did seem exaggeratedly surprised even though she was a foregone conclusion) and Sarah, but instead they chose Amber. Thus Adam was forced to choose Sarah. Not that Sarah isn't awesome, but I felt bad Caroline didn't go further. She totally grew on me after a while, and I really thought she was improving. It was probably better for her to go back to college anyway, though.
And that's our show! What was on Carson Daly's tie? Please tell me!