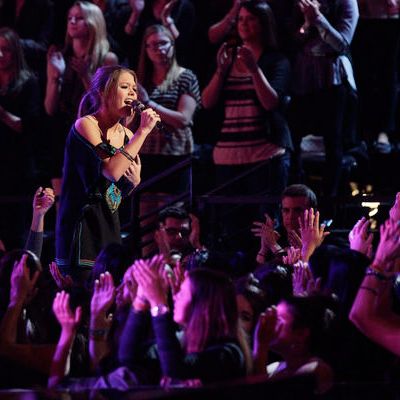 Photo: NBC/2013 NBCUniversal Media, LLC
Ladies and gentlemen of the jury, the live rounds are finally here. I want to know how everyone feels. Was it good to see Noted Diplomat Carson Daly speak rapid Spanish? Was it neat to stay awake during Usher and Adam Levine's airless performance of Stevie Wonder's "Superstition"? Did you like it when Blake was obviously drinking a cocktail inside of a Starbucks latte cup? Of course you liked it!
Usher's Team: "Black and Gold"
Before his team's performance, Usher made them all go to a boxing gym and throw medicine balls at each other. There is apparently going to be a training montage, à la Rocky 4, before all of these awkward group extravaganzas, and Usher took his very literally. The best part of this thing was that everyone was wearing the red sneakers that Usher himself wears all the time. A laconic Don King/Carson Daly even called him "the Floyd Merriwether of coaches." His team did really interesting and complicated harmonies on "Black and Gold" but sounded kind of bad on the solos. I don't know how they are going to do as a group, honestly.
In other news, Carson Daly is wearing what seems to be a powdered wig with tiny curly bangs? Who is on trial? The American public is on trial.
Amber Carrington: "Stay"
I agree with Adam. I think Amber is kind of awesome. Her "Stay" was very pretty and emotional. Blake said her performance made him "want to thank Starbucks for this very special latte," so I guess that means he liked it, too. But why are they styling Amber like some kind of extra in Rock of Ages? Poor kid, no one deserves that hair. You are a pretty girl Amber, and that hair is a criminal offense only Lord Carson Daly could ever prosecute successfully.
Oh, look! It's Christina Milian appearing like a tiny Rudolf the Red-Nosed Reindeer in the night! Hi, friend!
Josiah Hawley: "Starlight"
Usher gave great advice to Josiah, especially about breath control. He was more able to hit the high notes after a little coaching. Josiah has actually really improved lately. Think about his "Starlight" compared to the "Roxanne" of a few weeks ago. It was much better! Then think about how much tiny British men with high voices have dominated the airwaves for the past 40 years. It's a little depressing unless they are the ones actually on trial here.
Sarah Simmons: "Angel"
I was not the hugest fan of Sarah Simmon's "Angel." I think she uses the same phrasing and dynamics on every single song, whether it be by the Rolling Stones or Sarah McLachlan. But the judges absolutely adore her. It was after Shakira called her "incredible" in Spanish that we, the American public, experienced a truly amazing thing. Translator To the Stars Carson Daly started speaking Spanish, too! He did it to explain Shakira's use of one Spanish word that has an easy English cognate. It shocked everyone and yet everyone found it fun.
It is not just regulars like you and me who get suckered into watching at least five hours of The Voice every week. "Stars" like The Voice, too. This was evidenced last night when Savannah Gutherie and Al Roker came to watch this show of shows. They looked like they were having a mildly decent time. Al Roker also complimented Blake on his latte, which means it was definitely a cup of alcohol, right?
Cathia: "I Have Nothing"
In order to get Cathia ready for her performance, Usher decided he would waltz with her around the studio, like Professor Higgins in an out-of-town production of My Fair Lady. It was actually a great idea because Cathia had a lot of problems with the more delicate aspects of the song, just like Eliza Doolittle had a lot of problems not swearing at Ascot. Whitney Houston is obviously one of the hardest singers to imitate, not just because she was so acrobatic, but also because her dynamics and artistry were unparalleled. Whitney was technically perfect and emotional, and that's hard to match. Most people have one thing or the other. Cathia is very vocally agile, but she had a hard time with modulating her power. Even Shakira said that Usher was "setting the bar too high for her," and Usher, in his rambling, slightly disappointed comments, seemed to agree. Blake was really drunk (maybe?), so he kept getting confused as to whether he had ever heard the song before.
Then, Red Riding Hood/Christina Milian came back! Hi! What is the Sprint sky box? Why aren't Al and Savannah sitting there? Aren't they big enough stars?
Usher and Adam Levine: "Supersition"
This was a really weird performance. Did Adam Levine look kind of nervous? Usher danced beautifully on his side of the stage but did not interact with Adam at all. There were also just, like, 10 million horns.
Caroline Glaser: "The A Team"
This was one of my favorite performances ever from Caroline, right in her sweet spot vocally. She did a great job making this kind of ubiquitous pop song sound unique. It was kind of weird when Usher said, "You get a vote simply for the dimples" (USHER! COME ON! I hold you to a higher standard), and then Sammy Davis Jr./Carson Daly said, "That's a different number." My God, everyone — this is a family show!
VEDO: "Against All Odds"
VEDO has really blossomed under coaching. He sounded excellent on "Against All Odds," if slightly pitchy.
Adam Levine's Team: "Shake It Out"
This was an AMAZING training montage segment because all of the girls tried on clothing for Adam Levine, and it was a lot like that scene in What a Girl Wants when Amanda Bynes tries on all of those clothes for her dad, played by Colin Firth. Wow, what a movie!  "Shake It Out" was a good pick for the group performances. All of the girls on Adam's team actually sound like Florence Welch, especially Sarah Simmons. She should really sing more of her songs. Musically, this wasn't as good of an arrangement as "Black and Gold," but the song also does not really lend itself to harmony as much.
Michelle Chamuel: "True Colors"
I just love that Usher is the most earnest man. This time, he made poor Michelle look in the mirror the whole time she was practicing "True Colors," which was kind of weird, but she did it anyway. Michelle ended up doing a fantastic job, and Usher had tears in his eyes during it, and then I got tears in my eyes because I apparently just wildly mirror everything I see on television.
Judith Hill: "Feelin' Good"
It was weird when Adam Levine literally told Judith he was putting her in direct competition with Sasha Allen. Maybe he feels bad he cut Sasha from his team? As usual, Judith did a great job on "Feelin' Good." She was soulful, subtle, and lyrical. Adam is right that Sasha is her only real competition. This is Judith's to lose, which I do not get tired of saying.
And that's our show! What did you think? Is Carson Daly innocent? He's not. Please discuss below.