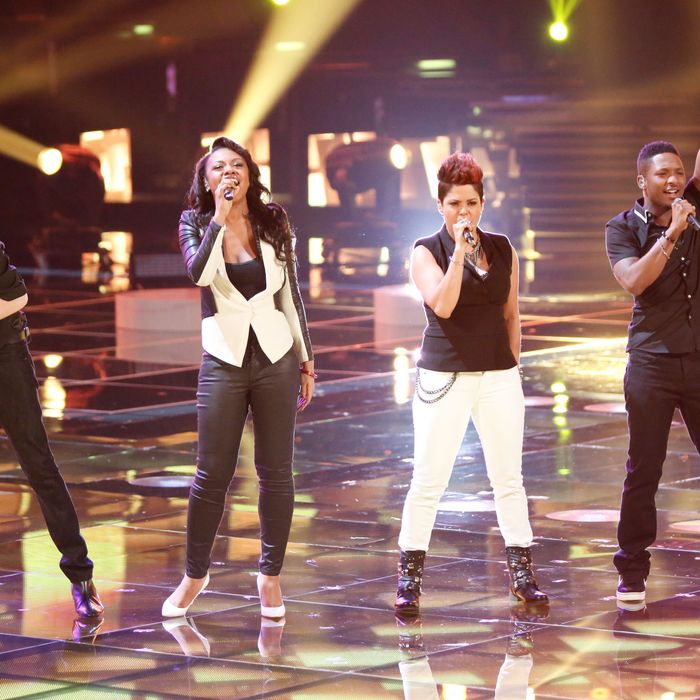 Let's be honest with each other, friends: Last night's boozy cabaret was rather lackluster. There was so much plodding country music from 1991. Also, Blake kept sweating everywhere, and Adam Levine seemed to be in a foul mood. And do not even get me started on Office Worker No. 1/Carson Daly's tie clip. I could literally talk about it for a full day.
Team Blake: "Boondocks"
Blake decided that for his training montage he would take his team to an abandoned karaoke bar in a Marriott lobby. There, his team would sing songs like "YMCA" or "I Will Survive" and loosen up. I don't know, guys. This seems to pale in comparison to yesterday's training montages, with their actual boxing and fashion shows. Later, they all sang a song together called "Boondocks," which was about growing up in the boondocks. The song sounded a bit like an Irish folk song in which someone keeps striking a staff on the floor to keep time. They did okay with it.
Garret Gardner: "Imagine"
I have an embarrassing confession to make. I actually have never liked the song "Imagine." I know, I know. It's Adam Levine's favorite song! How could I hate it? Well, I really don't like it, and I don't care if I offend Adam Levine. Young Garret acquitted himself decently on this hated song, however. He played the piano and he stayed awake the entire time. At the end, he was amply rewarded when Mr. Rogers/Carson Daly gave him a very close and high hug.
Guess who it is? Popping out of the ether! It's Christina Milian, who is dressed like a flower. This leads me to a quandary — should I tweet at her like she keeps asking me to? I don't want to at all. Please discuss.
Holly Tucker: "How Do I Live"
Holly sounded kind of generic but very pretty on "How Do I Live," which is a song, I embarrassingly, have always liked! The minute Holly finished her warbling paean to Eddie Cibrian, Blake kept hooting and hollering in the background apparently because he was just so excited about the performance but actually because as Truth-Seeker/Carson Daly so helpfully indicated, "He's been drinking." Life is a cabaret!
Kris Thomas: "When I Was Your Man"
Wow. Kris Thomas. I thought he was so incredibly awesome in this performance. He might actually be my favorite person in this competition. He's got an amazing range and he has this ability to convey both regret and longing with his voice. I was very moved by his Bruno Mars. My friend whom I was watching The Voice with actually tried to vote for him while he was singing (You apparently can't do that). However, the judges — aside from Shakira — all completely hated it, which I totally don't get. Adam was being so mean about Kris that in the background Shakira went "Adam" in a warning tone. Blake said that his voice came from "the girl place" which, what? What is the girl place?
The Swon Brothers: "Fishin' in the Dark"
So are we just accepting that the littlest Swon brother that could is just only going to sing backup? Is that it? HOW IS THAT A THING? The Swons sang "Fishin' in the Dark," which is about fishing at night. It was fine. Shakira said, rather aptly, "You don't do anything strenuous." It's true, they really don't. The little brother DOES NOT EVEN SING. WHAT! Then Hugh Hefner in Light-Gray Chambray/Carson Daly told Shakira that she "looked comfortable," which leads me to my new theory, that Carson Daly is falling in love with Shakira, because he keeps trying to call her "Shaki" and then chickening out.
It's a bird! It's a plane! It's Christina Milian in the Sprint Skybox, asking Sasha Allen if her daughter is popular in school. Hi, Chrissy! Maybe, I will tweet at you after all.
Blake Shelton and Shakira: "Need You Now"
This was my favorite performance I have ever seen on The Voice primarily because of three things: (1) Blake was sweating so much, (2) why was there a roaring fire on the stage set? (I loved it), and (3) Usher was mouthing all the words to "Need You Now," which was amazing, because he, too, realizes that "Need You Now" is an incredible song! It's literally so good. It's so much better than "Imagine." I don't care what anyone says.
Karina Iglesias: "Let's Stay Together"
I get where Shakira was going with this, I really do. Karina's best performance ever was on "This Is a Man's World," so it makes sense to push her in a more soulful direction. But I really did not love this rendition of "Let's Stay Together." It was a self-indulgent arrangement, it was too slow and it had far too much embellishment. This song isn't even really a ballad. Al Green actually went at a good clip!
Justin Rivers: "Meet in the Middle"
Blake continued his country music nostalgia tour with Justin Rivers, who really is surprisingly excellent for a montage person. I thought he did well with this really boring song about compromising in Georgia.
Shakira's Team: "We Are the Champions"
Now this is the way a training montage is supposed to be! Shakira took her team to a weird dance studio and hired a choreographer called Hi Hat to teach them stage presence. Hi Hat's main directive seemed to be that everyone should walk around like a giant and then, at certain periods, put their arms around each other and random instrumentalists that they see around. It lead to absolute chaos, but it was fine because "We Are the Champions" is a great song.
Danielle Bradbery: "Maybe It Was Memphis"
Danielle did a good job on "Maybe It Was Memphis." She has such a clear, clean voice. But at the end, I was very disturbed when the guitarist sort of tried to groove on her. She is a baby, and this is a family show! Mr. Rogers is the host.
Sasha Allen: "Oh Darling"
Sasha Allen sounded fantastic on "Oh Darling." Shakira told her, "you knocked it right out of the park," and I really have to agree with that. Her performance might have been better than Judith Hill's last night. Unless America is insane, she should make it to the top twelve.
And we have finished! Did you have a good time? Do you like "Imagine"? Does Carson Daly like "Imagine"? We can't know, but variety is the spice of life.