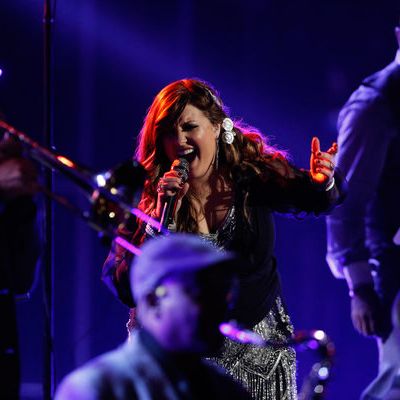 My goodness. This singing troupe of orphans really performed for their alms this evening, yet there seemed an element of enervation in the air. Even their increasingly woebegone warden, Carson Daly, seemed drawn and wan. Perhaps it was his new gray suit with matching gray tie. Gray on gray washes him out.
Maroon 5, "Take Me All the Way"
This was kind of great because it was like if Adam Levine were drinking one of those milky drinks from A Clockwork Orange but also singing a very catchy song. Side note: Maroon 5 is a surprisingly tight band.
Holly Tucker, "How Great Thou Art"
Holly did a decent job here. She's got a very powerful instrument but I find her dynamics and phrasing rather lacking. She certainly doesn't put chills up and down your spine. I did enjoy Usher's comments to Holly. He even superseded his usual inarticulateness. I think he was trying to tell Holly that he didn't like her performance? But I could be wrong. In the end, he made the dubious point that there is no "wrong way" to sing a gospel record. But there definitely is, right?
Judith Hill, "The Way You Make Me Feel"
Judith did a fantastic rendition of "The Way You Make Me Feel." She is really quite effective on bubblier songs. She should sing them more! Judith was really upset that people might think she was exploiting or taking advantage of Michael Jackson because she worked with him, but she definitely was not. I felt bad that she cried about it though. It was actually quite sensitive of her, since no one ever thinks they are exploiting anything on télé-réalité.
Oh, hey, it's Tina! Christina Milian! And she has red hair! And it looks incredible!
The Swon Brothers, "How Country Feels"
In this edition of "things that are insane": During rehearsal Sheryl Crow compared the Swon Brothers to the Beatles and the Eagles. WHAT IS HAPPENING? In performance, the little Swon sang a little bit and that was rather destabilizing as well. I just don't even know.
Amber Carrington, "Breakaway"
This song made me realize how much I love Kelly Clarkson. God, why are all her songs amazing? Amber sounded very pretty on the first part of "Breakaway" although she had slight pitch problems during the second half (because those Kelly Clarkson songs are pitiless). Blake told her she looked good when the wind blew at her, so I guess he enjoyed her performance?
Sasha Allen, "Next To Me"
I was not the biggest fan of this song choice for Sasha. She actually, I think, has too big of a voice for a song that requires a more lackadaisical delivery. But this is nitpicking — she sounded fierce and she looked awesome. Another fun part of this whole thing was when Cee Lo Green said about motherhood, "that's not just a job, that's an adventure," because definitely!
Josiah Hawley, "Clocks"
Guess who is back? My personal favorite, Pharrell, wearing the most beautiful hunting jacket and correctly telling Josiah he was intimidated by the bridge of "Clocks." In performance, Josiah continued to be slightly intimidated by the bridge of "Clocks," which all the judges remarked upon like sheep. Pharrell was right first! Why isn't he a coach?
Danielle Bradbery, "Heads Carolina, Tails California"
This was a typically solid performance from Danielle, who crimped her hair in a really cute way. Nice job, Voice stylists!
Kris Thomas, "Adorn"
Kris did a grand job with "Adorn," which is a hard song. After his performance, there was some slight sniping between the gloriously meandering Usher, who called Kris "nervous," and Shakira, who defended Kris fiercely. Afterward, Usher tried to say that he didn't call Kris nervous at all, even though we just heard it because this is live television.
Christina Milian is back! And she is asking about Cee Lo giving sexiness lessons. So that's great.
Sarah Simmons, "Mama Knows Best"
This was one of the best performances I have heard from Sarah. I actually really think the whole aggressive thing suits her.
Michelle Chamuel, "Just Give Me A Reason"
Blake said that he enjoyed Michelle's dramatics and I have to say, I do too. She gives such a genuinely entertaining performance. She cringes dramatically. She whispers like the wind. As usual, I was totally impressed by her.
And that, my fine friends, is the end of the revue! What did you all think? Who is going to be eliminated? Did Usher change his rings? Is Carson Daly a Grey Garden? Let me know in the comments section.