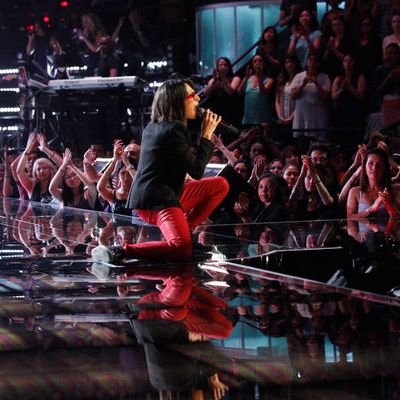 We are down to the top twelve singers in this boundary-breaking Armory Show, and my God, it has become a font of passive aggression. The judges seem actually annoyed at each other, and one wonders how, because don't they have other lives in which they are famous divas? Why do they even care about this? Luckily, Bill Clinton/Carson Daly was dispensing all sorts of hugs. Perhaps the heat made tensions run high.
VEDO, "Rock With You"
VEDO really does have a beautiful tone, but he occasionally has severe pitch problems, which definitely surfaced in the middle of his "Rock With You." To be fair, Michael Jackson is super hard to sing, but still. He is a good dancer, though! He was the only one that actually benefitted from Usher's deeply serious choreographer, Isadora Duncan.
Holly Tucker, "A Broken Wing"
She was really pitchy on "A Broken Wing," but literally no one else thought so. The judges adored her, and Carson Daly kept hugging her for dear life. This was when the air-conditioning went out, so perhaps he was feeling the first flush of heat exhaustion.
Oh, look! It's Christina Milian, a melting Salvador Dalí clock! Hi!
Garrett Gardner, "I Want It That Way"
Funeral Director Carson Daly had recently removed his jacket to reveal the hairiest forearms I have ever seen when poor young Garrett had to take the stage. And honestly, who could follow such a sight? He did a decent job on "I Want It That Way," which is really in range for him, but all the judges seemed absolutely shocked he sang Backstreet Boys. To which I say, what is this, a Blink-182 video? Are Backstreet Boys really such destabilizing cultural figures in modern times? According to Adam Levine they are. He was very upset over the song selection in a way I could not understand.
Sarah Simmons, "The Story"
I was not the hugest fan of this performance from Sarah. Because wasn't it just screaming into a hot jungle? Luckily, when she was finished, Pope Carson Daly IV kissed her forehead. Everyone loved the performance in an unadulterated way except for Shakira, who kind of negged Sarah/really Adam for her previous "song selections." Then Shakira might have stuck her tongue out at Adam? I don't know. I might have hallucinated that.
The Swon Brothers, "Whose Gonna Fill Their Shoes?"
I just don't even know with the Swon Brothers anymore. I guess I just have to stop fighting it and accept them as my destiny. I sort of enjoyed the piano aspect of the performance? I have expected the tiny Swon to climb on top of the piano, but he did not do it.
Sasha Allen, "Alone"
I thought Shakira gave great advice to Sasha Allen about how to sound less Broadway. Her "Alone" was intermittently quite brilliant. Side note: What is Shakira's jacket? It is like its own episode of Star Trek. She was literally the only person that did not take off her jacket during the heat storm, because it had holes for her shoulders.
Josiah Hawley, "The Man Who Can't Be Moved"
Josiah has really improved of late. He keeps doing serviceable jobs on high male pop songs. The problem is, sometimes Usher will sing the same notes as Josiah when they are practicing together and he'll do a much better job. And then you feel like Josiah should quit while he is ahead. But who knows? Maybe he shouldn't. I'm confused.
Danielle Bradbery, "Wasted"
The best part of this performance was when Shakira said Danielle reminded her of a "16-year-old Margaret Thatcher." I have never heard a truer sentiment uttered on live television! Even Danielle seemed pleased.
Judith Hill, "You've Got a Friend"
I thought this was one of Judith Hill's best performances. I kind of think they should make Judith sing all seventies songs. She sounded great with the piano. Like what if she sang, "Shower the People"? I would die of heat sickness!
Michelle Chamuel, "Call Your Girlfriend"
Michelle had pitch problems rehearsal, but did a pretty good job with Robin here. I love that song as much as the next vaguely lame twentysomething New Yorker, but I don't think it is the best song for a vocal competition. It's too electronic and tuneless or something. Still, Michelle is weirdly charismatic. I like her, Usher loves her, and Modern Lover Carson Daly put his head on her head.
Kris Thomas, "I'll Be There"
I really like Kris. I just think he has such a beautiful voice. Even his pitch problems have really improved! Only one note was slightly off in the very difficult "I'll Be There." I feel like I'm the only one that likes him. Adam continued being super passive aggressive toward Shakira and kept saying how "hard" the song was.
Amber Carrington, "I'm Gonna Love You Through It"
I am glad Amber wanted to sing such a meaningful song to her. I thought she did a good job with it, and the song itself is pretty difficult.  I was impressed.
And there you have it.