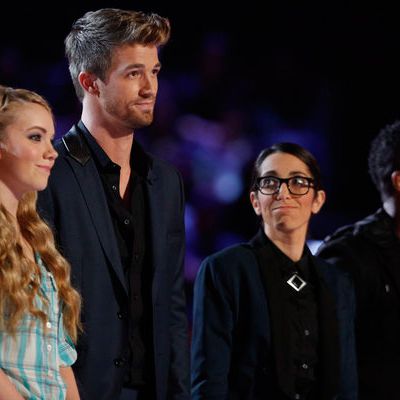 My God. This was the most disappointing episode of television I have ever seen.  Kris Thomas over the Swon Brothers! It was like Jo/Shakira telling Laurie/Carson Daly she had to go to New York to marry some old professor that sucks. I can't believe you, America! Frankly my dear, I do not give a damn about you. Except I do.
Blake and Miranda Lambert, "Over You"
This was an extremely touching tribute. Miranda Lambert has such an emotional voice, and I was incredibly moved by her performance. Blake provided sensitive backup as well. It was a little hard to adjust to the competitiveness of the rest of the show afterward.
Shakira's Team, "I'll Stand by You"
Guys, Shakira's voice is so awesome. Sometimes, I forget it is so effing unique. She really doesn't sound like anyone else, and she totally did Chrissie Hynde proud and that is difficult to do. Kris and Sasha also sounded fantastic on this song. All and all, an excellent performance.
Is the Fast and Furious 15: Why? sponsoring The Voice? Yes it is! In order to celebrate, Vin Diesel came to see the live show wearing the glasses of a private investigator. He also announced that everyone in America is invited to the premiere of Fast and The Furious 17: Existentialism Has No Answer, so that's sort of cool.
Guess what? The confessionals thing was still happening and it was still a humorous yet poignant night of black-box theater. Pharrell told the camera that if he weren't a singer, he'd actually want to be Willy Wonka, except with girls in the factory. Shakira put her legs behind her head and medieval swain Carson Daly loved it! I even think it was a better confessional than last time.
Later, America saved Danielle and Judith Hill. No duh, America.
Blake's Team, "Mountain Music"
Everyone on Blake's team sounded very good on this song, which was regardless one of the worst songs I have ever heard. It is a worse song than "How Great Thou Art." Sometimes, The Voice makes me like country music and other times it makes me hate it with a violent passion. I was getting so anxious while listening to that manic fiddling that I might have acquired restless leg syndrome, if that is catchable.
Then, Sasha Allen and Michelle Chamuel were saved. Thank goodness, America. You are not a complete dolt.
Usher's Team, "The Look of Love"
This was basically the best thing ever. First of all, I love "The Look of Love" SO MUCH as a song. It's the greatest. Then, Usher mysteriously popped out of the weird fake jazz-club set and took the stage to sing with his motley crew. Where was he hiding? He is a scamp! Then, while he was singing, he took off his jacket. It was so fun I died.
What? It's Christina Milian dressed as a domino! Her expertise about Twitter is truly astounding.
Following that amazing thing, Sarah Simmons was saved by America, which, I don't know, seems normal.
Adam's Team, "I Got the Music in Me"
This was so boring, I couldn't even believe it. I think I might have fallen asleep during this performance for about 30 seconds and then I awoke and it was still going on. The girls sounded fine, although completely unremarkable. That was kind of a bummer.
Next, America saved Holly Tucker.
Finally, the worst thing EVER happened. THE SWON BROTHERS BEAT KRIS THOMAS. Kris Thomas and the handsome guy were eliminated in favor of the SWON BROTHERS. I know no one really likes the handsome guy, but Kris Thomas? The Swon Brothers are much worse than Kris Thomas by any objective standard. They do not have the range of Whitney Houston. Honestly, what the hell, America? Why! Do you share the opinion of Sheryl Crow, that the Swon Brothers are the new Beatles? Maybe America does. Maybe this is the new direction of America. Maybe the Swon Brothers will sing "Ticket to Ride" in the middle of Shea Stadium to the sounds of deafening cheers. I cannot predict the future.
And that is our show! I have to say I was super-disappointed with America. But am I wrong? Is America correct to love the Swon Brothers? Do I have to accept them as new musical visionaries? Does Eminent Music Critic Carson Daly have an opinion? What if the Swon Brothers go on tour in Hamburg, Germany? Will you see them?