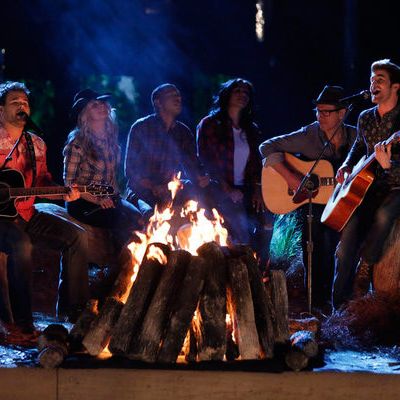 What a time we had last night, my friends. There was so much stagecraft and Bob Fosse dancing. I both loved and hated Adam Levine's gaoler costume. Famous elocutionist Carson Daly said "grat of datitude" instead of "debt of gratitude." It was a night of extremes.
Blake's Rap Song
This might be the best thing that has ever happened to me. Blake Shelton sang a Run DMC–style rap to start the show. It was extremely slow! Tastemaker Carson Daly said it was his "new favorite song" and I have never agreed with him more, and I usually agree with almost everything he says.
In other excellent news, Carson told Shakira, the woman of his life, that she "looked beautiful" and then they spoke in Spanish to each other in a loving way. I think he was really sad to be working on Memorial Day. He mentioned it a lot.
Judith Hill, "#thatPOWER"
This performance really sold Judith for me. I thought it was actually pretty musically creative and not in a lame way at all. It especially stood out because so many post-ironic covers of mainstream pop songs are just the absolute worst. Why is it innovative to turn an awesome Britney Spears song into a funereal dirge? It is not. I was also just obsessed with her hair. Great job!
Holly Tucker, "Done"
Holly's hair looked great while she sang this little jig, striding around the stage, which closely resembled a demonic version of Hollywood Squares, but instead of Florence Henderson, Fosse-style backup dancers were in the squares. If we are going to get critical, I think the Fosse-style backup dancers could have literalized the song lyrics a bit more. They could have mimed kicking. Instead they just did the "mashed potato" in their squares, which is fine, I guess.
Next, a weird interaction took place between Usher and Celebrity Look-alike Carson Daly. Carson called Usher "Urkel" because he was wearing glasses, and then Usher called Carson Daly "Jimmy Neutron," which was amazing, because Carson actually looks so much like Jimmy Neutron but I never noticed before (!!). Later, Usher said that he could joke with Old Jimmy Neutron "all day," but I know for a fact they could not.
Sasha  Allen, Judith Hill, Sarah Simmons, and Michelle Chamuel, "Diamonds"
I think I am officially sick of this song, but everyone else seems to think the old dog has life in it still. The girls sounded predictably fine on this, although Michelle especially stood out.
Swons, "Seven Bridges Road"
I would like to bring to the Dear Reader's attention several undeniable facts: 1) This is the second week in a row someone compared the Swons to "the modern day Eagles." 2) The Swons are the only men left in this competition. Apparently, they are better than Ryan Innes or Kris Thomas or even the handsome guy. This is what America thinks. 3) The Swons referred to themselves as the last man and boy left in the competition, which was kind of funny.
Guess who it is! Are you surprised or worried? Don't be! It's XTina Milian, in a little balloon we like to call the Sprint Skybox. XTina was doing a Diane Sawyer–style interview with Holly Tucker's poor grandfather about Holly's "sassy side." Holly's grandfather does not know what to make of it. But that's the thing about XTina. She goes there! If only you could have seen how roughly she treated Henry Kissinger when he was in the Sprint Skybox.
Sasha Allen, "Without You"
Sasha and Shakira are so cute! I hope they make it really far. As for Sasha's performance, I thought she actually had some slight pitch problems on the sustained notes. But, it was honestly so minor. Her phrasing and dynamics are awesome.
Sarah Simmons, "Somebody That I Used to Know"
I was not the biggest fan of this, to be honest. For some reason, this song is really hard to sing — I have never heard a good cover. I think it's because the delivery is difficult. In order for it to make emotional sense, a person has to sing the song at first in a slightly disinterested way, and then be surprisingly emotional on the chorus, thus providing an ironic commentary on the studied detachment of the first verse. I think Sarah is not a voice of ironic detachment, she is all suffused emotion, so it just didn't work at all. One thing I did enjoy was the staging, though. It was like My Fair Lady! There was even a cellist playing under a fake street lamp. I wish she had sung "Just You Wait ('Enry 'Iggins)" instead.
Blake's team, "Something More"
This was fine. That woman from Sugarland has a good voice.
Michelle Chamuel, "Grenade"
I am starting to get a little angered at the way they are treating Michelle. Just because she doesn't have hair extensions, they make her sing while gazing into a mirror every single week! What the hell? Why?! What is that supposed to mean? Then Usher will say things to her like "you represent true inner beauty," which may sound nice, but is honestly such a neg! If a man didn't have hair extensions, they wouldn't make him sing while looking into a mirror every single week. I just think it's mean, weird, and distracting. Everyone needs to get a life and I am including Jimmy Neutron in this.
Danielle Bradbery, "Grandpa"
This was so funny to me. It involved Danielle sitting primly on a porch swing asking her "grandpa" why the world is so confusing. I don't know, Danielle! Later, Usher spent most of his commentary talking about her cowboy boots. He does that a lot.
Amber Carrington, "Skyfall"
God, Adele is just impossible to sing, isn't she? This isn't even "Rolling in the Deep" hard and it was too hard for Amber. She sounded okay, but some of it seemed slightly out of range.
And there it is! Finished! What did you guys think? Do you think My Fair Lady is a good play? Is Jimmy Neutron a good movie? Do you know the words to Blake's rap song? Can you teach me them tomorrow?