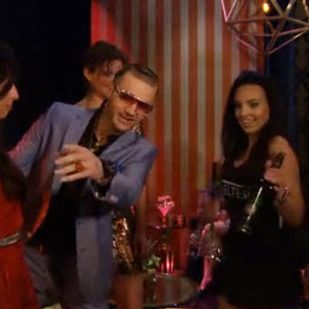 As promised, RiFF RAFF appeared on One Life to Live's Hulu-only revamp of the former soap, as sketchy club promoter Jamie Franko, who (much like his supposed namesake, Spring Breakers' Alien) engaged in shady dealings while flanked by two hot ladies. The entire thing is, of course, a pretty hilarious gag on James Franco's brief stint on General Hospital, where he played serial killer/artist "Franco." Will RiFF RAFF's Franko live up to James Franco's "Franco"? According to a very thorough General Hospital wiki, these are the many crimes "Franco" committed before he was murdered:
Was a serial killer for a few years.
Killed Joey Limbo after a mob shoot-out.
Stalked Jason Morgan.
Suspected of hitting cop Ronnie Dimestico with a car.
Kidnapped Carly Jacks.
Kidnapped Sam McCall.
Kidnapped Lulu Spencer.
Blew up two warehouses.
Orchestrated the rape of Michael Corinthos III.
Kidnapped Elizabeth Webber's newborn son Aiden Spencer.
Held a woman at gunpoint during "Francophrenia." 
Strangled a videographer during "Francophrenia."
Followed and stalked Jason and Sam Morgan to Hawaii.
Allegedly raped Sam.
RiFF RAFF has a lot of work to do. Watch the clip: