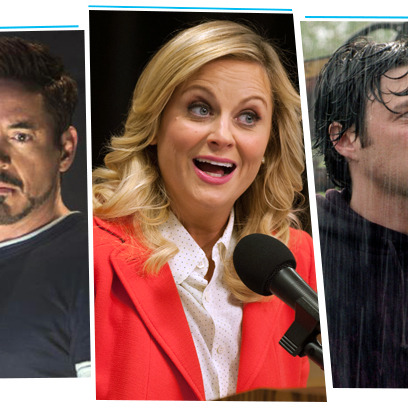 Every week, Vulture faces the big, important questions in entertainment and comes to some creative conclusions. This week, we gave you the scoop on Iron Man 3, investigated the state of stand-up comedy, and cataloged TV's bare butts and virgins. You may have read some of these stories below, but you certainly didn't read them all. We forgive you.
Q: Who are the hottest young comedians right now?
Lucky for you, Vulture's put together a list of 50! Get to know them as they're on the rise.
Q: What is stand-up comedy even like anymore?
True, things have changed a bit since the networks handed out sitcoms to anyone headline the Laugh Factory. You might need to hone your comedic craft on Twitter, start your own podcast, or wait on pins and needles while your talk-show pilot sits in limbo. But there's an upside: If you can pull off a career as a stand-up comic, you'll get to befriend Jon Hamm!
Q: Why should I care that Shane Black directed Iron Man 3?
Because once upon a time, Black wrote some of the most fun, audacious scripts around, and we've got some priceless excerpts from his work.
Q: Gwyneth Paltrow … sigh.
That's not really a question, but we understand what you're getting at. Here, this will help.
Q: Is Parks and Recreation going to be renewed for a new season?
Good news hasn't come down the pike yet for this modern classic, but Joe Adalian isn't worried.
Q: What's behind the Zach Braff backlash? (Brafflash?)
Jesse David Fox investigates the anger toward Zach Braff's Kickstarter project and traces it back to Garden State, a movie many liked at the time but that inspired one too many manboy movies.
Q: How quotable is Robert Downey Jr?
Exceedingly!
Q: What will the song of the summer be this year?
It's still pretty early, but here are our frontrunners (including Daft Punk, Pink, and Drake).
Q: Why are so many TV shows obsessed with virginity right now?
RIGHT? (Although there are precious few virgins left on Game of Thrones, to judge from all the bare buttage.)
Q: How did Reese Witherspoon fare this week?
You win some, you lose some.