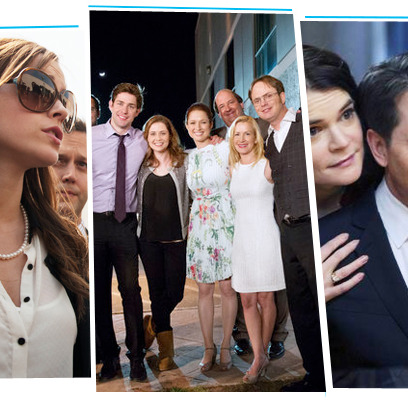 Every week, Vulture faces the big, important questions in entertainment and comes to some creative conclusions. This week, we gave you the lowdown on upfronts, a farewell to The Office, and as much as we can to feed your Arrested Development appetite. You may have read some of these stories below, but you certainly didn't read them all. We forgive you.
Q: Ahhhhhhh! Arrested Development is coming back next week. What will I do until then?
A: First, obsessively analyze the season 4 trailer with Lindsey Weber. Second, read Will Leitch's essay about being in the cult of Arrested Development. Third, determine your mood about the upcoming season using our Arrested Development "How Are You Feeling Today?" chart.  Finally, see how much of a fan you really are by taking Zach Dionne's Arrested Development superfan quiz.
Q: Should I have mocked or applauded Leonardo DiCaprio's big, over-the-top Great Gatsby reveal?
A: According to Kyle Buchanan's post about that ridiculous shot, either way, you have to celebrate how "gleefully, gayfully, out-there" the moment is. As Amanda Dobbins points out in her piece, it's moments like this that would make Baz Luhrmann the perfect director for the next Fast & Furious movie.
Q: On their new record, when Vampire Weekend sings about Croesus, Crise cardiaque, and Mechanicsburg … what the hell are they talking about?
A: Neha Sharma has a glossary of these and more obscure references from Vampire Weekend's Modern Vampires of the City.
Q: What's the perfect way to say bye to The Office?
A: With Ellie Kemper's farewell Office photo album, Angela Kinsey discussing the show's real Christmas parties, Margaret Lyons and Sarah Frank's Six Feet Under–style good-bye video, Matt Zoller Seitz's analysis of the finale, and a complete guide to all the cameos in the finale.
Q: The regular TV season just ended, what happened in the season finale of New Girl?
A: Watch Taylor Swift's scene from the episode and then read Max Greenfield excited account of meeting her. After that, look back at the season in GIF form (with Jesse David Fox's ranking of the season's 15 best physical-comedy moments) and in interview form (with Clover Hope's interview with Winston himself, Lamorne Morris.)
Q: What will Vince Gilligan tell us about the end of Breaking Bad?
A: Nothing specific, of course, but he dives deep into the series with Lane Brown. He did give this quote: "In my mind, the ending is a victory for Walt. You might see the episode and say, 'What the fuck was he talking about?' But it's a somewhat happy ending, in my estimation."
Q: I want to create a prestige TV drama, but how?
A: Just follow Logan Hill's thirteen foolproof rules like #1: Start with an anti-hero. #7: Put a drug at the center. #12: Let nobody be safe.
Q: What's going to be on TV next season?
A: That's where upfronts comes in! (Read Josef Adalian on why upfronts still matter.) Here is Adalian and Matt Zoller Seitz on the big four's schedules:
NBC: Adalian Seitz
ABC: Adalian Seitz
FOX: Adalian Seitz
CBS: Adalian Seitz
Q: What exactly was Kramer doing with his time on Seinfeld?
A: Apparently, a whole lot, as can be seen in Catherine Coreno's list of every job and scheme Kramer had on Seinfeld.
Q: What's the talk coming out of Cannes?
A: According to our man on the rue, Kyle Buchanan, people are clamoring about Emma Watson's edgy performance in The Bling Ring and the potential of Harvey Weinstein making history with three black Best Actor Oscar candidates. Here are Buchanan's ten most anticipated films.