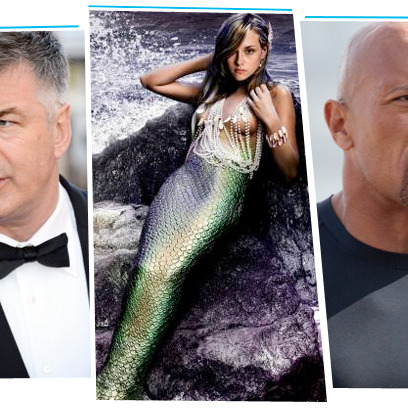 Photo: Ian Gavan/Getty Images; Corbis and Summit Entertainment; Giles Keyte/Universal Pictures
Every week, Vulture faces the big, important questions in entertainment and comes to some creative conclusions. This week, we explained why mermaids are the new vampires, measured the length of the runway in Fast & Furious 6, and determined that Alec Baldwin will be our new life coach. You may have read some of these stories below, but you certainly didn't read them all. We forgive you.
Q. What are the latest Mad Men conspiracy theories?
A. Got two for ya this week. 1) Megan Draper is actually Sharon Tate? and 2) Bob Benson is the smoke monster. (Okay, there are more serious Bob Benson theories, but we like that one.)

Q. Did Before Midnight's Jesse and Celine cheat on each other?
A. Director Richard Linklater and stars Julie Delpy and Ethan Hawke lay down the cold, hard truth.
Q. Is there a list of everything Ron Swanson has eaten on Parks and Recreation? Complete with pictures?
A. There is now!
Q. What did we think of the new episodes of Arrested Development?
A. Our TV critic Matt Zoller Seitz pronounced it pretty much the perfect show for our Internet age.
Q. Related: Craving some anustart?
A. Vulture has you covered.
Q. Now that Smash is over, should we just ban all future attempts to do Broadway on TV?
A. Never. Here's why next time could be different!
Q. How long is the runway in Fast & Furious 6?
A. We did some math and the answer is: super long.
Q. If ever you get mugged, which celebrity should you call?
A. Alec Baldwin. No, really. He's got some sound advice, like, "Go down swinging, I say. You're going to have to earn that purse."
Q. How do you say "I am the one who knocks!" in Dothraki?
A. Anha vekhikh fin mema. And here's an audio guide so you can make sure you're pronouncing it correctly.
Q. Does the third season of The Killing deserve more of your time?
A. If you're considering giving it another shot, this is how we made peace with the first two seasons. (Our critic Matt Zoller Seitz weighs in here.)