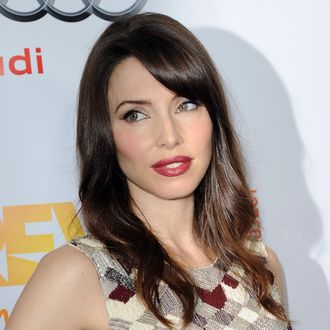 This is Whitney Cummings, who no longer has an NBC series.
Photo: Andreas Branch/Patrick McMullan
The TV people are making moves concerning TV things! Firstly, Joss Whedon's Marvel's Agents of S.H.I.E.L.D. is reportedly close to getting a series order. Meanwhile at NBC, Whitney, Up All Night, 1600 Penn, and Guys with Kids have all been canceled. Also in the cancellation department, Fox has nixed Kiefer Sutherland's Touch after two seasons, although there's now a rumor about 24 returning as a limited series. The CW has renewed The Carrie Diaries for a second season and Nikita for a fourth, also giving the green light to Reign (about Mary Queen of Scots at age fifteen), The 100 (a batch of juvenile delinquents are deployed to see if a post-apocalypse Earth can be re-inhabited), Tomorrow People (a teen boy has psychic powers; presented by The Vampire Diaries and Arrow folk), and Star-Crossed (formerly titled Oxygen, about an alien boy in an American high school).