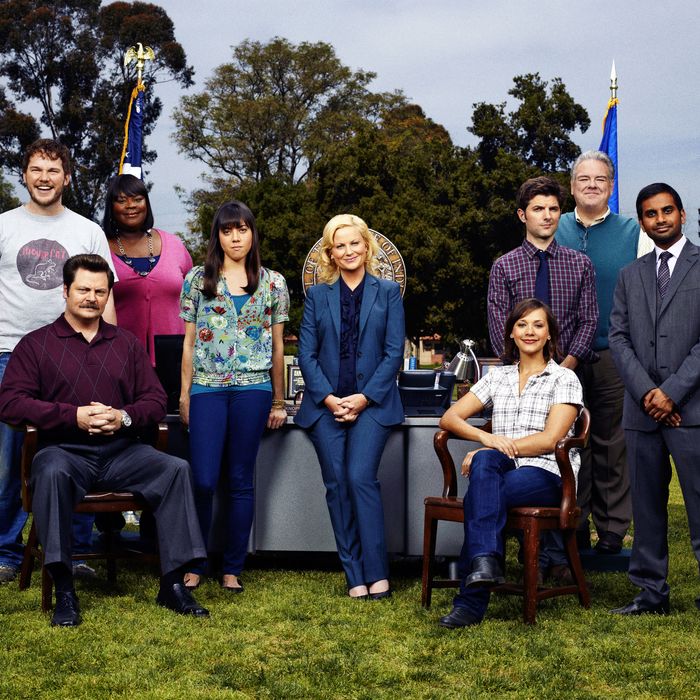 PARKS AND RECREATION – "Bailout" Episode 515 – Pictured: (l-r) Rob Lowe as Chris Traeger, Adam Scott as Ben Wyatt, Jenny Slate as Mona Lisa, Aziz Ansari as Tom Haverford
Photo: Mitchell Haaseth/NBC
Parks and Recreation wraps its fifth season tonight with an episode in which fearless detective Bert Macklin comes out of retirement in order to investigate rumors that somebody at City Hall is preggers. Mystery! But what about Parks itself? Fox and CBS long ago picked up most of their veteran shows for the 2013–14 season, and NBC last month announced plans to bring back dramas such as Parenthood, Grimm, and Revolution. But when it comes to Parks, NBC thus far has maintained radio silence about whether the citizens of Pawnee will be returning to the Peacock next fall. Thankfully, there's no reason to start sending waffles to NBC chief Robert Greenblatt: While nothing's official, the buzz from sources inside and outside the network is that Parks is virtually guaranteed to return for another batch of episodes. Let's make like Macklin and count the reasons why:
Ratings: By NBC comedy standards, Parks is doing fine. Of all the comedies the Peacock has aired on Thursdays this season, only The Office is doing better. Dunder-Mifflin closes up shop later this month, which means NBC would be dumping its top-rated surviving Must-See Thursday comedy. And once you factor in DVR replays, Parks actually has a better rating among adults under 50 (2.4) than Matthew Perry's Go On, which had the benefit of following the top-rated The Voice for much of the season. Parks is also the youngest-skewing show the network has (median age of its viewers: 37.3 years old), and it also skews younger than anything on ABC or CBS.
Hollywood tea leaves: Buzz is buzz, not fact. But Vulture spoke to several agents and network insiders this week, and all said Parks is very likely to be back. Just as tellingly, Hollywood bulletin board Deadline.com is now talking about season six of the show as if it's a done deal. The show is "certain to return," the site reported in early April; last week, Deadline said a pickup for Parks was "assured."
NBC needs it … : The Peacock has few shows on its schedule that can draw a decent audience no matter what's in front of them. Smash did decently behind The Voice last season, but collapsed when it had no real lead-in. Likewise, the aforementioned Go On looked strong when it followed Voice earlier this season, but it fell off a cliff when the reality show took a break. NBC is going to launch a bunch of new comedies next fall, and with The Office gone, it will need anchors for them. It's possible the network will use its Michael J. Fox show as an 8 p.m. or 9 p.m. show, but that still leaves room for one or two more anchors (particularly if NBC tries to do more than one night of comedy). We're still hopeful NBC will order more Community (a long shot, yes), but even if it does, at this point, the show is not really a great anchor. Parks is.
… and NBC owns it: Parks producer (and NBC sibling) Universal Television has syndication deals for the show with both WGN America and FX spinoff FXX. There are enough episodes already in the can — 90 — to start reaping some of these back-end profits. But mo' episodes means mo' money, all of which stays inside the Peacock fold. And there's even a small chance the syndie exposure could boost prime-time ratings for Parks (it worked for The Big Bang Theory). While it's by no means the main reason to keep the show going, the extra syndication coin is a very good one.
Despite all these strong reasons for a return, nothing's official until it's official. And strong ratings for the Parks season finale would provide yet another reason for NBC brass to pull the trigger on a pickup. So if you'll allow us a bit of advocacy journalism for a second: Don't set your DVR, just watch the episode live when it airs at 8:30 p.m./7:30 p.m. central. You don't want to be the reason NBC says nope to Knope, do you?